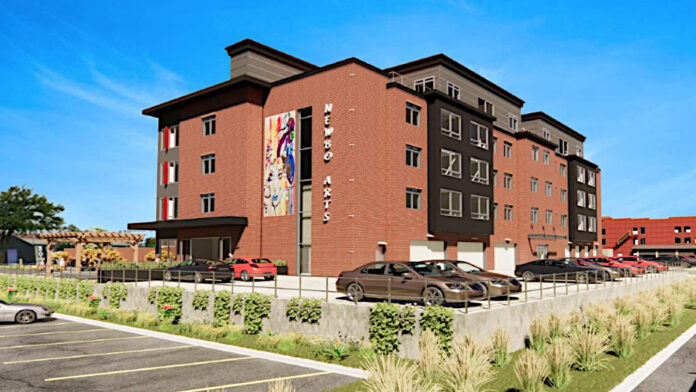 A new commercial and residential building is planned for the NewBo neighborhood in southeast Cedar Rapids.
At its meeting Tuesday, the Cedar Rapids City Council approved a term sheet and supported the pursuit of financial incentives for the project, slated to be built on a parcel of land stretching from 1218 to 1310 Third St. SE, just southeast of the building that houses Brewhemia and the Olympic South Side Theater.
As proposed by developer Chad Pelley and LTRI LLC, the $9.8 million project would include a four-story, mixed-use building, with 25 surface parking spaces, commercial storefronts and covered parking on the first floor, and a total of 34 market-rate residential units on the second through fourth floors. Public rooftop gathering spaces are also included in the plan.
The project qualifies for incentives under the city's targeted district reinvestment program based on its location in the NewBo district, Cedar Rapids economic development director Caleb Mason told the council. The city also plans to utilize an "above standard incentive program" for the project, under which the standard city incentive of a 10-year, 100% tax abatement is deemed inadequate to make the project financially feasible.
In such cases, Mr. Mason said, "we do a financial gap analysis and really get under the hood on the financials to dial in the appropriate level of incentives to make the project financially feasible."
The project is also applying for Workforce Housing Tax Incentive credits from the Iowa Department of Economic Development, Mr. Mason said. Those incentives would require matching funds from the city.
Under the proposal, Mr. Pelley's development team would purchase two city-owned lots at fair market value as part of the project. They will also be required to incorporate flood mitigation measures as specified by the providers of the project's funding.
Council member Ashley Vanourny praised the project, noting the inclusion of native landscaping features and visual art murals on the building's exterior.
"This also does something that we're working to accomplish and continue to reinvest in, supporting that density in that area so there's a built-in customer base for all of the businesses that are growing and coming," Ms. Vanourny said.
A formal development agreement is expected to be brought to the council for approval later this spring.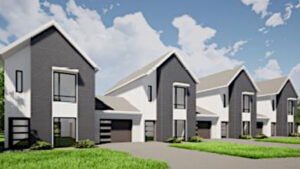 Other development projects presented to the council Tuesday included:
A $1.75 million project to construct three four-unit market rate townhomes on an existing parking lot at 1425 60th St. NE, adjacent to two buildings most recently occupied by TaxAct;
A nine-unit loft-style building, with a mix of unit sizes, at 107 and 110 10th St. NW, on property that has sat largely vacant since the 2008 flood; and
Rezoning of a 77-acre parcel at 8400 Sixth St. SW for industrial development, including a proposed 27-acre equipment sales site for Altorfer Inc.