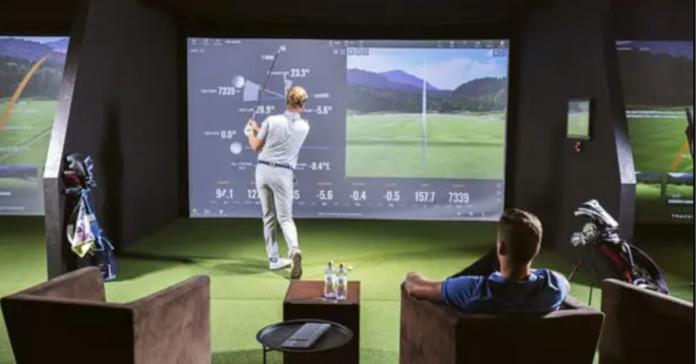 Ringer Golf has joined the Czech Village district in Cedar Rapids, offering a year-round golf experience for beginning and competitive golfers alike.
Opening Dec. 9 by lifelong golfer Bob Meisterling, the new upscale facility will allow users to play a full round of simulated golf at 209 courses around the world, according to a news release. Users can play several games such as capture the flag, closest to the pin and more.
The premium startup location will utilize Trackman, a technology that provides ball and player tracking data for each swing. Players can access swing analytics, allowing them to improve their form using a scientific approach.
Ringer Golf has studio and lounge offerings, an eight-tap self-pour beer station, swing lessons, customized club fittings, golf leagues from Tuesday through Thursday and a tournament during April for players to duel in-person over two rounds.
Groups can rent out the space for private events, corporate team building, parties and rounds of practice.
Elsewhere in the Corridor, a TopTracer golf driving range (similar to TopGolf) is opening in Tiffin as part of the $275 million Park Place development. It will have 52 covered and heated bays connected to a 40,000-square-foot bar.
Headquarted in Cedar Rapids, Perfect Game also capitalizes on state-of-the-art technology to help youth athletes perfect their swing, predominantly for baseball players. A joint venture with PG Tech lets athletes understand the strengths and weaknesses of their swings using3D motion capture, high-speed video and a collection of statistics.