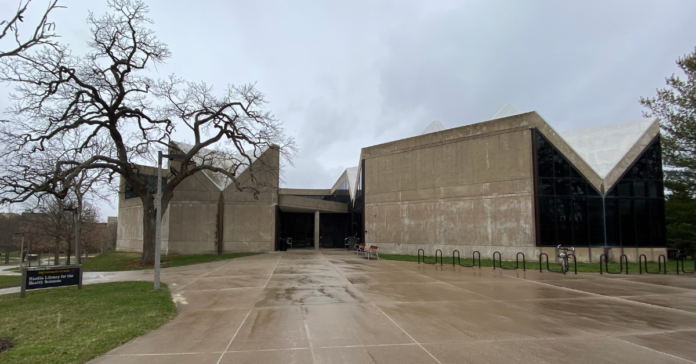 The University of Iowa released a $2.4 million phase one proposal to renovate 3,800 square feet of Hardin Library of Health Sciences during a Board of Regents April 6 meeting.
The proposal calls for moving the Office of Environmental Health & Safety into the building to consolidate that department from four campus locations, eliminating $750,000 to $850,000 in deferred maintenance, renovating all restrooms throughout the library, making necessary ADA improvements, bolstering security access, new open office areas and refurbished work rooms and break rooms.
For the four buildings that currently hold the Office of Environmental Health & Safety on the east side of Grand Avenue Court, those facilities will be razed, according to the proposal documents. Two additional buildings, formerly used by the UI College of Law, are "awaiting the same fate," said Rod Lehnertz, senior vice president for finance and operations, during his presentation to the board.
Of the $2.4 million estimated price tag, approximately $1.7 million will be spent on construction and $376,000 on planning, design and management.
Phase two will call for "additional consolidation of more office functions and programs associated with research on campus," Mr. Lehnertz explained.
Students will retain access to the building during renovation.
It is one of the first steps toward completing the university's massive 10-year strategic plan undertaking.
Since initial construction in 1974, there have been no comprehensive renovation projects on the 92,000-square-foot facility. It currently performs research needs for numerous departments and the University of Iowa Hospitals & Clinics.
In addition to campus renovations, the university will construct a hospital tower, a teaching and research building and an ambulatory care building as part of the UIHC 10-year plan.