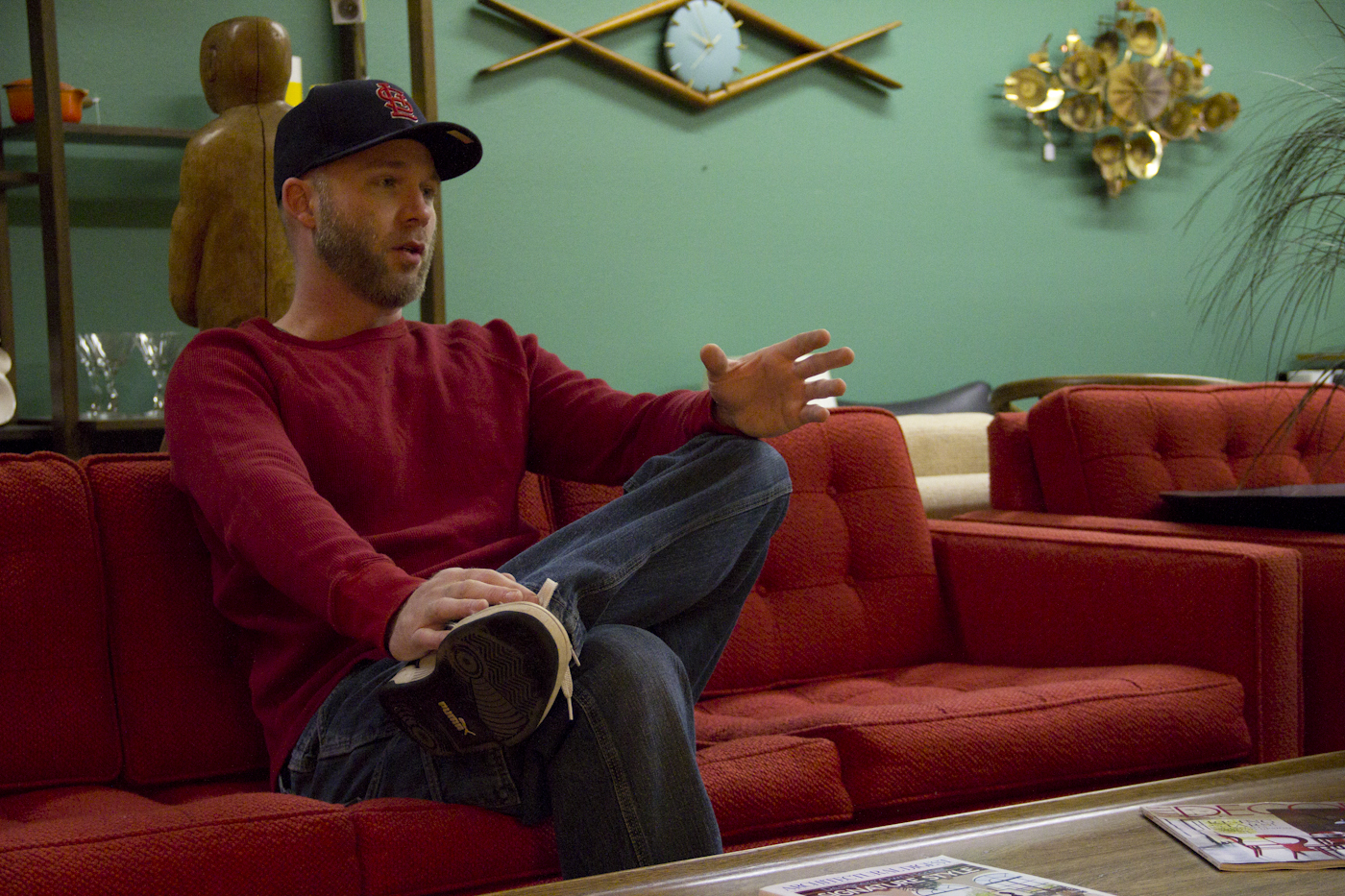 Nostalgia, aesthetics, sustainability spark desire for "Mad Men" era furniture
By Sarah Binder
The glamour of the past is alive and well in one Cedar Rapids shop.
"They put real design into everything," said Dave Owens, owner of 1st Class Finds, turning a solid teak serving tray over in his hands. "All of it is art — the furniture is art, the servingware is art, the lamps are art."
Mr. Owens' shop, at 227 14th Ave. SE, specializes in midcentury modern furniture and accessories. He fell in love with design reflecting the energy and optimism of the 1950s, 60s and early 70s: America had a strong economy and a booming automotive industry, men were flying to the moon and simply having friends over meant a chance to throw an elegant dinner party (fondue optional).
His fascination with vintage home design began 10 years ago, when he purchased a house built in 1956. He chose the home because it was affordable, but then the 1950s touches, including avocado-green countertops and light birch baseboards, started to grow on him.
"Rather than rip all that stuff out and change it, I thought it would be neat to highlight it," he said.
He started collecting furniture and home goods from thrift shops and estate sales. When he found a better piece (say, a more stylish couch than the one he had), he would sell the old one online. Through that process, he realized there was a market of other collectors who would buy the vintage goods.
However, when he started, those enthusiasts were a minority.
"At that time, nobody wanted this stuff," he said. "It was considered grandma's junk."
Then "Mad Men" happened. The sleek, sexy designs of the popular show started showing up in other areas, like talk show sets.
When he first opened his doors two years ago, he said people were still becoming accustomed to the designs, but they have become more accepted.
His customers have many reasons for seeking out 1st Class Finds, Mr. Owens said.
Some are design enthusiasts, like him. While retro-inspired furniture is stylish again and is being made new, some want the authenticity of the original.
For some, nostalgia is a factor, if they remember seeing the furniture in their grandparents' homes. Most of his customers are younger, Mr. Owens said, noting that people who lived through the 1950s and 1960s have an attitude of "been there, done that."
For others, sustainability is a factor. He said some customers come to him after having a negative experience with the cheaply-made furniture that is widely available today.
"It's almost like it's built for you to buy again in five years; they want you to," he said.
The solid-wood furniture in his shop has lasted roughly 60 years, and he predicted it will last at least 60 more. He said buying vintage is one way his young customers can find those high-quality pieces at a price point they can afford.
As his collection expanded, Mr. Owens started gathering accessories, in addition to furniture. His shop contains vintage books, magazines and records; dishes, cocktail picks and servingware; clocks and wall art, and at the center of the shop, an olive-green fireplace.
"When you look at any design book, at those retro photos, the freestanding fireplace is always there," he said with a laugh.
After working in construction for 13 years, opening his own storefront was a new experience, Mr. Owens said. He described the experience as a labor of love.
"I was used to getting paid hourly; that was a big change for me, becoming my own boss, not knowing how much money I was going to bring in," he said.
Since he staffs 1st Class Finds five days a week (Tuesday through Saturday), he has less time to travel to other cities to scour thrift shops, antique stores and estate sales for furniture. He finds more items today from people who stop in the shop.
However, he does not accept and sell anything from the 1950s and 1960s. One of his greatest challenges is living up to the name of the shop, and finding only the best items, he said.
"I might stop 99 places, and only find something on the 100th stop," he said. "If this was super easy and recognizable, everyone would do it."
For more information, visit www.facebook.com/1stClassFinds.