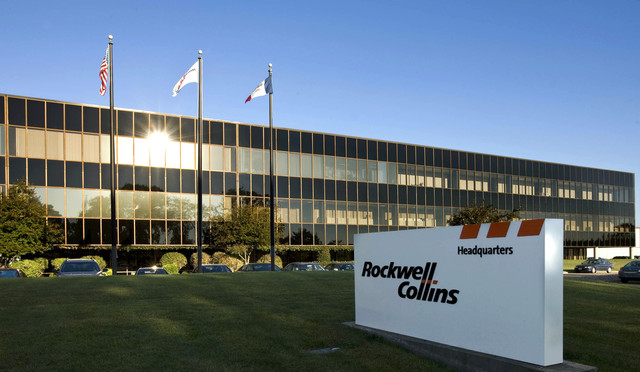 Kelly Ortberg to be named president and CEO
By Sarah Binder
CEDAR RAPIDS–Clay Jones, CEO and chairman of Rockwell Collins, announced plans this morning to retire effective July 31. Kelly Ortberg, who was named president of Rockwell Collins in September 2012, will become CEO and president of the company. Mr. Jones, who will be 64 at the time of his retirement, will remain on the company's board of directors as non-executive chairman, and said he plans to remain in Cedar Rapids.
Mr. Jones has been CEO of Rockwell Collins since it spun off in June 2001, and became chairman one year later. Previously, Mr. Jones was the company's president and corporate officer and senior vice president of Rockwell International.
In an interview with the Corridor Business Journal this morning, Mr. Jones said he knew the time was right to retire because the company is in a stable position and Mr. Ortberg is prepared to lead.
"The company is in good shape, and I know there are no major jobs left undone," Mr. Jones said.
He said the ongoing uncertainty of sequestration was not a factor in his decision, and it was more based on the "health, strength and preparation of the company."
"If I waited for a period where there was no uncertainty, I'd never retire," he said.
Some of his proudest memories include restructuring the company, he said, including preparation for its initial public offering in 2001.
"That was a very exciting year," he said. "We restructured and reshaped the company to reach its full potential."
He also recalled two major blows to the company: the Sept. 11, 2001 terrorist attacks, which came just 10 weeks after Rockwell Collins went public, and the recession of 2008. While those were not positive memories, he said he was proud of how the company reacted. The period after 2001 was one of major growth for the company, and he predicted another period of growth will come after the lingering impacts of the recession wear off.
"We managed through that and came out much stronger," he said. "To live through that and be successful on the back end is gratifying."
On a personal note, he said he was grateful to Rockwell Collins employees for supporting him even when, as a leader, he had to make unpopular choices.
He said his first priority in retirement is to spend more time visiting his two daughters and 6-month-old granddaughter, who live on the East Coast.
"The best compliment to a CEO when he leaves is people forget about him really fast," he said, noting that Mr. Ortberg has 25 years of experience with the company and he predicts a smooth transition. "That should be the most important thing any CEO or board of directors does, is prepare for a graceful transition."
Also this morning, the company reported second quarter fiscal year 2013 earnings per share of $1.17, $0.08 higher than earnings per share of $1.09 in the prior year. The 7 percent increase in earnings per share was attributed to the company's ongoing share repurchase program. Net income for the second quarter of 2013 was $161 million, the same as the second quarter last year.
In spite of the positive second quarter results, Rockwell Collins has previously predicted that revenues on the government side of the business would be down 10 percent in 2013, and total revenues would be down 1-3 percent.
Cutbacks on in government defense spending are largely due to uncertainty regarding sequestration, or across-the-board federal budget cuts that could delay or eliminate defense contracts.
In an interview with the Corridor Business Journal in February, Mr. Ortberg said managing that transition would be one of his top priorities as president. He predicted that while the government side of the business will continue to lag in 2013, there is room for growth in the commercial business.
"We have a lot of work to do to get our business sized properly to deal with the current market environment," he said.
By 2017, he predicted that commercial business would represent 58 percent of Rockwell Collins' revenues. Right now, the ratio between government and commercial is about 50-50.
"That pendulum swings plus or minus 10 percent," Mr. Ortberg said, noting that when the company spun off from Rockwell International in 2001, they were about 60 percent commercial business, and by 2010, they were about 60 percent government.
During the February interview, Mr. Ortberg named two other goals he hopes to focus on in 2013: expanding the company's international presence and reapplying commercial technology in the government sector.
The company saw 10 percent international growth in 2012, and expects that trend to continue. For example, early this month Rockwell Collins announced an agreement with Tata Power Strategic Engineering Division, one of the largest private-sector defense contractors in India. Rockwell also has a new regional headquarters in Dubai, United Arab Emirates, and the 9,000-square-foot India Design Center has a staff of 500. Mr. Ortberg said these emerging markets have traditionally been "underserved" by Rockwell Collins.
Before becoming president, Mr. Ortberg served in executive vice president capacities for both government systems and commercial systems, so he said finding ways to use the same processes in both is a natural goal.
"I see opportunities in this declining defense budget to reapply our commercial technology more and more in the government market," he said.