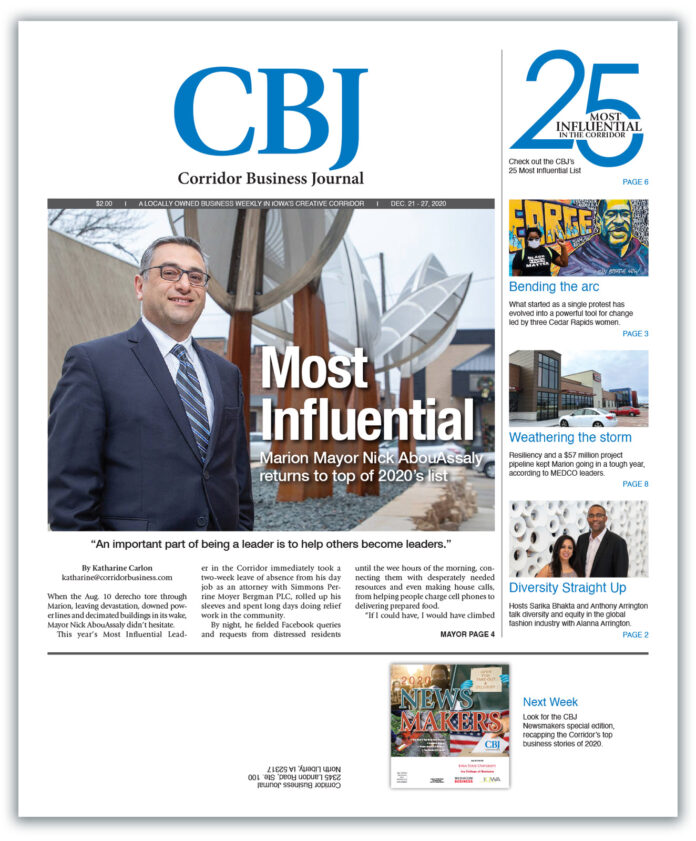 When the Aug. 10 derecho tore through Marion, leaving devastation, downed power lines and decimated buildings in its wake, Mayor Nick AbouAssaly didn't hesitate.
This year's Most Influential Leader in the Corridor immediately took a two-week leave of absence from his day job as an attorney with Simmons Perrine Moyer Bergman PLC, rolled up his sleeves and spent long days doing relief work in the community.
By night, he fielded Facebook queries and requests from distressed residents until the wee hours of the morning, connecting them with desperately needed resources and even making house calls, from helping people charge cell phones to delivering prepared food.
"If I could have, I would have climbed up the power poles and reconnected everyone's power," said Mr. AbouAssaly of the relentless, sometimes sleepless days following the powerful storm that hit Marion among the hardest in the state.
That level of commitment is nothing new for the leader of the Corridor's third largest city. But it goes a long way toward explaining why 2020 marks Mr. AbouAssaly's fourth appearance on the Most Influential list over his five years as mayor, and his second win, thanks to voting by CBJ readers.
This year's honor is especially meaningful to him considering the difficult times 2020 has brought.
"Leading in a time when everything's going well is … I'm not going to say it's easy," he said. "But it's certainly in a time of crisis when true leadership shows, and the challenges of this year have been really great."
In the immediate aftermath of the derecho, Mr. AbouAssaly and his city team established a command center to coordinate first responder and clean-up efforts. Teams were sent into the community to canvass needs and match those needs with volunteers, and a partnership was established with the Marion Food Bank to open a central location in an unoccupied building in the heart of the city's Uptown district.
That facility developed into a community resource center, drawing thousands from around the region – some from as far away as Vinton – for donated food, pet and baby supplies and other necessities.
That's without mentioning his own efforts monitoring Facebook until 2 or 3 a.m., and countless volunteers and residents joining in relief efforts – an outpouring he said was "exhilarating" despite the heartbreak of the devastation.
"You know, just sharing human compassion," he recalled. "I was so proud of how our community pulled together. We were in a divisive election year, but the way everyone put aside all their differences, and just unified. You saw neighbor helping neighbor … and what the power of community can accomplish, that there's no challenge that's too great when we all come together around a shared goal."
The mayor is bringing the same energy to racial equity issues, forming an equity and inclusion task force to look not just at law enforcement, but holistically at the entire community to ensure the city meets its goal of ensuring "every person feels safe and valued." And, to tackle the economic fall-out of the COVID-19 pandemic, he turned to the power of people once more, founding a diverse 15-member task force that draws from the worlds of business, government, health and mental health, human services and faith.
"We never know what's coming, but we've learned a lot about ourselves and what can be accomplished through collaboration," he said.
Mr. AbouAssaly is justifiably proud of the string of development successes the city has seen under his tenure, from the Prospect Meadows baseball and softball complex and a new library now under construction, to a new YMCA set to open in January. But he is loath to accept credit, chalking his success up to a team effort that involves the city council, city management staff, the Marion Chamber of Commerce, economic development officials and business partners all steering the ship in the same direction.
"Everybody has a common vision, and a desire to see Marion thrive and be a great place in which to live and do business," he said. "In the last few years, we've been able to change the community's perception of itself. There's a more positive outlook … about its own potential, and about its own abilities to achieve more, to expect more."
Instilling that feeling was Mr. AbouAssaly's first priority upon taking office in 2015, and it's taken hold, with 93% of residents now ranking city services and quality of life as "excellent" or "good."
Though the pandemic has slowed some development action in the city, he believes that is only temporary, with projects like the Broad and Main development on deck. Mr. AbouAssaly, who was key to bringing developer Mark Kittrell, CEO and founder of Eagle View Partners, to Marion, said the mixed-use project planned for the Marion Square Plaza space could be "transformative" for the Uptown district.
Pre-pandemic, "we were already seeing it really come alive every night of the week in terms of culture and entertainment and dining through a lot of intentional efforts with the Artway and the placemaking work of the entire team," he said. "We get one chance to see this area develop and we want it to be done right. That's where our 'reach higher' motto comes in … because before I used to kind of feel that sometimes we settled for what's good enough."
Mr. AbouAssaly's many admirers say their mayor embodies that motto.
"I can think of no one who cares more deeply for this community. Nick personifies our brand," said Amber Bisinger, the city's communications manager. "He reaches higher in all that he does and pushes those that he works with to give their best. I have no doubt, our community is better off for it."
Marion Process Solutions President and CEO Lee Eilers, who has known Mr. AbouAssaly for years, said it is no surprise that he has so consistently made the CBJ's Most Influential list.
"It starts at the foundational level with his heart," Mr. Eilers said. "He cares about people and that's really what drives him. He's a fabulous listener and when you combine that with humility, authentic humility, it brings out the best in people."
For Mr. AbouAssaly, being influential – or, as he prefers, "being a true servant to the group" – amounts to having integrity, sincerity, honesty and credibility.
"My first inkling is always to think, 'OK, who else needs to be part of this, who else needs to be at the table, so we can resolve this or make it the best it can be,'" he said, adding that applies whether the discussion is a new development deal or an urgent community initiative. "An important part of being a leader is to help others become leaders. One thing I say all the time is: We all have the power to be a force for good."
Mr. AbouAssaly's drive to champion all things Marion began in 1975 when he and his family emigrated from Lebanon to escape the civil war there. Phrases like "God bless America" and "God bless this land" were commonplace growing up, instilling a deep desire to give back to the community that welcomed them. Though he began his career with energy giant Exxon in Houston after graduating with distinction from the University of Iowa College of Law in 1992, he was drawn back to Marion by 1995. He quickly became involved in the Cedar Rapids and Marion chambers of commerce and was first elected to the Marion City Council in 2013.
"I've always believed in the vision, in the potential of Marion to be the jewel of the region," he said. "I really do just love being able to be a force for good and to be part of an exciting time in Marion's history – to be part of that decision making that's helping to shape the future of Marion for future generations."