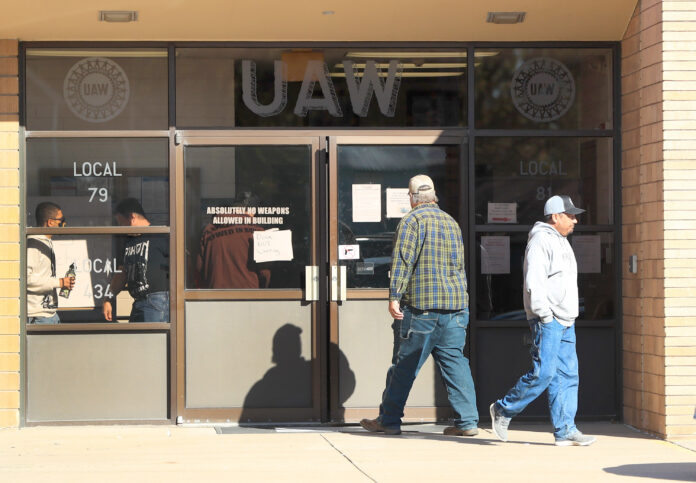 Striking United Auto Workers (UAW) were back on the picket lines this week after rejecting a six-year pact with Deere & Co. that the farm implement maker has characterized as its "best, last and final offer."
On Nov. 2, 55% of union workers in Iowa, Illinois and Kansas failed to ratify the company's second contract proposal. The strike began on Oct. 14, just days after 90% of workers rejected Deere's initial proposed contract offer.
The second proposed pact fared significantly better, with a majority of striking workers at eight of 12 Deere facilities OKing the deal. But majority "no" votes recorded at facilities in Milan and East Moline, Illinois and Dubuque and Waterloo, Iowa reportedly tipped the scales.
On Nov. 4, Jen Hartmann, a spokesperson for Deere, said, "We are continuing discussions with the UAW but believe we've exhausted our options economically. Our priority continues to be focused on getting employees back to work."
In a previous, widely shared video statement, Ms. Hartmann said that the second proposed contract contained industry-leading wages, benefits, health care and retirement plans. "We are confident that the input we received following the first agreement that the concerns of our employees have been addressed in this second tentative agreement," she said.
"I think one of the things that the bargaining committee for Deere is making clear is that this is the best, last and final offer," Ms. Hartmann added. "Approximately 45% of those employees (approved) the contract, you know, we want to get those folks back to work. And we're hopeful that we'll get to that agreement, and that can happen."
Meanwhile, the national UAW website said, "The strike against John Deere and Company will continue as we discuss next steps with the company. Pickets will continue, and any updates will be provided through the local union."
As for Deere, Marc A. Howze, chief administrative officer for the company, said in a statement, "This investment was the right one for Deere, our employees, and everyone we serve together. Even though it would have created greater competitive challenges within our industries, we had faith in our employees' ability to sharpen our competitive edge. With the rejection of the agreement covering our Midwest facilities, we will execute the next phase of our Customer Service Continuation Plan."
Deere has not released any details regarding what steps are contained in that plan.
The latest proposed agreement would have boosted wages by 30% over six years via annual wage hikes and quarterly cost-of-living adjustment (COLAs). The newest pact also included an $8,500 ratification bonus.
Unlike the 2015-2021 contract, the latest pact had promised no insurance co-pay increases for the next six years. In addition, new employees would have been eligible for health-care coverage after 30 days of employment compared to seven months in the previous contract. The proposal also provided for two weeks of paid parental leave and autism care coverage.
The deal workers rejected also offered two benefit plans: Traditional Plus, a defined-benefit retirement plan that guarantees monthly payments for life, or Choice Plus, a 401(k) option that includes lump sum payments on retirement.
Last month, members rejected an initial agreement negotiated by the UAW and Deere and reportedly sought wage increases and improved health benefits. Deere's initial offer would have given some members a 5% wage increase and a 6% increase to others.
It is the first major strike at John Deere in 35 years.
The strike was marred by the tragic death of Richard Rich, a 56-year-old UAW member of Local 79. He died after he was struck in a traffic accident while reporting to picket duty at John Deere Parts Distribution Facility in Milan, Ill.