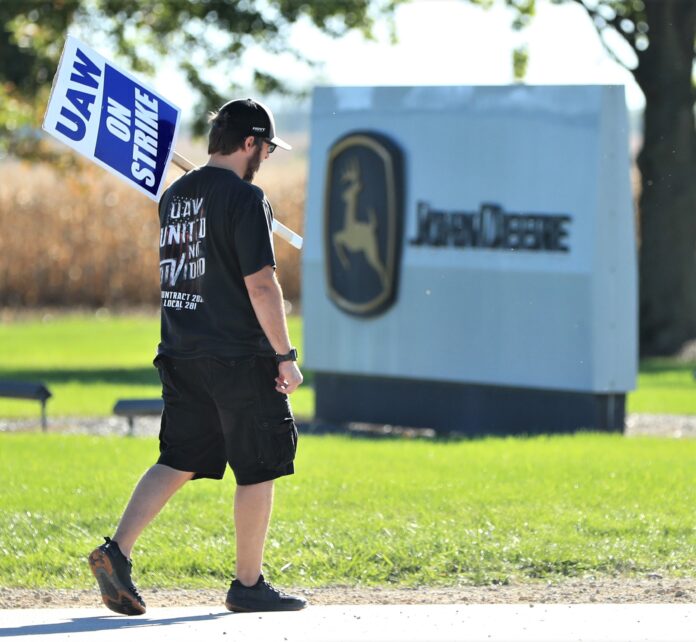 Picketing activities for striking John Deere workers near the company's Parts Distribution Center in Milan., Ill., have been canceled for the day Wednesday after a 56-year-old pedestrian was struck and killed while crossing the Milan Beltway near the facility at around 6 a.m. today.
The Rock Island County Coroner's Office has confirmed that the unidentified United Auto Workers (UAW) Local 79 striker has died. As of 10 a.m., investigators still were on the scene of the accident near the center, located at 1600 First Ave. E. The victim's name has not been released pending notification of family, but UAW officials said he was a 15-year plant employee.
In the hours after the incident, Deere & Co. released the following statement: "We are saddened by the tragic accident and death of one of our employees who was struck by a vehicle before dawn this morning while crossing the Milan Beltway. All of us at John Deere express our deepest condolences to their family and friends. We have no further details as we await reports from law enforcement."
"On behalf of the UAW and all working families, we mourn the passing of our UAW brother," said UAW president Ray Curry in a statement. "It is a somber time to lose a member who made the ultimate sacrifice in reporting to picket for a better life for his family and coworkers."
"We are heartbroken over the tragic loss of our brother," added UAW vice president Chuck Browning, director of the Agriculture Implement Department. "Our most sincere condolences go out to his family and his co-workers and they are all in our thoughts and prayers as they go through this difficult time. The entire UAW mourns today."
Mr. Curry said the UAW flag will fly at half-staff in honor of the worker.
On Oct. 14, some 10,000 UAW workers at John Deere plants across the Midwest walked off the job after rejecting a proposed new six-year contract.