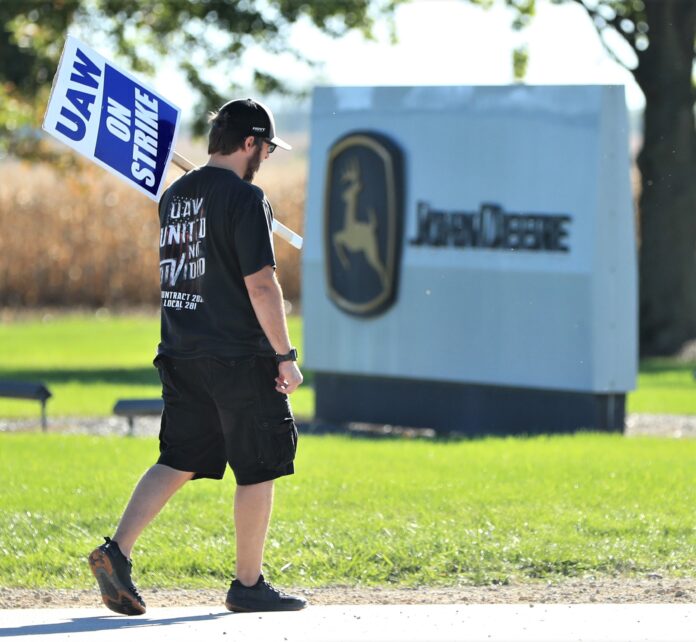 John Deere and United Auto Workers (UAW) resumed negotiations on Monday while workers continued to strike, according to a report from KWQC-TV6 in Davenport.
It's the fifth day of strikes for John Deere workers who are seeking higher wages and a better work environment. The union representatives ended negotiation talks on Wednesday when John Deere refused to meet their demands.
"Our members at John Deere strike for the ability to earn a decent living, retire with dignity and establish fair work rules," said Chuck Browning, vice president and director of the UAW's Agricultural Implement Department, in a statement last week. "We stay committed to bargaining until our members' goals are achieved."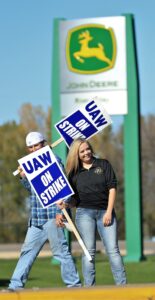 UAW strike assistance provides weekly pay totaling $250 per week, according to their website. That number rose to $275 a week on Oct. 13. A bonus check will be paid prior to the Thanksgiving and Christmas holidays. Strike benefits are taxable after $600 in a given year.
The UAW Strike and Defense Fund covers certain benefits such as medical and prescription drugs. It does not cover dental, vision, hearing or sick and accident benefits.
To be eligible for the strike, workers must be in good standing and actively participate in the strike.
"We are fully committed to the collective bargaining process and resolving the strike," said John Deere in a statement to TV6. "We remain committed to providing our production and maintenance employees with the opportunities to earn the best wages and most comprehensive benefits in our industries."
Some farmers worry the strike will negatively impact the supply chain at a time when the supply chain is already suffering.