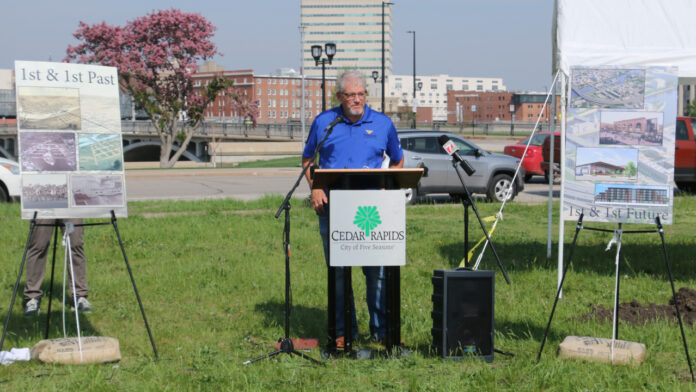 City officials and developers gathered Wednesday afternoon to formally break ground on the $100 million-plus First and First West project in downtown Cedar Rapids, just west of the Cedar River, on land once planned for a Cedar Rapids casino.
Joe Ahmann of Ahmann Companies, the lead developer for First and First West, described the plan as a "legacy project" on a highly visible development site in Cedar Rapids.
"When we bid on creating this project, (we knew) this is something that's going to be here a long time," Mr. Ahmann said. "A lot of people are going to either pass through or pass by, and we need to do it right. First and foremost, it has to be perfect."
The project will be developed in phases. The first phase, getting underway this year, includes a Pickle Palace entertainment venue, a Big Grove Brewery, and a mixed-use building featuring commercial spaces on the first floor and 60 to 80 residential units on the upper floors. Future phases will include an outdoor plaza, other mixed-use buildings, a boutique-style hotel and parking facilities.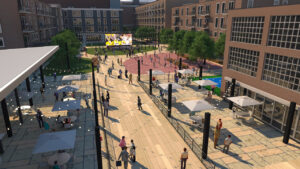 "We are ready for this development," city manager Jeff Pomeranz said at Wednesday's event. "Our mayor and council members have continued to talk about our quality of life. When we have new companies that indicate interest in our city, they want to know (about) our amenities. And this is the kind of amenity that is going to greatly enhance our neighborhoods, our residential areas, our commercial development, the entire city of Cedar Rapids, and I would also have to say, the state of Iowa and beyond."
The Cedar Rapids City Council approved a development agreement for the project in April.
Construction of the first building in the project, the 43,530-square-foot "Pickle Palace," is set to begin in the spring. It will house pickleball courts, a bar and grill, event space, rooftop courts and games, a roof deck and a third-floor bar.
That facility is part of the first phase of the long-anticipated project for the land along First Avenue West between First and Third streets. The property has sat vacant since being cleared of damaged structures following the 2008 flood, and had been proposed as the site of a Cedar Rapids casino before casino proposals were rejected by the state's Racing and Gaming Commission in 2014 and 2017.
Mr. Ahmann noted that plans for First and First West had been delayed several times since the city issued a Request for Proposal to invite development plans for the four-acre property in 2020.
"We submitted our RFP right at the beginning of the pandemic, then we got hit with the derecho, then the continued pandemic, so we've had to make some adjustments," Mr. Ahmann said. "The city and the staff and council have been very willing to work with us to retool this project. And I would say the project that's going to be starting here is better because of the time we've had to retool it and look at it."
First-term mayor Tiffany O'Donnell, who founded her campaign in part on downtown revitalization, said the development marks a major milestone in the area's transformation since the 2008 flood.
"We hope this is certainly the first of many (projects) along this strip, where we're finally facing our river and not turning our backs on it," she said. "We're really blazing a trail here – others will look to our city as a model. It's yet one more example of how this community is not only resilient, (but) thriving with new vision in spite of challenges."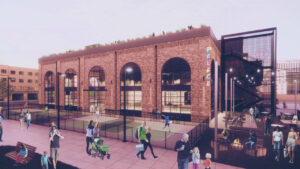 Developer Graig Cone, who will lead the construction of the Pickle Palace, said as a Cedar Rapids native, he's always felt the city lacked recreational opportunities, particularly during the winter.
"I also felt like we never really made use of the river, and the views on the river, through restaurants and bars and so forth," he said. "That always perplexed me. I think we're going to try to solve a couple of those things now with this project."
Mr. Cone also said the Pickle Palace will offer duckpin bowling, "a quicker, shorter, compressed version of bowling that's a lot more social."
Matt Swift, co-founder and CEO of Big Grove Brewery, said he and his partners jumped at the chance to be a part of the First and First West development.
"Big Grove in general is excited to be here," he said. "It's a part of the community in a real way and it means a lot to us joining the historic downtown Kingston Village. I always dreamt of a location in Cedar Rapids, and when the First and First location was announced, I immediately knew it was the right spot. The group's purpose is to enrich our people and be rooted in our community. And as we join the Cedar Rapids community, we commit to and look forward to continuing with that purpose."
The second and third phases of the project, set to begin in 2023 and 2025 respectively, are set to include other mixed-use buildings, a public plaza with a large-screen TV, a stage and public seating areas, a public art installation and various landscaping and underground stormwater detention features.
Other elements have also been discussed for the development, including a family fun center and a second hotel. An estimated 270 residential units are expected to be incorporated into the development. Overall, the mixed-use master plan includes 11 buildings, including hotels, residential units, office/service and retail spaces.
The entire development is targeted for completion by 2030, though Mr. Ahmann said he hoped it might be finished "in the next five years or so."