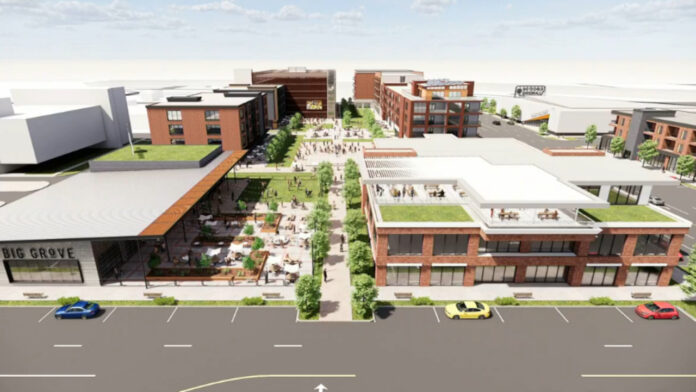 The redevelopment of land just west of the Cedar River in downtown Cedar Rapids took another step forward Tuesday, as the Cedar Rapids City Council unanimously approved a term sheet from project developers.
The entertainment and mixed-use project, now being referred to as "Kingston Landing," is being proposed by the 1st & 1st West development group led by Nate Kaeding of Build to Suit Inc. and Joe Ahmann of Ahmann Companies.
The $71 million development is targeted for land along First Avenue West between First and Third streets. The property has sat vacant since being cleared of damaged structures following the 2008 flood, and had been proposed as the site of a Cedar Rapids casino before casino proposals were rejected by the state's Racing and Gaming Commission in 2014 and 2017.
As currently outlined, the project would be developed in three phases, with construction of the first phase beginning in June 2022 and ending in December 2025. That phase would include an 8,000-square-foot Big Grove Brewery location; a 43,530-square-foot "Pickle Palace" facility featuring pickleball courts, a bar and grill, event space, rooftop courts and games, a roof deck and a third-floor bar; and two four-story mixed-use buildings, with commercial entities on the main floor and residential units above.
The second phase, proposed to begin in June 2023 and wrap up in December 2027, would include a four-story residential building, a mixed-use building, a city-owned parking ramp fronted by eight owner-occupied town homes, and a proposed upscale or extended-stay "boutique hotel" with approximately 100 rooms.
And the final phase, to begin in June 2024 and be complete by December 2030, would be highlighted by a proposed family entertainment center of up to 30,000 square feet, with three additional mixed-use buildings.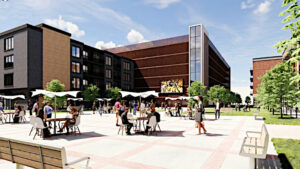 Also incorporated into the project would be a central, walkable public plaza area with amenities including hardscape elements, public art installations, a stage, seating areas and landscaping. That plaza would necessitate closing one block of Second Street between First and Second avenues.
The project would also include financial incentives, including a tax reimbursement of 85% of TIF rebates for a period of 20 years for each building in the project and a $1.5 million completion grant to be used for construction of the plaza. The term sheet also includes a provision for a minimum of 250 full-time equivalent employees after the development is complete.
The project has faced a series of setbacks since originally being proposed in November 2019, including the pandemic, derecho and revised plans for city flood walls, but developers praised the city for their persistence in the face of those obstacles.
"We really view this as a great public-private partnership," Mr. Kaeding said at Tuesday's council meeting. "With the prominence and importance of this property, we don't take that lightly."
Mr. Ahmann said he feels the current master plan, which has been revised significantly from its original iteration, has been improved substantially, and that each phase's completion would perpetuate the demand for subsequent phases.
"We feel that activity breeds activity," he said.
Council members were unanimous in their praise for the developers' plans. Councilmember Ann Poe recalled returning to Cedar Rapids from Council Bluffs in 2014, after the city's bid for a casino was rejected by state commissioners, and discussing future uses for the property with former councilmember Ralph Russell and former Mayor Ron Corbett.
"We were driving around that site, and I said 'just wait, we'll put something great on that site,'" Ms. Poe said. "'It may not be a casino, but it'll be great.' That was always our hope and our expectation. This has far exceeded (those expectations)."
"Overall, it's a destination," councilmember Tyler Olson added. "Even as the pieces have changed, I believe for the better, we've really maintained that."
A formal development proposal is expected to be presented to the council in late October or early November, city officials said.