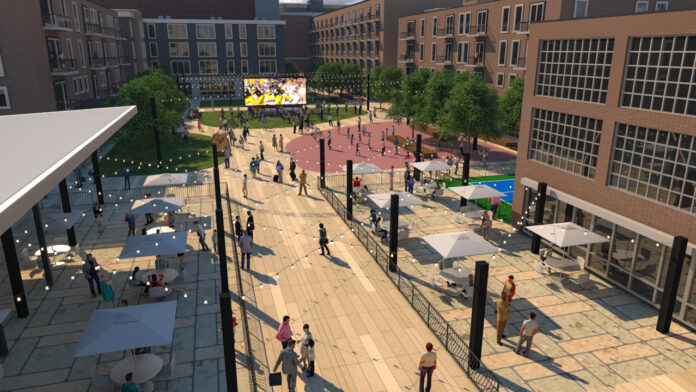 With acknowledgement from both city leaders and developers that the plan is among the most complex public-private developments in the city's history, the Cedar Rapids City Council on Tuesday approved a development agreement for the downtown "First and First West" project just west of the Cedar River.
Site work on the project, now valued at more than $81.5 million, is expected to begin this spring for the first building, the 43,530-square-foot "Pickle Palace," set to house pickleball courts, a bar and grill, event space, rooftop courts and games, a roof deck and a third-floor bar.
That facility is part of the first phase of the long-anticipated project for the land along First Avenue West between First and Third streets. The property has sat vacant since being cleared of damaged structures following the 2008 flood, and had been proposed as the site of a Cedar Rapids casino before casino proposals were rejected by the state's Racing and Gaming Commission in 2014 and 2017.
Joe Ahmann of Ahmann Companies, who's developing the project alongside Nate Kaeding of Build to Suit and Big Grove Brewery CEO Matt Swift, said Wednesday that the project, which has been reconfigured frequently since its original inception, has been improved as a result of those delays.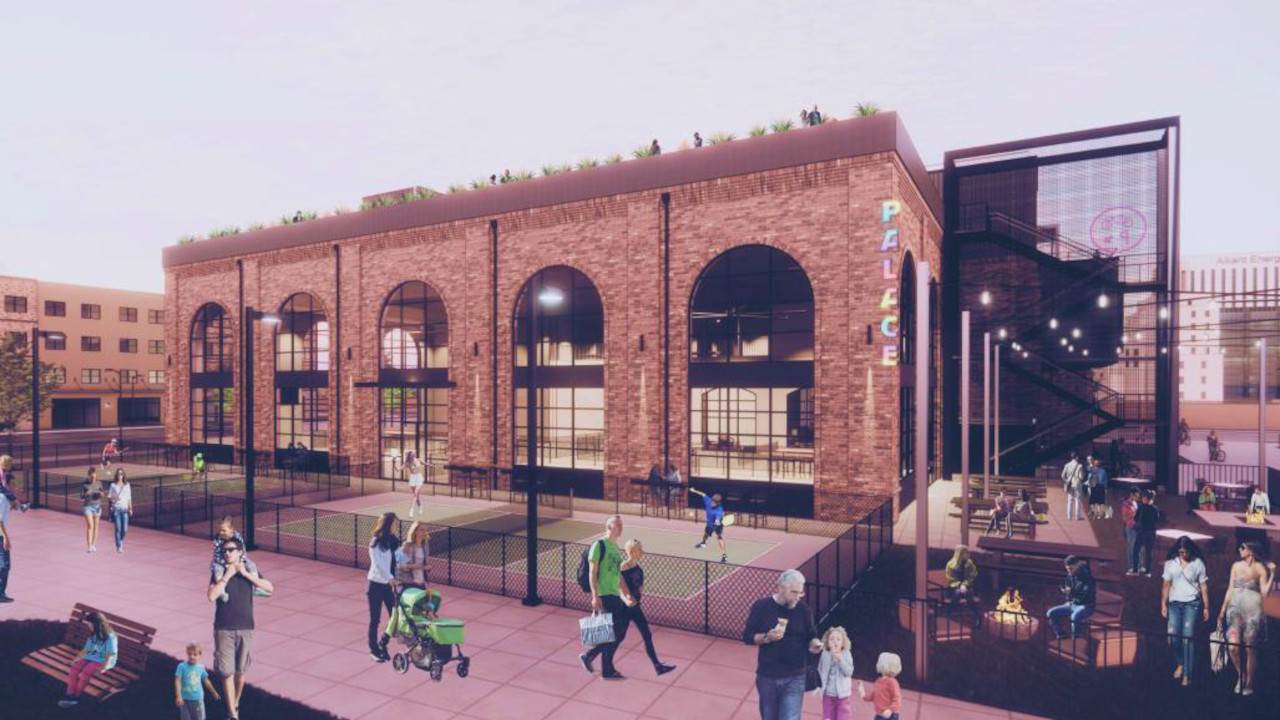 "This has been going on for quite a while," Mr. Ahmann told the council, "and your patience as we worked through this process, a lot of unforeseen things that none of us expected, has created delays. But (what) the city is doing with First Avenue, knowing more on floodwall work that's going to be done and having to relocate parts of First Street – hindsight tells me that it was probably a good delay. Every time we've had a delay, I think the project has gotten better."
He also noted the development group's enthusiasm has only heightened as the project has evolved.
"We're more excited than we've ever been to get this going," he said. "This is probably as complicated a project as I've been involved in. We had some pretty complicated projects after the (2008) flood, but there's so many moving parts to this, with flood control, street work and parking ramps. But I feel that we really have a good, solid plan that's going to be beneficial to the city. It's important to myself and our development team that we create an iconic type project that we want in the community, not for today, but for a long time (to come)."
Council member Dale Todd concurred.
"This is the most complicated project we've ever worked on as a community, at least in terms of the public-private sector," Mr. Todd said. "This is on the scale of projects similar to the Five Seasons Center, the DoubleTree Hotel. This is in that ballpark. It's almost as if we've gotten used to this kind of success here in town, because I can sit here and look at buildings that three years ago didn't exist. This is a very big deal that's going to expand the footprint of downtown to a place that just didn't exist prior to this project."
Besides the Pickle Palace, the project's first phase is set to include an 8,000-square-foot Big Grove Brewery location; two four-story mixed-use buildings, with commercial entities on the main floor and residential units above; and a boutique-style hotel that will be required to meet or exceed the standards of the existing DoubleTree.
The second and third phases, set to begin in 2023 and 2025 respectively, are set to include other mixed-use buildings, a public plaza with a large-screen TV, a stage and public seating areas, a public art installation and various landscaping and underground stormwater detention features. The entire development is targeted for completion by 2030.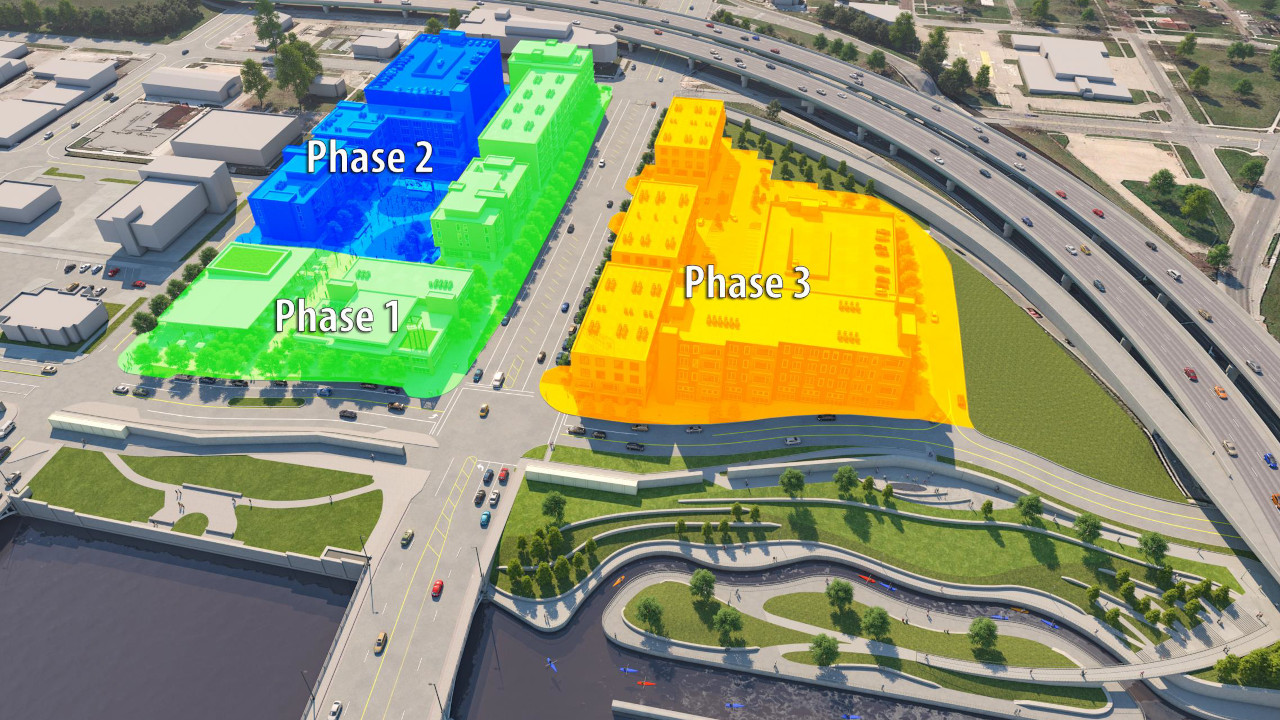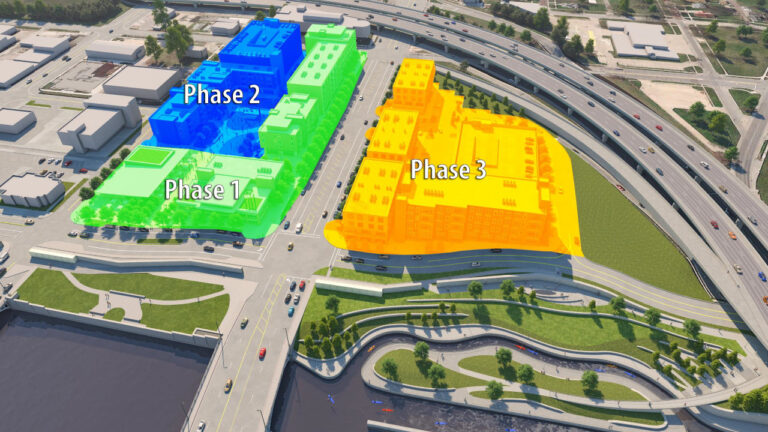 Other elements have also been discussed for the development, including a family fun center and a second hotel. An estimated 270 residential units are expected to be incorporated into the development. Overall, the mixed-use master plan includes 11 buildings, including hotels, residential units, office/service and retail spaces.
An ancillary project, not included in the First and First development, could add a $1.5 million bypass channel for kayaking and other recreational activities along the Cedar River.
The project includes a number of city incentives, including a tax reimbursement of 85% of TIF rebates for a period of 20 years for each building in the project, a $1.5 million grant to be paid in two installments as portions of the public plaza are completed, and $30,000 for removal of foundations left at the site by the city after 2008 flood demolitions.
A parking ramp will be constructed by the city once developers have completed at least $30 million in improvements, to be operated by ParkCR at market rates. City officials said plans call for the ramp to be funded with $6 million from the Iowa Economic Development Authority's Reinvestment District program.
Council member Ann Poe said the project will be important as a visual gateway to downtown Cedar Rapids.
"In my mind, this has always been a gateway to the west coming into our downtown," she said. "So it's critically important that we do it right that we build these buildings not just for now for generations to come. This is our next Guaranty Bank. These are the structures that will have historic value over the years, so they're extremely critical."