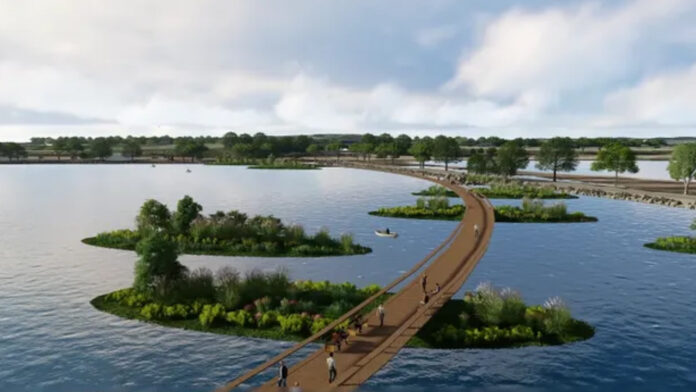 The Enhance Iowa Board has awarded a total of $17.75 million in grants to 20 projects statewide, including two Cedar Rapids projects and the establishment of a permanent new baseball stadium at the Field of Dreams site near Dyersville.
The grants were awarded April 6 through Enhance Iowa's Community Attraction and Tourism (CAT) and Sports Tourism grant programs.
The City of Cedar Rapids was awarded an $800,000 grant toward a $12.4 million environmental revitalization and trail development project at Cedar Lake. The grant for the Cedar Lake project, part of ConnectCR, is a multi-part community-wide, grassroots environmental revitalization and trail development project with an emphasis on walkability and bikeability, includes the following components:
Completion of a Cedar Lake trail trail loop to the city's larger trail system, including shoreline restoration and stabilization work;
Installation of an ADA accessible kayak/canoe launch;
Installation of a fishing jetty;
Installation of an observation pier;
Installation of a playground and park shelter;
Trailhead and parking lot improvements; and
Installation of a boardwalk and interpretive signage.
In addition, the African American Heritage Foundation in Cedar Rapids was awarded a $500,000 grant toward a $6 million renovation campaign at the African American Museum of Iowa. The funding will be used to help support the following components of this project:
Expanding the southeast parking lot;
Removing the front parking lot;
Landscaping;
Re-installation of the Dr. Martin Luther King, Jr. inspired "Trumpet" sculpture;
Moving the entrance and lobby to the northeast corner;
Relocating the library, conference room, reception and gift shop;
Accessibility improvements to public restrooms, kitchen and community room;
A new fire suppression system, updated HVAC, roof reinforcement and other repairs, needed for code compliance; and
Second-floor upgrades, including four corner offices, an open center office space, kitchenette, storage and privacy wall.
Elsewhere in Eastern Iowa, the city of Dyersville was awarded $12 million in Sports Tourism Infrastructure funds to transform the site of the 2021 and 2022 Major League Baseball games into a permanent world-class stadium and other amenities. The project's total cost is estimated at $80 million.
The Enhance Iowa Program provides financial incentives to communities for the construction of recreational, cultural, educational or entertainment facilities that enhance the quality of life in Iowa. To date, 123 CAT grants have been awarded by the board, totaling $40,240,023.