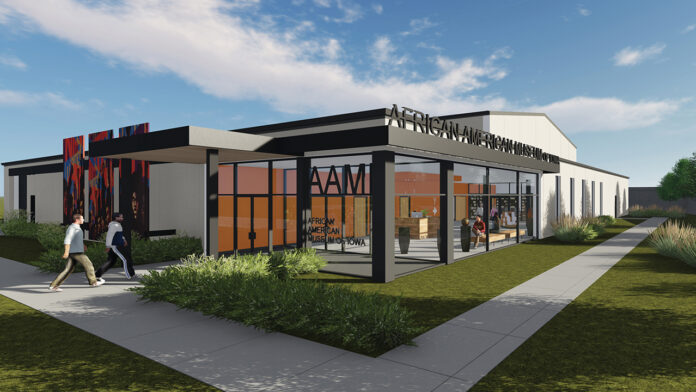 True to its historical mission, the African American Museum of Iowa is in the process of transforming a potential operational obstacle into a $6 million fundraising campaign to fuel change and growth.
AAMI Executive Director LaNisha Cassell said the museum, which was founded in 1993 and bounced between several temporary locations before completing a permanent facility in 2003 at 55 12th Ave. SE in Cedar Rapids, was notified by city officials that a planned flood wall and gate was going to cut through the museum's parking lot and impact other aspects of museum operations, including the facility's front entrance.
"We'd been meeting with them for about two-and-a-half years, and we were talking about how we could mitigate the impact," Ms. Cassell said.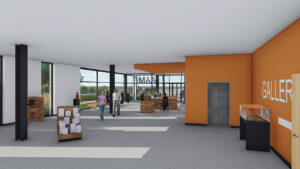 After conducting an assessment of the flood protection system's impact on the museum, the city offered $340,000 to address the issues. Ms. Cassell said she counter-offered $1.5 million, and a compromise of $1.07 million was approved by the city council in December 2021. That settlement served as the foundation for museum officials to pursue a larger project to address several museum needs, she said.
Entrance to be relocated
A key element of the project will relocate the museum's front entrance to the east side of the building and implement upgrades to the lobby, but Ms. Cassell said museum leaders decided to take a larger step.
"We decided that since that was a major project, we should also address some long-term issues we've had, like our roof, HVAC, sprinkler and some other upgrades," she said.
Yet even as the wheels for a major renovation project, dubbed Voices Inspiring Progress, were set in motion, there was still a need for someone to lead the fundraising efforts. A chance meeting brought the right person for that role on board.
Zach Bohannon, director of strategy for Estes Construction in Cedar Rapids, said he was talking with Ms. Cassell at the Corridor Business Journal's Corridor 250 leaders reception in January when the two began discussing the museum's renovation project.
Mr. Bohannon served as a project manager for the $21 million capital campaign to build the new Marion YMCA, and through that project, he said, "I built up a skill set in fundraising that I didn't know I was capable of."
The two were already acquainted, as Ms. Cassell was serving on the YMCA's board of directors.
"She asked me what I was up to, and I told her I had gotten a job at Estes," he said. "She said, 'Oh, we're getting ready to do a renovation project. We should sit down for coffee.' I was looking at it from a selfish standpoint, thinking (Estes) could build the project, but it was already solidified that Point Builders had been pre-selected."
Ms. Cassell then asked Mr. Bohannon if he could lead the AAMI's fundraising campaign. And after twice declining the opportunity, he finally was convinced to come on board – in part, he said, because he feels the museum deserves higher recognition, both locally and statewide.
"This museum has been historically underfunded and underrepresented, not just in this community, but throughout Iowa," Mr. Bohannon said. "We'll be able to go within two decades from a storefront at Westdale Mall to a standalone facility to a state-of-the-art museum that's going to be a go-to attraction for not only the community of Cedar Rapids, but for the entire state. It's long overdue." 
Museum founded in 1993
The African American Museum of Iowa was launched by members of Mount Zion Missionary Baptist Church in 1993, Ms. Cassell said.
"They came together with the mindset that there was history that needed to be shared about the African-American contribution in Iowa, and (since) it was not being taught in traditional formats like in the school system, it (could) be lost," she said.
The current renovation project is the first major effort of its kind since the museum raised $3 million to open its permanent location in 2003, she said.
Fundraising for the current campaign began at the beginning of the year, and to date has garnered a number of significant contributions. The largest is a $750,000 donation from the Hall-Perrine Foundation, but others have included a $200,000 grant from the Carver Trust in Muscatine; $100,000 from Transamerica; $50,000 each from the Alliant Energy Foundation and the GreenState Foundation; $50,000 from Collins Community Credit Union, the largest capital campaign gift in CCCU history; $30,000 from UnityPoint Health-St. Luke's Hospital, their largest gift ever to a nonprofit; and $25,000 from Bankers Trust.
Mr. Bohannon also noted the $1.07 million already allocated from the city of Cedar Rapids, and said a "seven-figure ask" is pending from the Linn County-Cedar Rapids share of funds from the American Rescue Plan Act (ARPA).
All told, he said, the museum hopes to have $3.7 million committed by the end of the summer toward a total $6 million goal, including $5 million for the renovation project and an added "stretch goal" of $1 million to enhance the museum's endowment fund.
Museum to close in September
Current plans call for the museum to close Sept. 24 in preparation for completion of design work, and to allow Cedar Rapids to launch work on the flood protection system and a new roundabout near the museum. Renovation work at the museum is expected to begin in early 2023 and be completed in late fall 2023.
In the meantime, the museum will open its newest exhibit on the school-to-prison pipeline, titled "Suspended: Systematic Oppression In Our Schools," on Oct. 13 in the third floor gallery at the Cedar Rapids Public Library. That exhibit will then travel across the state as a high-quality expo-style project, including stops at Buena Vista University in Storm Lake, St. Ambrose University in Davenport, the University of Dubuque, Kirkwood Community College and the University of Iowa. Talks are underway to bring the exhibit to other communities as well, including Fairfield, Waterloo and Sioux City, and programs and workshops are also being pursued.
Goal is statewide awareness
The overall goal, Ms. Cassell said, is to expand the museum's reach even further to a statewide audience.
"We've been wanting to do this for a long time, but now we're pushing to do it a bit sooner than we probably would have had it not been for this project," she said. "We've always had a statewide mission, but being in Cedar Rapids has been challenging to make that message clear. Our goal is to educate Iowans about our state's African-American heritage, so this project is going to not only make us more visible, but allow us to get our content to more communities across the state."
The traveling exhibit will also allow the museum to continue operating during its shutdown period, Mr. Bohannon said.
"When most places shut down for construction, like we have to do for a full year, they would literally lose revenue and not be able to operate," he said. "We're going to use that to our benefit to not only our presence and location here, but to actively get a permanent location in our capitol in Des Moines and get that word of mouth out there, so people realize, 'Oh, wow, there's a really cool museum in Cedar Rapids. I'm going to go check that out in the future.'"
Ms. Cassell noted that while there's a rich African-American legacy in Iowa, it's been typically underrepresented in the state's collective consciousness.
"I think I don't ever have a time when I engage with our visitors at the museum when they aren't surprised by what they learn about Iowa's African-American heritage," she said. "Those stories need to be shared. And we learn new content all the time. We're always uncovering new stories."
Statements of support 
The general contractor and architect for the African American Museum's renovation project, Point Builders and Solum-Lang Architects, have issued statements of support for the project and its role in community diversity, equity and inclusion.
"Point Builders is honored to be chosen as the general contractor for the African American Museum of Iowa renovation project," Point Builders senior vice president Chris Wheeler said. "When completed, the museum will have a fresh look both on the exterior and interior. This exciting transformation will benefit our community and the entire state for years to come, and Point Builders is proud to be a partner on such an impactful project."
"Solum Lang Architects is proud to be the architect for future renovation plans of the African American Museum of Iowa," Solum Lang partner Brad Lang added. "We are honored to be involved at such a pivotal stage of the museum's history helping create space that enhances the importance of African American culture and heritage in our community and beyond.  Solum Lang Architects is grateful for this opportunity to give back and look forward to the museum's future."  •