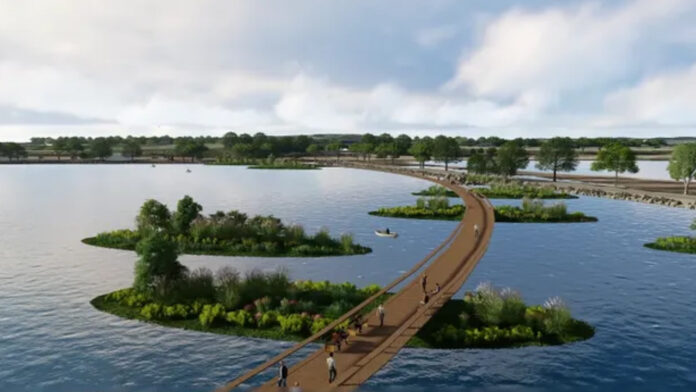 Cedar Rapids officials and community partners celebrated a milestone today, breaking ground to begin construction on Cedar Lake improvements, including ConnectCR enhancements and a flood control levee.
Improvements planned for Cedar Lake include trail bridge upgrades; accessible canoe/kayak launches and fishing piers; a challenge/obstacle course; enhanced fishing amenities; a new east shore trail; a pedestrian boardwalk over the lake; and an enhanced wetland area.
"Some of us have been working toward this day for eight years," said ConnectCR Board Member Felicia Wyrick.  "We're so happy to see this community betterment project come to fruition. We can't wait to see how beautiful Cedar Lake is when this work is completed."
The Flood Control levee will stretch 2,200 feet along the west shore of Cedar Lake, with a top elevation 21 feet above the water surface. Once completed, the levee will protect Cedar Lake, the area around Shaver Road NE and Center Point Road, and the Mound View neighborhood from flooding. The Cedar Valley Nature Trail will be relocated to the top of the levee, and will include an overlook and pavilion.  The base of the levee will feature fishing access.
"From the beginning, city leaders have recognized the need not only to protect our community, but to ensure that flood protection also seamlessly blends into the landscape and even enhances the landscape," said Cedar Rapids City Manager Jeff Pomeranz. "Thanks to the work of ConnectCR, private contributions, federal and state government, and the City Council and residents of Cedar Rapids, we are able to provide both amenities and flood protection for Cedar Lake."
Cedar Lake is an urban lake located north of downtown Cedar Rapids, between Interstate 380 and the Cedar River.