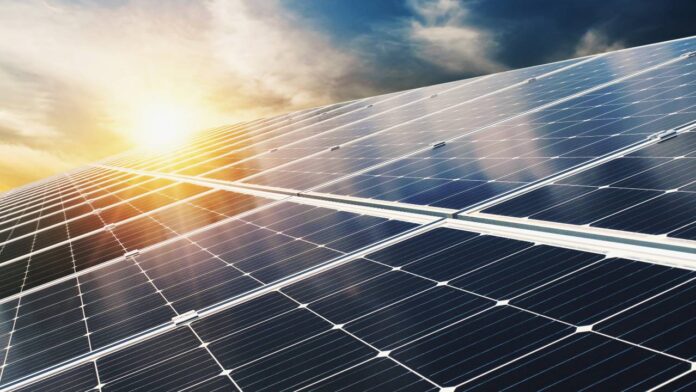 NextEra Energy's proposed plan to build a large-scale solar farm at and around the now-shuttered Duane Arnold Energy Center near Palo met with a harsh reception at a public forum Tuesday night.
The forum, hosted by Linn County officials, was designed to gather general input on the permitting process for utility-scale solar installations. County officials repeatedly stressed the event was not intended to be a formal hearing on NextEra's proposal, which hasn't yet been submitted to the county's Planning and Zoning Commission for official consideration.
But the event, which spanned more than three hours, spent little time on the purported reason for the meeting: The county's permitting procedures, which were recently modified to mandate Board of Supervisors approval of utility-scale projects rather than a nod from appointed members of the county's Board of Adjustment. Instead, nearly 100 people packed into the Palo Community Center, joining more than 200 virtual participants, to voice near-unanimous opposition to NextEra's still-unsubmitted proposal.
"Our town's motto, 'A gateway to the outdoors,' was built with the idea of scenery in mind," said Kendra Aarhus of Palo, a small business owner and member of the town's Planning and Zoning Commission. "But I don't believe the idea of solar reflectors was in that vision. Our lives will be impacted daily if a project of this scale is approved. I'm not against solar energy and I'm not opposed to responsible land use, but I ask you to consider the impact on our rural landscape and the quality of life for everyone who lives here and in surrounding communities."
NextEra held a virtual meeting with area landowners in March, laying out plans for a 3,500-acre project on property roughly bordered by Palo, Cedar Rapids and Center Point. If the 690-megawatt project was pursued and approved by the Board of Supervisors and the Iowa Utilities Board, it would comprise a $700 million capital investment and create about 300 construction jobs. It would also generate an estimated $41.6 million in tax revenue, and landowners would receive about $50 million in payments, according to NextEra officials. The project would tentatively be completed by 2023.
Charlie Nichols, director of the Linn County Planning and Development department, outlined an extensive process the county would use to consider such a project, including regulations regarding environmental impacts and ongoing maintenance of the facility. A series of questions submitted prior to Tuesday night's event focused on taxation structures, stormwater and runoff management, and potential impacts to native vegetation, pollinators and other wildlife in the area.
Joe Kerner, who lives north of Palo and worked for the DAEC prior to its shutdown, said the proposal has grown exponentially, from a 200-acre proposal outlined to DAEC employees to the current 3,500-acre concept. He said he was concerned about water runoff and the possibility of toxic chemical leakage should the panels be damaged. He also referenced potential landowner agreements with NextEra for solar
"It's basically, what are my neighbors allowed to do that affects me?" Mr. Kerner said. "Because right now, what they're doing to me is threatening my property. I was planning on retiring from there. Now, I don't know. I hope you really consider the effects on the individuals, and I hope something positive comes of this."
Frank Robinson said he lives in Colorado, but owns property near another utility-scale solar farm being proposed near Coggon by Idaho-based Clenera. He said his comments were directed to both the Palo and Coggon proposals. "I sense some advocacy from Linn County government (for these projects)," he said. "There's no support in this room. What criteria will you use to not approve these projects?"
County supervisors Ben Rogers and Louis Zumbach also attended Monday night's meeting. A similar meeting to gather public input is slated for next Tuesday, June 1 at 6 p.m. at the Linn County Fairgrounds in Central City.