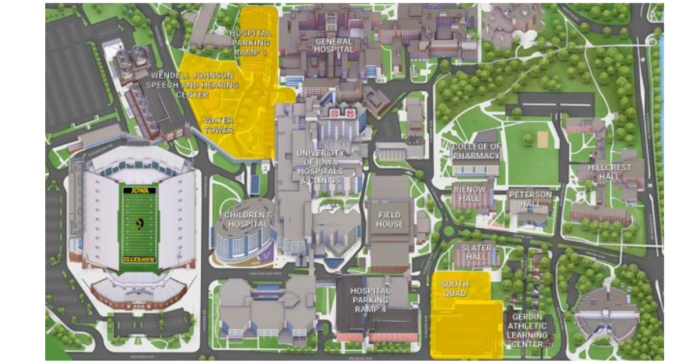 UI Health Care has posted a request for qualifications (RFQ) for the highly anticipated adult inpatient tower project, a key component of the university's long-term plan to modernize facilities.
Construction on the $621 million project is slated for 2025 once Hospital Parking Ramp one and a water tower is demolished and the Wendell Johnson Speech and Hearing Center is relocated. Operational planning and programming should be completed by the end of 2023, accoding to the RFQ.
"The new inpatient tower and adjacent multi-story concourse will create a welcoming front door to the UI Hospitals & Clinics campus," said a news report from Iowa Now.
In addition to increasing the hospital's bed capacity throuh multiple 48-bed floors, the tower could have full-glass views of the Iowa landscape and a tunnel connecting to Stead Family Children's Hospital.
On average, the university says it accomodates more than 30,000 inpatient hospital care visits and 50,000 emergency department visits each year.
It's expected the tower will also include an expansion of Hospital Parking Ramp two, a concourse connecting the new tower to the children's hospital and a skywalk to Hopsital Parking Ramp three.
The Wendell Johnson Speech and Hearing Center will be relocated to a new health sciences building located south of Slater Residence Hall and adjacent to Gerdin Athletic Learning Center. The building will host the health and human physiology and physical therapy and rehabilitation sciences departments as well.
ENGIE North America, the UI's utility partner, will begin construction on a water tower northwest of the football practice fields. Completion is expected by the end of 2024.
The announcement came just one day after the Board of Regents approved approximately $180 million in projects including construction of a 985-space parking ramp north of Kinnick Stadium; a renovated Medical Laboratories Building and seventh floor of Van Allen Hall; two new floors on the south side of the UI Hospitals & Clinics emergency department; a new biosciences laboratory; and a relocated Neonatal Intensive Care Unit at Stead Family Children's Hospital.
A $70 million gift from the Richard O. Jacobson Foundation, the largest donation to the University of Iowa in its history, will help make the inpatient tower project possible.
First announced in January 2022, the UI will also build a new teaching and research building and ambulatory care building.
Many of the buildings on UI Hospitals & Clinics main campus are at or approaching 50 years of age," the university said. "The campus is in significant need of modernization to support the academic medical center's tripartite mission of education, research and patient care."
Funds will be spent on the inpatient tower from fiscal years 2024-2028, according to recent UIHC capital plan projections as reported by The Gazette.