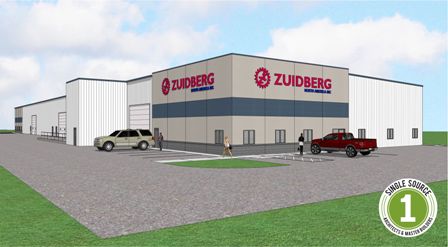 By Dave DeWitte
CEDAR FALLS – A supplier of tractor components based in the Netherlands has announced plans to open its first U.S. location this year in Cedar Falls.
Zuidberg Frontline Systems B.V. plans to move into 10,000 square feet of leased space in a 40,000-square-foot building slated for development in the Cedar Falls Industrial Park on Capital Way. The company expects to begin moving in June and be fully operational in July at the new space.
Zuidberg's new facility will initially distribute agricultural equipment transmissions and Frontline Systems (front linkage systems) made by its parent company, Zuidberg Frontline Systems B.V., in the Netherlands.
Although Zuidberg officials did not mention John Deere in the announcement, the Cedar Valley is Deere's largest location for tractor production.
"Iowa and the Cedar Valley are very central within the USA, and have an excellent reputation for global manufacturing including a hardworking and reliable workforce," said Rudolf de Jong, Zuidberg North America's president, in a press release. "This fits with the Dutch and the Zuidberg mentality in particular," de Jong stated.
The city of Cedar Falls provided a 5-acre parcel of land and a partial five-year property tax exemption for warehouse and distribution facilities to developer Brent Dahlstrom, who  is developing the building in which Zuidberg will locate, according to Bob Seymour, community service manager for the city. Under Mr. Dahlstrom's agreement with the city, the new building will have a minimum value of  $1.5 million.
The Zuidberg location will provide sales, service and engineering support for the two product lines, Mr. Seymour said.
Cedar Falls is thrilled to be selected by Zuidberg as a business location, said Mr. Seymour. Although Zuidberg initially will sell and distribute from the location, "we're hoping at some point in time they'll consider putting a manufacturing facility here as well,"  he added.
Several years of communication between Iowa officials and Zuidberg leaders began when Zuidberg met with the Iowa Economic Development Authority's European office representatives at a trade show in Germany in 2011. The agency continued to work with Zuidberg, which was considering a variety of different states and Iowa communities, for the new U.S. facility, receiving assistance and support from the City of Cedar Falls and the Greater Cedar Valley Alliance and Chamber.
Mr. de Jong expressed appreciation for the "the great and inspiring help the State of Iowa, the Cedar Valley Alliance & Chamber and local business leaders offered which helped to make the decision easier."
Iowa Economic Development Authority Director Debi Durham said the relationship with Zuidberg was part of the state's effort to recruit companies that supply Iowa manufacturers. Ms. Durham said one of the advantages that brought Zuidberg to Cedar Falls was its ability to work with developer Brent Dahlstrom on the design of the building before it was constructed.
In a press release, Greater Cedar Valley Alliance and Chamber CEO Steve Dust said Zuidberg's decision reaffirms the Cedar Valley as a location from which manufacturers can serve global markets, and also reaffirms the area's quality of life for relocating executives.
Zuidberg, established in 1982, is a privately held company headquartered in the Netherlands. It is expected to begin hiring this spring for a small number of sales and technical personnel.