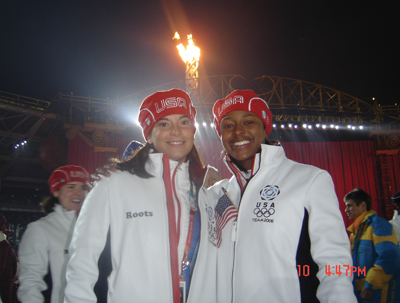 By Dave DeWitte
Two-time Olympic bobsledder Jean Prahm of North Liberty has never been one to dodge a challenge, but her latest will test a new set of entrepreneurial skills.
After receiving her entrepreneurship certificate from the University of Iowa in 2012, Ms. Prahm launched her new business, Mommy Hips, this month. The company's namesake product is a compression garment developed by Ms. Prahm to restore women's hips distended by pregnancy and childbirth to their original shape.
Ms. Prahm's business idea sprung from personal experience. She was proud of the physical condition she'd maintained throughout years of bobsled competition. She held driver spots on the 2002 and 2006 United States Olympic Bobsled Team, and claimed two World Cup championships in the sport. Even though she tried hard to exercise her body back to its original shape after each of her children was born, she found her hips remained wider.
After research, Ms. Prahm found that the only way to restore her shape would have been to compress the hips during a brief window of time about one to three months following childbirth. The hormones that allow joints and ligaments to relax begin to abate during that time, but joints and ligaments have yet to tighten back up in their new positions.
Ms. Prahm was not alone in her frustration. She found women everywhere whose hips became distended wanted to get their shape back, and some went to great lengths to do so.
"There are some individuals who will choose to go out and get a corset and tie it up as tightly as they can," Ms. Prahm said.
Some commercial products are designed specifically to compress the hips of postpartum women with less discomfort, but Ms. Prahm found them lacking. Belts used to compress the hips would slip out of place, for example.
Ms. Prahm researched and refined her business concept during her coursework at the UI's John Pappajohn Entrepreneurial Center, where she received a wealth of advice and encouragement from faculty members Monica Nassif, John Buchanan and others.
"I wasn't real sure if this was a great idea or a true business opportunity," Ms. Prahm, recalled.
By the time she had earned her entrepreneurship certificate, she was feeling more certain. She even won the November 2012 Ron Francis Elevator Pitch Competition for her ability to communicate her business concept effectively.
A key to Ms. Prahm's development of Mommy Hips was the discovery of a fabric that seemed to meet every one of her requirements. It is stretch, light and breathable, yet able to hold it shape over long periods of use.
The slippage problem Ms. Prahm had observed in competing hip compression products was solved by sewing a stretch compression belt to a girdle-like undergarment so that it cannot slip.
The product is being consumer tested by postpartum women, who have provided some strong testimonials.
Women who've just had a child often feel like their whole body is loose and out of place, Ms. Prahm said. Postpartum moms who tested Mommy Hips said it not only provided the hip compression needed, but also provided support in other areas that restored confidence.
"You feel whole again," Ms. Prahm said.
The product will initially be sold at a price of about $84 from the company's website, but Ms. Prahm, eventually hopes to get the product on QVC, the cable shopping channel to reach a wider audience.
The Winter Games in Sochi have proven a pleasant distraction from Ms. Prahm's goal of launching the business. She has hosted an opening ceremony party at her North Liberty home with husband Ryan, a former professional baseball player from Cedar Rapids, and has been invited to speak at area schools about her Olympic experiences.
"I don't think there is anything quite like it," said Ms. Prahm, a two-time World Cup champion whose bobsled runs have been timed at speeds up to 92 mph.
Ms. Prahm got her start in winter downhill sports by happenstance. A luge association was hosting day camps for children across the United States to expose them to the sport, and one of the events took place in a park near her family's home in Michigan.
Although her brother and sister crashed during their first run using a practice luge with wheels, Ms. Prahm's skill and coordination caught the attention of the association, which invited her to a Junior Olympic team preparation event. She made the team and continued her rise in the sport, then switched at age 18 to bobsledding.
Although her teams did not medal, Ms. Prahm (then using her maiden name of Jean Racine) still generated plenty of attention. She was one of the smallest women ever to drive a bobsled, a sport in which pushing speed and weight are both highly important.
Bobsledding has been more than a confidence-builder for Ms. Prahm.
"I've always had this entrepreneurial mindset, even in bobsledding," she said. "When I started out in it, women did not have opportunities to compete at the Olympic level. There were a lot of people who wanted to support us, but they said, "Come back after you are Olympic."
Ms. Prahm and others lobbied hard for women to be allowed into the sport at the Olympic level, and eventually prevailed.
"Through that experience, I have learned to think outside the box," Ms. Prahm said. "When I realized there was no ideal product for mom's postpartum to get their shape back, I thought, "I can create that. I like to solve my own problems."
Ms. Prahm no longer competes, but still serves on a selection committee that picks the United States women's Olympic bobsled team. She considers it an honor to be able to contribute to the team's Olympic aspirations.