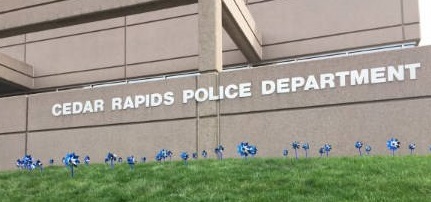 UnityPoint Health – St. Luke's Child Protection Center (CPC) team members are working with other local agencies to raise awareness of child abuse and will be "planting" blue pinwheel gardens throughout Linn County in April during Child Abuse Prevention Month.
The blue pinwheel is the symbol of hope, representing a happy, carefree childhood and bright future.
Pinwheel Garden location includes: Linn County Sheriff's Office, Cedar Rapids Police Station, Linn County Courthouse, Greene Square Park, Tanager Place, Four Oaks Bridge, Marion Police Station, UnityPoint Health-St Luke's Child Protection Center, Iowa State Extension, UnityPoint Health-St. Luke's Hospital and Kingston Therapy.
St. Luke's Child Protection Center was formed in 1987 because of the rise in suspected cases of child sexual and physical abuse. Each agency was dealing with these cases in their own departments and not working together. When St. Luke's CPC opened, it was the first of its kind in Iowa for several years; today, there are five Child Protection Centers across the state.
CPC works with law enforcement agencies and the Department of Human Services (DHS) in responding to allegations of exposure of children to illegal drugs, sexual and physical abuse and reports that children have witnessed violence.
If child abuse is suspected, individuals should call (800) 362-2178 or (319) 369-7908.