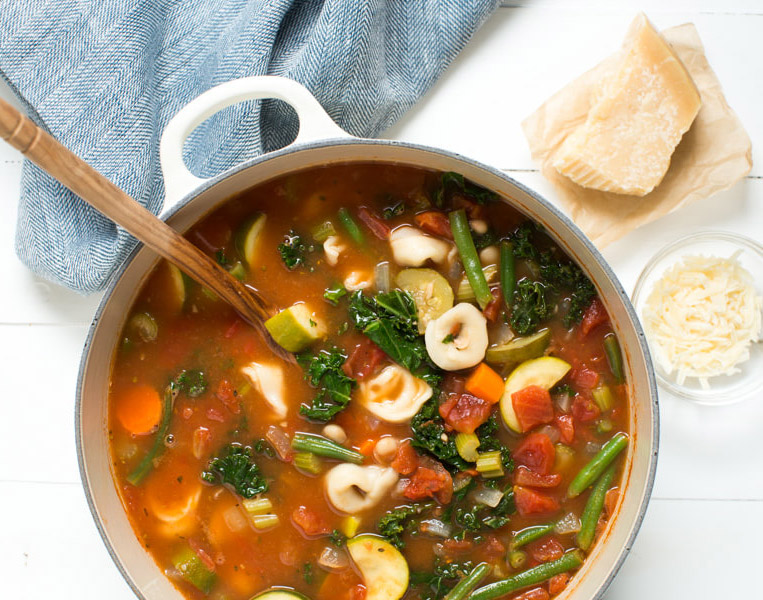 Fresh veggies, tortellini and grated cheese make for a hearty and healthy soup.
INGREDIENTS
1 tablespoon olive oil
½ cup yellow onion, chopped
2 cloves garlic, minced
1 zucchini, sliced into small pieces
1 cup chopped carrots
1 cup chopped celery
1 cup green beans, chopped into 2 inch pieces
2 tablespoons tomato paste
1 (15 ounce) can cannellini beans, rinsed and drained
6 cups low-sodium vegetable broth
1 ½ teaspoons Italian seasoning
9 ounces tortellini, fresh or frozen
2 heaping cups fresh kale, coarsely chopped
Salt and pepper, to taste
Freshly grated Parmesan cheese, for serving
PREPARATION
In a large stockpot, heat the olive oil over medium-high heat. Add the onions and cook until softened, about 3 minutes.
Add the garlic, zucchini, carrots, celery and green beans and cook for an additional 3 minutes.
Add the tomato paste, beans, broth and Italian seasoning to the pot. Bring the mixture to a boil.
Add the tortellini to the pot and cook according to the package instructions. One minute before the tortellini is done, stir in the kale, lower heat and let simmer for five additional minutes.
Remove from heat, season with salt and pepper and serve immediately with freshly grated Parmesan, as desired.