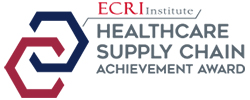 Mercy Medical Center in Cedar Rapids has received the 2017 Healthcare Supply Chain Achievement Award from ECRI Institute, a nonprofit organization dedicated to discovering which medical procedures, devices, drugs and processes improve patient care and adopt best supply chain practices. Mercy is one of 12 hospitals nationwide, and the only hospital in Iowa, to receive this award.
Each year, the Healthcare Supply Chain Achievement Award recognizes hospitals and health systems for their comprehensive and effective use of ECRI Institute's PriceGuide and SELECTplus supply and capital procurement advisory programs. This year's winners were selected out of nearly 3,000 members nationwide. Winners are determined using a two-part selection process that is both quantitative and subjective.
"In our review of candidates, we sought hospitals and health care systems that had exemplary use of ECRI Institute services and reflected a pattern that does not focus solely on cost, but equally weighs quality and outcomes in each procurement decision," Timothy Browne, director of ECRI Institute's PriceGuide service, stated in a press release.
The evaluation process was based on a study and analysis of each organization's purchase order history and supply chain initiatives that included ongoing and consistent spend management and market analytics efforts for all medical devices, including capital medical equipment, supplies, physician preference items, service contracts, reagents and others.
For more information, visit www.ecri.org