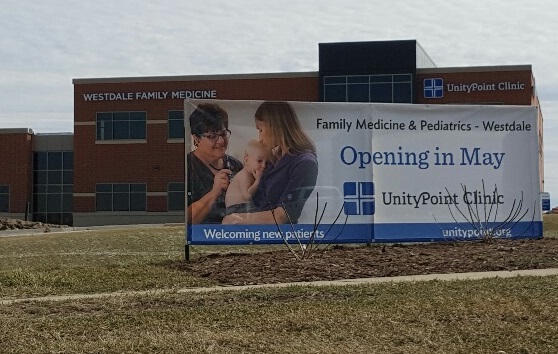 UnityPoint Clinic will open its third pediatric clinic in the Cedar Rapids metro when it adds pediatric care services to the facility under construction on the city's west side.
The new "UnityPoint Clinic Family Medicine" facility will be located in the Westdale building at 4325 Williams Blvd. The clinic's expansion was announced last year.
The current UnityPoint Clinic Family Medicine and Urgent Care is located at 2375 Edgewood Road SW. Once the new building is complete, the Edgewood Road location will become a dedicated Urgent Care Clinic, and the Family Medicine Clinic will move to the new space. 
The new clinic will bring 20 doctors and health care providers to one location. Additional medical services will include X-ray or imaging services, outpatient physical and occupational therapy, and laboratory services by MedLabs. 
St. Luke's Therapy Plus Southwest will move to the new facility and be the first to open in late April. The rest of clinic is slated to open in May.