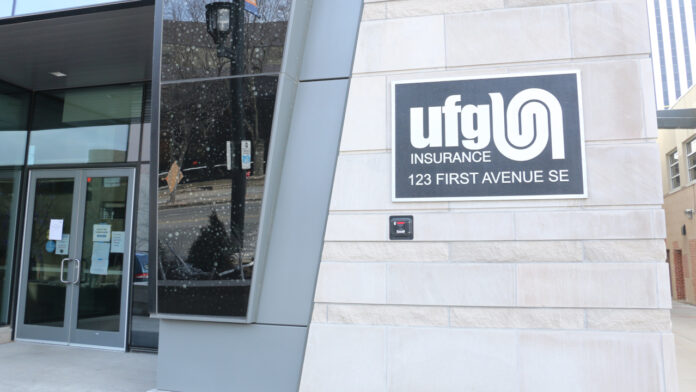 United Fire Group (UFG) on Aug. 4 reported a UFG net loss for the second quarter of 2022, driven in part by a net quarterly loss in investments.
UFG, the Cedar Rapids-based insurance company, reported a consolidated net loss of $10.5 million, or $0.42 per diluted share, for the second quarter ending June 30. In the same quarter of 2021, United Fire had reported net income of $13.8 million, or $0.54 per diluted share.
In a statement, UFG said the net loss for the second quarter was primarily due to a decrease in the fair value of investments in equity securities and a decrease in investment income, partially offset by an increase in net premiums earned.
UFG also reported adjusted operating income of $6.1 million for the quarter, or $0.24 per diluted share, a decline of 32.5% from the $9 million in adjusted operating income ($0.35 per diluted share) from the same period a year earlier but beating analysts' estimates of $0.23 per diluted share.
Total revenue for the period was $219.5 million, down 10.2% from the $244.4 million reported in the same period of 2021 and down 10% from analysts' estimates.
In a statement, UFG president and CEO Randy Ramlo noted that for the fifth consecutive quarter, the insurer saw an improvement in its core loss ratio compared to the same quarter of 2021.
"Our core loss ratio, a measure that removes the impact of catastrophe losses and favorable prior year reserve development, improved 1.8 percentage points compared to the second quarter of 2021 and 10.1 percentage points on a year-to-date basis," Mr. Ramlo said. "In addition, in the second quarter of 2022, we started to see some positive signs of growth after two years of focusing on improving profitability through non-renewal of underperforming accounts in our commercial auto line of business and our exit of the personal lines business. This growth has been driven by our specialty and assumed reinsurance lines, consistent with our strategy. Profitable growth is our number one consideration when putting new business on the books."
In early July, UFG announced that Kevin Leidwinger will join the company as its new president and CEO, effective Aug. 22. He will replace current president and CEO Randy Ramlo, who announced his retirement in February. Mr. Ramlo is credited with  building "One UFG," the company's strategic plan that prioritizes long-term profitability, diversified growth and continuous innovation.