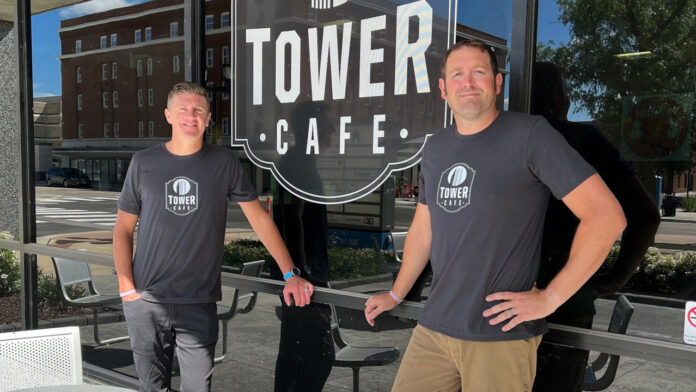 A new restaurant, Tower Cafe, is opening Friday, Aug. 5 on the street level of the Alliant Energy tower in downtown Cedar Rapids.
Tower Cafe, owned by longtime local restauranteurs Andy Deutmeyer and Vic Kuper, is located at 200 First St. SE, in the space formerly occupied by Fresh Deli & Grill before that eatery closed June 30.
The restaurant will offer an extensive breakfast menu, including a breakfast scramble, breakfast quesadilla, breakfast pizza, breakfast sandwich, biscuits and gravy, eggs, bacon, sausage, a cheddar hash brown cake, biscuits, bagels and coffee.
For lunch, Tower Cafe at the Alliant Energy tower will offer a variety of items under a "Grill Station" moniker, including a crispy chicken wrap, marinated chicken sandwich, a third-pound burger, a veggie burger, carne asada street tacos, quesadillas, a turkey melt, chicken strips and grilled cheese.
Deli options include a Mediterranean salad, an Asian chicken salad or a build-your own salad option, as well as deli sandwiches such as Tuscan chicken, roast beef, or Italian sub, as well as  a build-your own sub option.
Sides include house-made cheddar tater tots, fried cheese curds, sauteed summer squash with peppers, a side salad, or French fries.
A variety of fountain and bottled beverages is also available, along with fresh-baked chocolate chip cookies.
"Tower Cafe is all about fresh, quality products served with speed and courtesy," reads a statement on the cafe's Facebook page.
Orders can be placed online through Tower Cafe's website or in person. The website also indicates that catering services will be available soon.
Mr. Deutmeyer and Mr. Kuper also own Blend Business Dining, a Cedar Rapids caterer, and formerly operated the Blend restaurant in downtown Cedar Rapids.
Tower Cafe's initial hours will be Monday through Friday, 7:30 a.m. to 2 p.m., with the restaurant closed on weekends.
The launch of Tower Cafe at the Alliant Energy tower at was organized by GLD Commercial. "GLD is pleased to have helped facilitate this transaction," GLD Commercial said in a Facebook post.
For more information, call Tower Cafe at (319) 200-5999, email staff@towercafe.com, or check out the cafe's website or Facebook page.