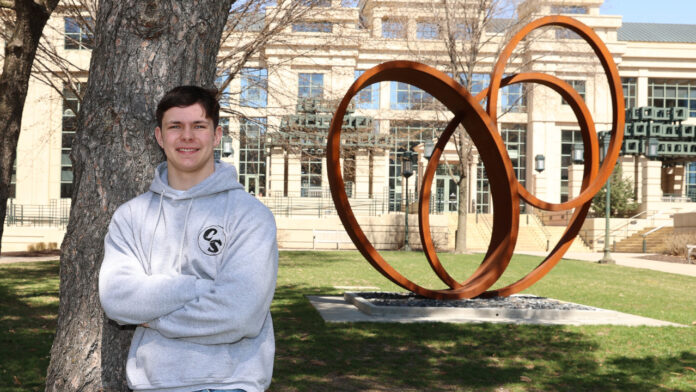 Losing $40 on an initial business venture would discourage most 15-year-olds. Instead, it thrust Jacob Vander Sanden into a life of entrepreneurship.
A sophomore at the University of Iowa, Mr. Vander Sanden will compete in the Next Top Entrepreneur Competition on April 20 at the University of Georgia in Athens, Georgia. First prize is $10,000.
You could say Mr. Vander Sanden, a 2021 graduate of Cedar Rapids Kennedy High School, had a slow start to a business career. At the urging of a friend, he used money from his first paycheck working at a local trampoline park to purchase a pair of used Air Jordan basketball shoes. The goal was to make a profit flipping shoes through social media advertising. Hours, days, weeks, and months passed and Mr. Vander Sanden still had the shoes. Impatience took over.
"I panicked because I couldn't sell them," he said.
Mr. Vander Sanden eventually found a buyer, but came out $40 in the hole. Disappointed? Maybe. Discouraged? No way.
"I lost money but I saw the potential," said Mr. Vander Sanden, a self-proclaimed mathematics fan and numbers guy. "I thought if other people have figured this out in a couple years, I'm not going to figure out in a month. But if I continue doing it, I will keep getting better."
Fast forward to 2022 when Mr. Vander Sanden's business, Cedar Sales (soon to be renamed Dino Distribution), did $300,000 in sales.
"I'm hoping to increase that this year," Mr. Vander Sanden said. "As I learn, I'll get better at making purchasing decisions."
Cedar Sales is an e-commerce distribution business that in many ways acts as a service to distributors. Mr. Vander Sanden supplies online stores like Amazon, with a goal to start selling on Walmart and offering distribution services to restaurants or other Amazon or Walmart sellers. Online software informs Mr. Vander Sanden of past Amazon prices and he uses that information to set prices for his products.
What began as a hobby flipping designer sneakers evolved by adding Nike apparel (he sold 500 packs of socks two summers ago) and then branched into household and grocery items. Mr. Vander Sanden says he buys the data behind a product instead of the product itself, depending on what price point he can source the product and how many times he expects to sell it. A recent purchase was 150 Swiffer pads — "they sell about 4-5,000 times a month on Amazon," he said.
Some inventory is acquired the old-fashioned way — with Mr. Vander Sanden driving to outlet malls in the Des Moines area and stuffing every inch of the car with purchases. If inventory doesn't sell on Amazon, Mr. Vander Sanden lists it as an auction on eBay to recoup some of the original cost.
"I don't always make a profit," he said. "You have to lose money occasionally, it happens."
Mr. Vander Sanden is pursuing a degree in business analytics and information systems. He hopes to refine his business by learning more in the computer space. As for other business opportunities, Mr. Vander Sanden is working with a friend on a liquidation service within Amazon. When consumers return goods to Amazon that are unsellable, Mr. Vander Sanden will sell that inventory on other marketplaces like eBay, Etsy, and Poshmark. They took their first client in April.
At the Next Top Entrepreneur Competition, Mr. Vander Sanden will unveil an improved hook to his pitch. Just as his familiarity with his e-commerce business is improving, so is his presentation at local and national pitch competitions. During his journey, he is taking advantage of resources offered through the University of Iowa John Pappajohn Entrepreneurial Center (Iowa JPEC).
"Iowa JPEC always has someone they can refer me to," Mr. Vander Sanden said. "They put me in a place where I can be actionable. Having those connections where I know if I need something, Iowa JPEC has always been there for me."
On April 12, Mr. Vander Sanden and Cedar Sales won first place and $5,000 in the Best Growth category at the undergraduate Innovation Challenge, sponsored by Iowa JPEC.
Mr. Vander Sanden officially threw his hat (or shoes) into the entrepreneur world when he was 15. But perhaps, the idea was hatched years earlier.
"When I was younger, I always ate honey bread," Mr. Vander Sanden said. "I told my parents I loved honey because it rhymed with money."