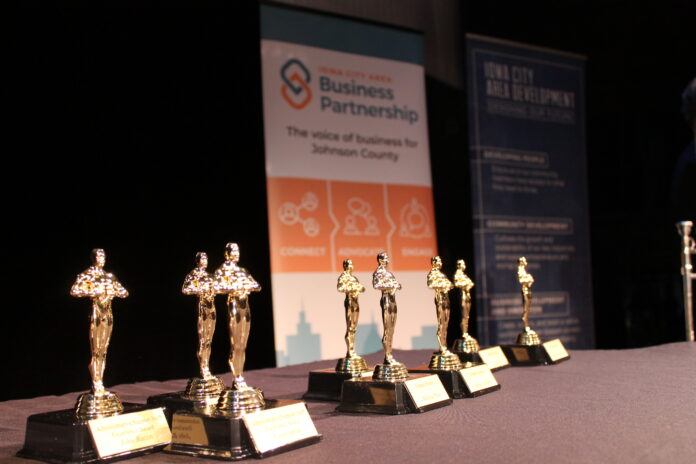 The Iowa City Area Business Partnership (ICABP) and the Iowa City Area Development Group (ICAD) have announced the teachers, students, staff, school groups and organizations who will be recognized at the annual Innovation in Education awards ceremony. 
The Innovation in Education awards are part of the ICABP and ICAD's efforts to grow and strengthen Johnson County by supporting a strong, innovative education system that develops homegrown talent. For over 25 years, the awards have recognized the efforts of those who model the future of K-12 education in the community. The ceremony will be held 6 p.m. April 26 at the Englert Theatre.
The Innovation in Education awardees are:
Alisa Meggitt (North Central Junior High), Ann Schaefer (Iowa City High School), Daniel Lekin (Liberty High School), Marianne Mcgrane (Liberty High School) and Tracy Elmer (Weber Elementary School) will be awarded the Inspire Award. The award is given to educators who inspire, excite and influence students to learn through exceptional, unprecedented or extraordinary programs and/or create an innovative, future-focused classroom.

Greg Gilbaugh (Heritage Christian School), Melissa Zieglowsky (Alexander Elementary School) and Tunisia May (Liberty High School) will be awarded the Spark Award. The award is given to individuals who go above and beyond to create a learning environment where all students have a chance to succeed, and all instructors feel the freedom to innovate. 

Reem Kamil Kirja (Iowa City West High) and Ava Graff (Iowa City West High) will be awarded the Student Innovation Award, which recognizes students for their achievements and efforts to go above and beyond during the 2022-23 school year. The winners demonstrate a growth mindset, empathy and a desire to uplift others.

Anne Ehlinger (Willowwind School), Becky Suchomel (Liberty High School) and Colene Feldman (Lone Tree Community School District) will be awarded the Administrative/Support Staff Excellence Award, which recognizes the exemplary service of dedicated administrative assistants or employees who foster a positive learning and supportive environment at their school.

VIVED Learning will be awarded the EdTech Company of the Year Award, which recognizes an Iowa City area-based education technology company that has demonstrated or facilitated classroom innovation, has supported the growth of the Iowa City area as an education technology hub, and has given back to our community.

Tim Sheeley (Solon Middle and High School) will be awarded the STEM Innovator Award, which

showcases the creative innovations of a program that facilitates enhanced problem-based teaching and learning.

James Postman (Van Allen Elementary), Matt Hartman (Van Allen Elementary) and Willowwind

School will be awarded the Impact Award. The award is given to a school group that embraces three core goals: to inspire, innovate and achieve. Their pursuit of these first three goals culminates in realizing a fourth: IMPACT on teachers, students and their community.

Doug Lestina (Iowa City Community School District) and Anthony Branch (United Action for Youth SPARK! Program) will be awarded the Innovation in K-12 Mental Health Award. The award recognizes a program, group or leader that addresses the extensive challenge of stress, anxiety, depression or other mental health issues in K-12 students.

Kaye Lindsley (Willowwind School), Lucie M Mordecai (Abbas International Healing Center) and the Good Shepherd Center will be awarded the Early Childhood Innovation Award in recognition of outstanding childcare providers and programs for their commitment to building the foundation children need to make the best possible start in life.
The awards are made possible by lead sponsor Midwest Dental and supporting sponsors Pearson, GreenState Credit Union, University of Iowa Health Care, Dr. Suzanne Stock – Orthodontist, and the University of Iowa College of Education.
For more information or to register for the event, visit ICABP's website.