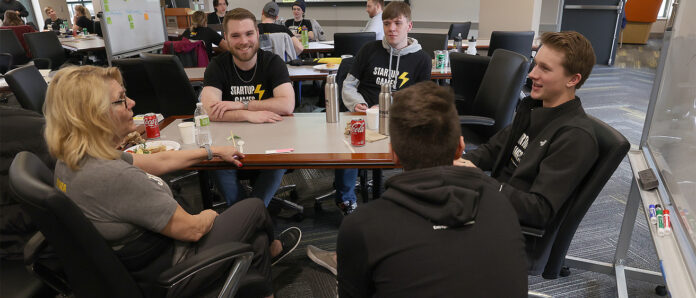 Wellness Wear, a clothing brand promoting mental health in a stylish way, won first place and $1,000 at the John Pappajohn Entrepreneurial Center's Startup Games on March 5.
The Startup Games are sponsored by the center because it is the hub for entrepreneurial education and outreach at the University of Iowa. During the three-day event, held at the Hilton Garden Inn in Iowa City, students teamed up to pitch ideas and start a business with fellow Hawkeyes. 
Thirty-five UI students of various disciplines pitched 28 ideas at the event. The students formed eight teams and four-minute final pitches occurred on March 5 in front of three judges.
Daniel Aguilera, Alexis Elwood, Simon Glazer, Euan McDermid and Alyssa Miner championed Wellness Wear into the top spot. 
Other winners included:
Safe Cycle was the biggest financial winner of the games, taking home second place and $750, as well as the People's Choice Award for $500. Safe Cycle provides relief by ensuring safety and security of a bicycle. Karthika Kelat, Andrew Lukz, Kathleen Taback, Geno Tanquilut and Nathan Wedemeyer were the students behind the pitch.
Placing third and winning $500 was AutoCompete, an auto parts comparison website that saves small businesses time and money. This idea was pitched by students Aly Bishop, Christian Johnson and Will Kamentz.