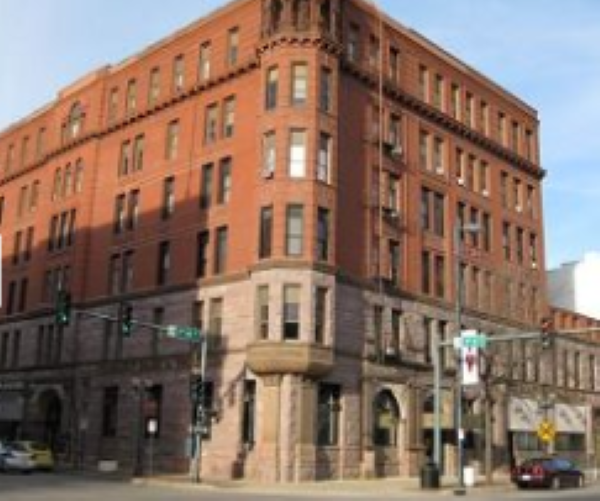 The former Guaranty Bank & Trust Co. at 302 Third Ave. SE, Cedar Rapids
By CBJ News Staff
news@corridorbusiness.com
Heart of America Group has placed an indefinite hold on its plans for a $51-million redevelopment of the Guaranty Bank block in downtown Cedar Rapids, as the COVID-19 pandemic continues to threaten its core hotel and restaurant businesses.
The Moline, Illinois-based hospitality chain has suspended work on the project to convert the historic bank into a boutique hotel with a Johnny's Steakhouse restaurant and develop a freestanding AC Hotel incorporating part of the historic World Theatre building as an entrance. The long-anticipated project, hindered last year by challenges in securing needed historic preservation tax credits, is now unlikely to begin this year. A starting date is impossible to predict, CEO and founder Mike Whalen said.
Mr. Whalen said that even work on part two of the historic preservation review process needed for tax credits is suspended because most of the company's architectural staff have been laid off. Financing for the project would be hard to obtain because banks have cooled on hotel projects. In large part, he said, whether and if the project moves forward will depend on how soon a vaccine is developed for the COVID-19 pandemic and how soon travel recovers from it.
"I've never dealt with one of these," Mr. Whalen said. "We had a record January and record February. We were on our way to a record March, and looking at a record year, and then in three or four days, it all went away."
From being unable to find enough people to staff Heart of America's businesses, Mr. Whalen said the company has gone to not being able to find customers. He believes the hospitality industry, and restaurants in particular, have unfairly been portrayed as high-risk areas for COVID-19 transmission. Bookings have slowly begun to trickle back in at properties that remain open, but the company's hotels in some locales, particularly Illinois and Dane County, Wisconsin, have not yet been allowed to reopen.
Heart of America Group nevertheless plans to open a new Fairfield Inn & Suites in Davenport and a new Hyatt Place in Altoona this summer, while also repositioning an existing West Des Moines Holiday Inn as a Tapestry Collection boutique hotel. The timing on the openings couldn't be worse, Mr. Whalen acknowledged, but the projects are already financed and nearing completion.
Mr. Whalen believes the skies will eventually clear for the hospitality industry, enabling the Guaranty Block project to restart, but he just doesn't know when.
"I'm still excited about the Cedar Rapids project," Mr. Whalen said, pointing to the World Theatre entranceway to the AC Hotel as one of the design features that will could make the property a unique and memorable destination.
Business Retention and Expansion Strategist Ron Corbett of the Cedar Rapids Metro Economic Alliance, who has worked with Heart of America, said he understands that the company has more pressing priorities than beginning a new hotel project. He advised against expecting a project start this year during a talk to the Cedar Rapids Downtown Rotary Monday.
"They've got to get all their existing restaurants, hotels and properties going again and be able to serve their customers (with the COVID-19 health restrictions) " he said. "They're not going to be in a position to start a $50-million new project right now."  CBJ