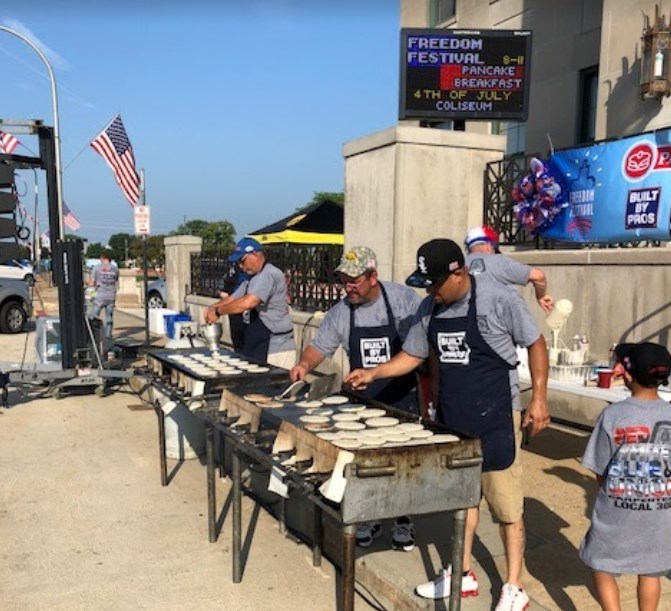 The Freedom Festival's pancake breakfast will be a drive-thru format June 27 at the ImOn Ice Arena parking lot. CREDIT / FREEDOM FESTIVAL
By CBJ News Staff
news@corridorbusiness.com
Although there won't be large in-person events this year due to the COVID-19 emergency, the Cedar Rapids Freedom Festival today has announced 2020 programming, including:
• Medallion Hunt beginning June 22
• Drive-thru pancake breakfast on June 27
• A one-hour Virtual Celebration Video to debut July 1
• Flashback of past parades and fireworks on KCRG 9.2 on July 4
The Freedom Festival, with support from presenting sponsor Hy-Vee, will host a drive-thru pancake breakfast from 8-10 a.m. June 27 at the ImOn Ice Arena parking lot (1100 Rockford Road SW) for $5, cash only. Meals will be cooked on site. For each meal purchased, customers will receive a free 2020 Commemorative Freedom Festival Button which includes a Hy-Vee coupon book valued at $35.
A long-time festival favorite, the Medallion Hunt, will begin June 22. Clues will be released to the Freedom Festival website, the festival's Facebook page, and during the KCRG newscasts. One new clue will be announced per day until the medallion (a 4-inch acrylic disc) has been found in the Cedar Rapids metro area. The prize will once again be a $500 Hy-Vee gift card.
Additional virtual experiences can be found on the Freedom Festival Facebook page in the days leading up to the Fourth of July, including a mini-concert by Alisabeth Von Presley on June 23 and a one-hour virtual celebration video watch party July 1, produced by MC22. The video will be a combination of history and look through the years of past Festivals with interviews, music, pictures, video from Chuck Long, sponsor mentions and clips from last year's parade and fireworks.
A Freedom Festival flashback parade and fireworks from previous years will be re-broadcast on July 4 on KCRG 9.2 (schedule available on Facebook). CBJ