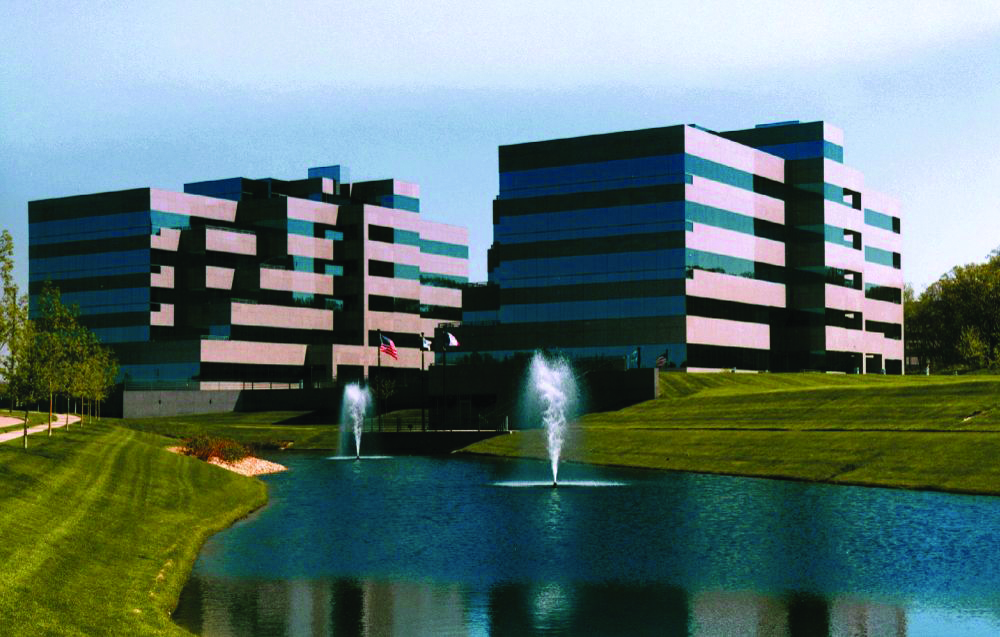 The TransAmerica campus at 4333 Edgewood Road NE, Cedar Rapids, will be on the market as part of a company plan to improve efficiency and reduce costs, while some 1,300 employees currently working there will be moving in 2018 to a company-owned building at 6300 C St. SW, which hibu is currently leasing. PHOTO/TRANSAMERICA
By Dave DeWitte
dave@corridorbusiness.com
TransAmerica's recently shared decision to sell off its longtime campus at 4333 Edgewood Road NE, and move 1,300 employees to its TransAmerica Financial Park on the southwest side could send ripples through Cedar Rapids' office and retail markets in 2018.
The plans disclosed Aug. 11 will add close to 100,000 square feet of office space to the Cedar Rapids market, considerably more than hibu – which will be moving out of TransAmerica Financial Park as TransAmerica consolidates its operations there – will be needing elsewhere.
While the space could be sold and fully leased before TransAmerica moves out, there's a strong possibility it could be vacant or underutilized for some time. That could drain some of the daytime population that has fueled rapid retail growth in the area, including The Fountains, a large phased multi-use development, and the Berthel Fisher Financial Center, a mixed retail and office center anchored by Berthel Fisher & Co.
Veteran commercial real estate specialist Scott Olson of Skogman Commercial studies the Cedar Rapids area market occupancy and absorption patterns. He said the TransAmerica move could cause the amount of vacant commercial office space on the market in Cedar Rapids to jump about 10 percent, and reduce traffic at businesses in the area of Edgewood Road and Highway 100.
Mr. Olson's most recent market overview in June indicated office space for lease was down slightly to 1.17 million square feet, but most new leases were due to relocations rather than new tenants moving into the market.
"If I was a business in The Fountains or Berthel Fisher area, I would be concerned," Mr. Olson said. It (1,300 employees) is a lot of people. It will definitely have an impact on business in the area, with that many people leaving."
Mr. Olson said the impact could spread out over businesses such as restaurants, shops, drinking establishments and hair salons that serve TransAmerica employees. He said it's unlikely the entire TransAmerica campus could be sold to one office user, in part because the current work force constraints in the metro area make it harder to attract large businesses that need to hire a lot of people at once.
In addition, Mr. Olson said the buildings are TransAmerica's oldest office space in this market, and the office configuration might not be as open as needed for a call center or other users likely to need large office space.
"It's going to be hard to take a building that large and convert it into 10,000 square-foot spaces for multiple users," Mr. Olson said. "Yes, it's going to have an impact on surrounding businesses."
The single-story hibu building is more in keeping with today's style of office needs than TransAmerica's two five-story office towers on Edgewood Road that have been in use for more than four decades. Hibu was using only a small percentage of its building, Mr. Olson said, but the remaining space was not on the market.
Still, Mr. Olson said, AEGON has its own real estate division with many contacts that could help it find a buyer. He said the AEGON campus has a significant amount of undeveloped land, creating potential for additional development.
A TransAmerica spokesman said it's not a huge change.
"We're definitely not moving out of Cedar Rapids, but for operational and cost efficiency, we are moving employees to the C Street campus and selling the excess property," said Gregory Tucker, senior vice president-Americas Corporate Communications, for TransAmerica.
TransAmerica has about 3,700 employees at five locations in Cedar Rapids, Mr. Tucker said, the largest being TransAmerica Financial Park and the Edgewood Road campus. TransAmerica acquired the hibu building it will be moving into under a sale-leaseback agreement in 2015.
Hibu CEO Kevin Jasper, in an e-mail, said the company's 650 Cedar Rapids employees will relocate to a new location in the Cedar Rapids metro area in early 2017, but he declined to disclose details.
"The TransAmerica team has been great to work with as we have been in lease and space discussions with them for several months," Mr. Jasper wrote in the e-mail.
For businesses in the Edgewood Road corridor, one silver lining to the TransAmerica decision is that some 700 AEGON Asset Management and AEGON Global Technology employees will remain in the High Point office park near the company's Edgewood Road campus. They are in a different area of the company, and don't need the daily interaction benefit of being in the same building.
The backdrop to TransAmerica's decision is a recognized need to lower costs and improve efficiencies in the diversified financial company, which offers insurance, annuities and other financial services.
"Aegon has an aggressive plan in the U.S. to enhance earnings, increase returns and manage costs," the company said in its second-quarter earnings report, which came out as news of the Cedar Rapids office move became public. "This diligent plan will further 'right-size' the organization given the market realities of the core businesses."
The company's "One TransAmerica" plan is well under way, according to the earnings report, which said it will align "meaningful expense management and surgical product and business portfolio management with a streamlined operating model."
Aegon CEO Alex Wynaendts highlighted the company's improved capital position during the quarter, but said he was disappointed in earnings. Aegon reported a loss of about $430 million, due to low interest rates, adverse insurance claims experience, and loss booked on the sale of its annuity portfolio in the United Kingdom.