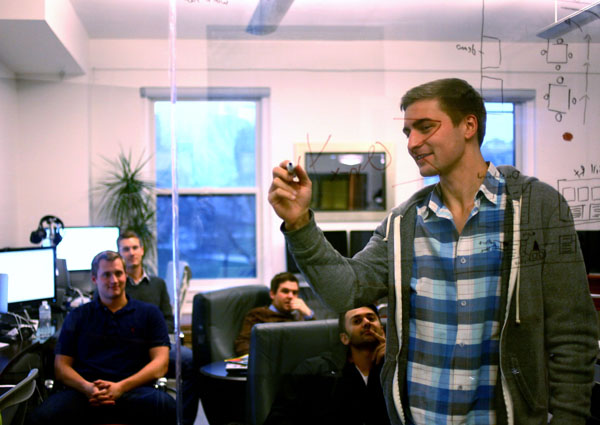 TelePharm founder Roby Miller shown in a brainstorming session with his team, in their Iowa City offices.  PHOTO/TELEPHARM

By Dave DeWitte
dave@corridorbusiness.com
With a quiet but lucrative sale to health care giant Cardinal Health, Iowa City's TelePharm has gained a strong partner in its goal to improve access to pharmacy services and demonstrated that the Corridor's growing entrepreneurship support network is working.
Cardinal Health, a $26-billion public company by market capitalization, acquired TelePharm in July for an undisclosed amount. TelePharm will maintain its headquarters in Iowa City, and its team of 18, including founder Roby Miller, will remain under Cardinal Health, which is based in Dublin, Ohio.
Mr. Miller and his team developed a web-based platform that allows pharmacists at a central location to communicate with customers and oversee the dispensing of pharmaceuticals at remote locations. The system was used to open Iowa's first telepharmacy in 2012 in Victor, and has since helped retain or restore pharmacies in many rural communities, many of which can't support an on-site pharmacist.
"We're only at the tip of the iceberg in terms of what is possible with telepharmacy and health care technology in general," Mr. Miller, who is now director of marketing for TelePharm, a Cardinal Health Company, wrote in an email. "Changes in health care and the pharmacy industry has made it difficult for independent pharmacy owners to maintain or grow their businesses. Through the acquisition, we will be focused on expanding our operations to more communities and states to improve access to pharmacy-care services nationwide."
Investors and economic development professionals offered high praise for Mr. Miller's accomplishment in moving the company from early startup to the exit stage in less than four years.
"It wasn't about getting an exit to get an exit. It was about getting an exit to a strategic partner that they'll be able to work with synergistically to deploy the TelePharm platform together," said Ravi Patel of venture capital firm Built by Iowa. Mr. Patel was one of the investors in in TelePharm's A Round capitalization, along with notable investors such as John Pappajohn, Bruce Rastetter and Adam Ingersoll.
Mr. Patel said he was willing to take the chance on TelePharm in part because of the impression made by Mr. Miller, and in part because he had developed a disruptive service that could solve a serious problem facing rural towns.
"Whenever I look at investments, I will invest in a great team over a great idea any day," Mr. Patel said. "This had both – Roby is brilliant, and the idea is exceptional."
Mr. Miller sought investors with proven business acumen in the startup world rather than settling for any investor, he added.
"Conversations around the table were pretty electrifying, and he was always thirsty for knowledge," Mr. Patel said.
The outcome of the investment was "a three-figure return on an eight-figure investment to Cardinal," according to Mr. Patel. He said the Corridor's entrepreneurial scene that emerged a few years ago is still young, but such exits will leave more individuals like Mr. Miller with startup experience and the wealth to support future startups, much as it has in larger startup hubs.
"I think this is the first of many we'll see," Mr. Patel said.
Mark Nolte of ICAD Group, which helped support TelePharm at the Iowa General Assembly, said Cardinal Health's acquisition will offer a lasting example that Iowa is a great place for startups, and that those startups can be a great investment.
"We can't overstate how important this sale is to the entire entrepreneurial ecosystem," Mr. Nolte said. For investors, he said the deal shows that getting a profitable "exit" from a venture capital investment doesn't take forever.
Iowa Gov. Terry Branstad signed a bill into law in April that is expected to ease the path for telepharmacies across Iowa after the practice was introduced by TelePharm under a pilot project. TelePharm, which was operating in a dozen states at that time, told the Des Moines Register that it hoped to expand its offering to 80 more Iowa towns in the next several years.
Mr. Miller also received praise from David Hensley, executive director of the John Pappajohn Entrepreneurial Center (JPEC) at the University of Iowa, and not just for the successful sale of TelePharm.
"His passion, knowledge and drive were key to his successful launch and growth of Telepharm," Mr. Hensley wrote. "Roby has also been an outstanding JPEC alumnus – he regularly shares his experiences with other students, works to connect aspiring entrepreneurs to resources, and provides valuable input to JPEC students through his service on our advisory council."
Although services and products to support the pharmacy industry are a key part of Cardinal Health's business, the company believes the technology provided by TelePharm presents opportunities to enhance services across the organization, according to Mr. Miller.
Mr. Patel said TelePharm had growth options that did not involve selling, such as another funding round, but that the Cardinal Health deal offered the greatest potential. One of the positives of the pairing with Cardinal Health is that it is a good cultural fit with TelePharm by virtue of the common Midwestern roots of both companies, Mr. Patel said.