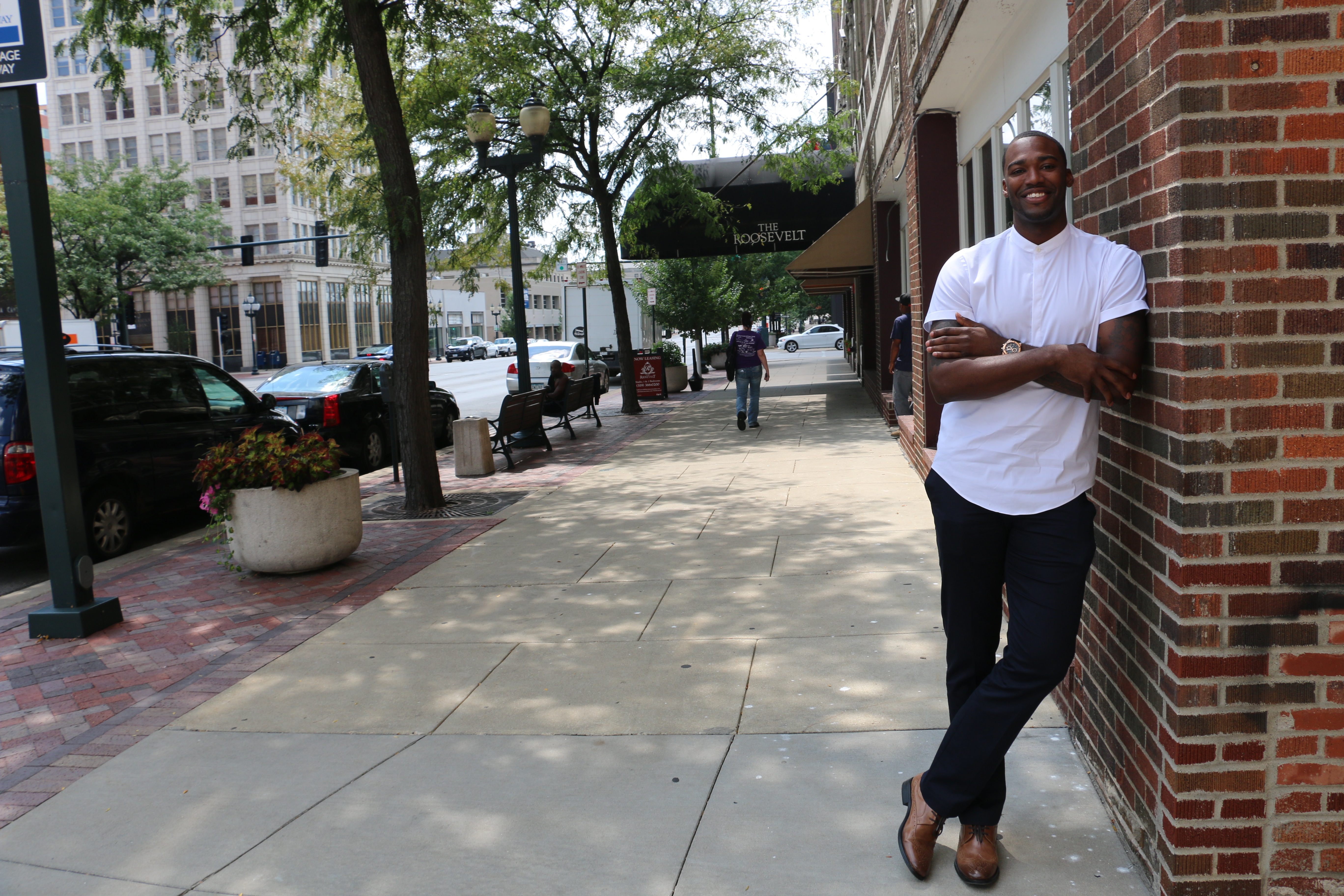 Modteets Williams stands outside the Roosevelt Building at 200 First Ave. NE, Cedar Rapids, where he plans to open Mod's Market, and urban convenience mart, this fall. Mr. Williams said he might not have been able to do it without the new Cedar Rapids MICRO Loan program, a public-private partnership that provides low-interest loans for up to three years and business counseling. PHOTO/DAVE DEWITTE
By Dave DeWitte
dave@corridorbusiness.com
A microloan program making dreams possible for entrepreneurs in Cedar Rapids owes its success to a diverse public-private partnership that provides everything from funding to business counseling.
As the Cedar Rapids MICRO Loan program recently concluded its first year, its initial $75,000 lending pool is close to becoming fully committed. Project backers, led by the city of Cedar Rapids, plan to double down on their initial bet.
The program attracted eight applications totaling $80,000 in its first year, with five approved and three still under review. Business proposals range from a construction company to a pet grooming service.
"Microlending is a key element in core urban neighborhoods," said Greater Cedar Rapids Community Foundation CEO Les Garner, who helped lead the effort and approach the local fundraising base. "That's true nationally, and it's not unusual for this to be a public-private partnership."
The more novel approaches the Cedar Rapids program has taken have included a highly-public contact point for the program at the Cedar Rapids Public Library and a strong support and counseling network for borrowers, including SCORE, the Kirkwood Small Business Development Center and area lenders.
The microloan program is a crucial borrowing source for first-time entrepreneurs like Modteets Williams, a former Lincoln University basketball player from Chicago, who wanted to go pro but shifted his focus to the business world. He dreamed of starting a business like the 7-Eleven convenience stores that seem to be on every other street corner back home.
Mr. Williams was able to secure $10,000 at an interest rate of 4 percent for three years to help with equipment and inventory of Mod's Market, which will open in October in the historic Roosevelt Building on First Avenue NE.
The program also provided Mr. Williams with business counseling through SCORE and connections to a network of other business resources. He has received advice from Annie Palas, a project coordinator for Compass Commercial Services, and Chad Pelley, who oversees business development for its parent firm, Ahmann Companies.
Another advantage of the program for Mr. Williams was that it did not require him to put up collateral for the loan, only his personal guarantee and a 2 percent loan origination fee.
Mr. Williams says he's glad to be in Cedar Rapids and leave behind the violence of his old South Side neighborhood, but he sees a market here that could use some big-city convenience.
"There are no 7-Elevens in Iowa and they don't franchise here," Mr. Williams said. "I thought maybe I could do something for the downtown employees, and have convenience as well as grocery items. In the Roosevelt building, a lot of the tenants don't have cars, and they need a place nearby to shop."
Funding foundations
While there had been demand and advocacy for more microlending in the community previously, the immediate spark for the program came about after the IowaMicroLoan program, created by the Boone-based Iowa Foundation for Microenterprise and Community Vitality, made a presentation in Cedar Rapids, according to Jasmine Almoayed, the city's economic development coordinator.
The IowaMicroLoan program generated interest, Ms. Almoayed said, but Kirkwood SBDC Executive Director Scott Swenson remarked that the Corridor needed a less-restrictive program. In particular, Mr. Swenson said many entrepreneurs were shut out of financing by their inability to come up with the first 5 or 10 percent of startup costs – an amount that might only add up to $5,000 or $10,000, but enough that many entrepreneurs felt wasn't worth the risk.
The need for business counseling and support was also put forward as an essential ingredient, because many of the people who had strong motivation and basic knowledge of their business area didn't have the fundamentals of running a business, Mr. Swenson said.
SCORE of East Central Iowa represented by Greg Christensen, and the Cedar Rapids Public Library represented by Dara Schmidt, came forward to offerbusiness counseling support, and the East Central Iowa Council of Governments was enlisted to administer the loan program, which complemented other business loan programs it already administers.
Mr. Garner and the Greater Cedar Rapids Community Foundation provided outreach to the community of philanthropists, which in this case was mainly business leaders and owners who understood the importance of entrepreneurship.
The idea resonated with funders like Jon and Dina Dusek of Cedar Rapids who own, develop and manage property.
One of the things drew Mr. Dusek's support to the program was that it provides mentoring and support rather than just funds to entrepreneurs. He said he never forgets about the many companies like Starbucks that started with a simple idea and grew into vast enterprises.
"Good price and good product – that's what small business is all about," Mr. Dusek said, mentioning tenants he's worked with who started out with little more than a dream and some interest or skills in their area of business. "A lot of people don't have the resources, and this can help them get going."
The Cedar Rapids City Council authorized an additional $50,000 in funding on Aug. 9 to add to the initial $75,000 loan pool, bringing the total available to $125,000.
Mr. Garner credited Barry and Gilda Boyer of Cedar Rapids as early backers of the microloan program idea. Mr. Garner has been working with private individuals and companies to raise the second $25,000 in private funding, which could bring the total loan pool to $150,000, and the amount of it that can be loaned outside the flood zone to $50,000.
One of the more appealing parts of the program to funders is that it will be a revolving fund that will continue to loan money from repaid loans. In the first year of the program, Mr. Garner said all borrowers are current on their loans.
"Public-private partnerships can be tricky," City Council Member Susie Weinacht remarked as the council expanded its funding participation in the program this month. She described the year-old program as good "hybrid fruit" that could provide a strong return for the community.
As more businesses using the program succeed, backers hope the program supporters will see the benefits spread throughout the community.
"Everybody has a part that they play in this," Ms. Almoayed said. "Without every one of these players, it wouldn't work the way it does."