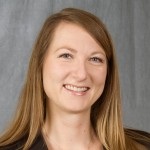 TRAIL of Johnson County, the new nonprofit organization devoted to helping older residents remain in their own homes as they age, has hired Hillary Ramaker of Iowa City as its first executive director.
"We are delighted that Hillary has agreed to join TRAIL in this key leadership position," David Rust, chair of the TRAIL board of directors, stated in a press release. "The search committee was impressed not only with her experience and educational background, but also by her strong passion for the community and working with older adults."
Ms. Ramaker most recently served as project manager in the fundraising management division of Ruffalo Noel Levitz in Coralville, and previously worked for the UI Department of Theatre Arts and Riverside Theatre. She holds an MBA in nonprofit management from the University of Denver and a bachelor's degree from Luther College. She has served on the boards of Chamber Singers of Iowa City and the Iowa Cultural Corridor Alliance, and also has volunteered with Iowa City's Summer of the Arts.
"I'm thrilled to join the TRAIL team and am privileged to continue the excellent progress of the board of directors and volunteers up to this point," Ms. Ramaker said. "We hope TRAIL becomes an important partner in Johnson County as we work toward becoming a more age-friendly community. I look forward to meeting and working with our members and community partners in the months ahead."
TRAIL is a membership-based nonprofit organization dedicated to helping older adults age in place by providing access to essential services and socializing opportunities. It is affiliated with the nationwide Village to Village Network and is thought to be Iowa's first aging-in-place organization.
The executive director is a half-time position to start, Mr. Rust explains, and the organization will increase staffing levels as membership grows over the next three to five years. TRAIL expects to begin accepting members and offering services in April. For more information, visit www.trailofjohnsoncounty.org.