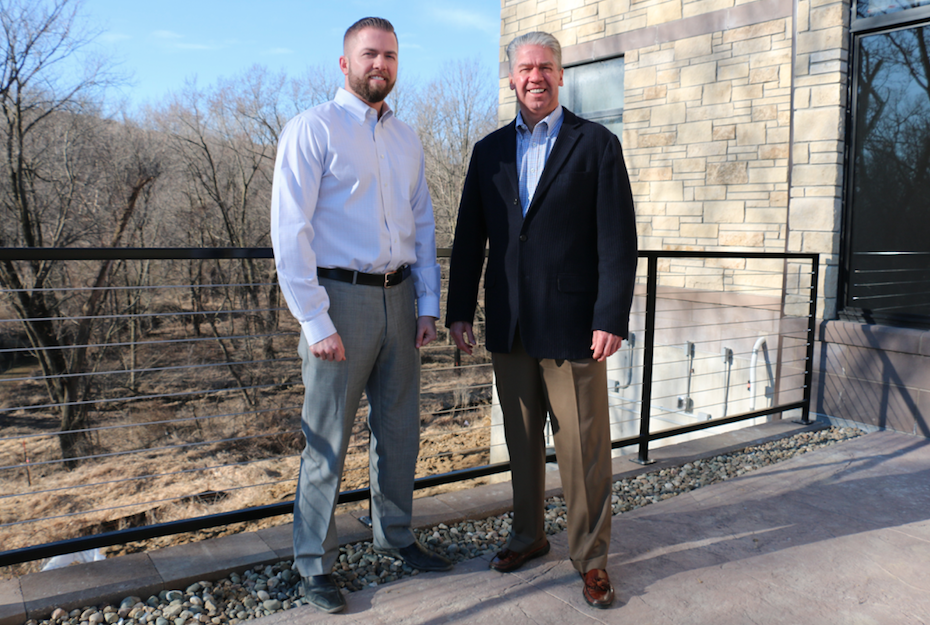 Brian (left) and Gary Watts stand on the patio of the headquarters at Watts Group, which has already launched a new real estate company, broken ground on its second mixed-usee project in Coralville's Iowa River Landing and moved into its new headquarters this year. PHOTO DAVE DEWITTE.
by Dave DeWitte
dave@corridorbusiness.com
The Watts Group has launched its own real estate firm, rounding out its wheel of land development, construction and property management services.
Watts Realty launched in January with six real estate agents who previously marketed Watts Group properties as part of Lepic-Kroeger Realtors. It reflects the group's strategy of offering a spectrum of real estate services, all from its headquarters in Coralville.
"We are a vertically integrated company," owner and CEO Gary Watts said. "You can rent from us. We can build for you. You can buy from us. We will buy ground and develop it."
Mr. Watts' companies have developed more than 25 projects and subdivisions and constructed more than 2,500 homes. They currently manage 605 residential units and 40 commercial spaces. Projects range from large-lot rural subdivisions to student apartments for Kirkwood Community College to mixed-use properties in developments like Coralville's Iowa River Landing.
Another dimension of the company's business is catering to investors who want to benefit from the Corridor's strong real estate market.
"We can build a multi-unit building, sell it to you and then manage it," Mr. Watts said.
Watts Group is growing rapidly, ranking No. 28 on the CBJ's 2016 list of the Largest Privately Held Companies in the Corridor. The company moved into its new headquarters at 425 E. Oakdale Boulevard on Feb. 13, more than doubling its space for the firm's 24 employees, and bringing the new real estate operation under the same roof as the company's construction, property management and leasing operations.
Mr. Watts said the new location is closer to the company's projects and properties than its former location at 2346 Mormon Trek Boulevard in Iowa City, providing a "one-stop shop" for all its services.
Active in Corridor real estate since 1978, Mr. Watts has led, owned or co-owned a succession of companies that most recently included Arlington Development and Prime Ventures Construction. Mr. Watts sold his interest in Arlington Development to his partners, and rebranded Prime Ventures as Watts Group about four years ago.
The change was a family decision, Mr. Watts said. His son, Brian, had returned to Iowa to work with him after serving in the U.S. Air Force as a pilot in Iraq and spending two years in Austin, Texas. They wanted a unified brand identity for all the businesses that would stand out in the marketplace.
The Watts Group today is more active than ever, particularly in the fast-growing area where Coralville meets North Liberty. In 2016, the company's construction division generated sales of more than $28 million. Growth will continue this year with large projects like the 240-acre Scanlon Farms development that will bring about 860 new homes to an area just north of Coralville, and North Ridge Estates, a 70-lot, 70-acre subdivision near the planned Liberty High School.
Ground will be broken March 1 for Watts Group's second project in the Iowa River Landing. The mixed-use building near Backpocket Brewing will have 37 residential units across three floors and ground-floor commercial space. The top floor will be sold as penthouse condominiums.
The launch of Watts Realty echoes a similar move by Hiawatha-based Ahmann Companies to launch its own real estate firm, Pivot Real Estate. Mr. Watts said he's a frequent customer of Ahmann Companies' Fusion Design firm, which develops house plans for Watts Group projects, and has watched Ahmann Companies' vertical growth.
Adding in-house real estate sales "just seems to make sense," Mr. Watts said, because its sales staff will have the most up-to-date knowledge on the company's available properties, developments and the kind of development opportunities it is seeking.
Although it will provide a full range of real estate services, "it will be kind of a boutique shop," Mr. Watts said, and probably won't expand beyond a staff of 10. Mike Van Dyke, general manager of Watts Group, is Watts Realty's broker.
Some of the multifamily projects in the Watts Group pipeline for 2017 include the Riverview Plaza project, which will bring 120 housing units to the former Briskey Cabinet site on First Avenue in Coralville, and a project to add 44 units to the company's $24 million Old Town mixed-use development nearby on Fifth Street.
The new 13,600-square-foot Watts Group office is the first new construction on the east end of Oakdale Boulevard, and includes the law offices of Pugh Hagan Prahm PLC on its second level.