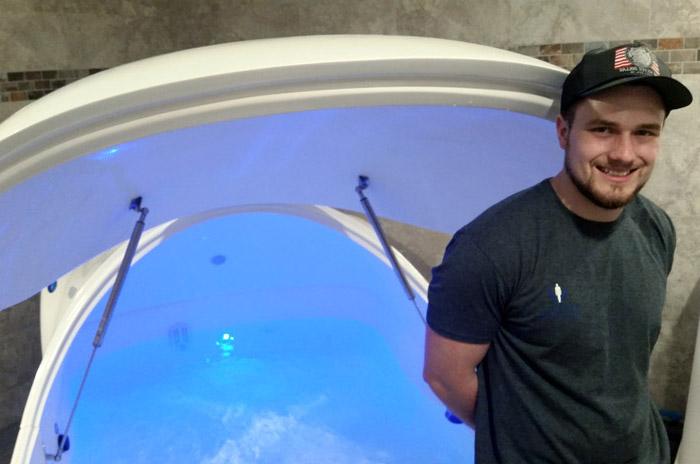 A new health spa offering non-traditional therapeutic treatments is now open on the northeast side of Cedar Rapids.
Total Rejuvenation officially opened March 25 with services including flotation therapy, cryotherapy, halotherapy and an infrared sauna at 1501 51st St. NE.
Owner Josh Giles, a first-time entrepreneur and 2016 graduate from the University of Iowa Tippie College of Business, first heard through a podcast about the concept of flotation therapy, which users float in a large salt-water bath for upward of 90 minutes in an effort to mimic the effects of meditation.
He tried it and recalled being "hooked immediately," seeing it as an opportunity to start his own business.
The space, under construction since last September, offers two float "tanks" and two larger float "rooms," along with a cryo-chamber capable of cooling the air down to -321 degrees Fahrenheit. The treatment has become popular with athletes, including members of the Cedar Rapids Titans football team, for its ability to reduce inflammation and speed recovery times following a 3-4 minute session, but Mr. Giles said it also offers benefits to the broader population.
"It's popular with athletes, but has benefits for average Joes," he said. "It was originally created for arthritis pain. It can give you better sleep."
Total Rejuvenation's halotherapy room, meanwhile, mimics the micro-climate of a salt cave. The floor is covered in Himalayan salt, while crushed salt is also pumped through the air. Sitting in the room is purported to offer health benefits ranging from allergies and asthma to lupus and psoriasis over an extended period of time.
The business has largely been financed by friends and family, Mr. Giles said, with the equipment and supplies costing about $250,000. The space was built-out by Evers Custom Builders of Anamosa.
Mr. Giles said he's looking forward to helping people in the area try the emerging treatments, and is interested in helping veterans specifically. He has already struck a deal with the Titans to provide a free float session to a veteran for every touchdown they score.
"I just want to help people feel better without prescription pills," Mr. Giles said. "In our society [prescription drug abuse] just seems to be getting worse and worse. I think we need less pills."