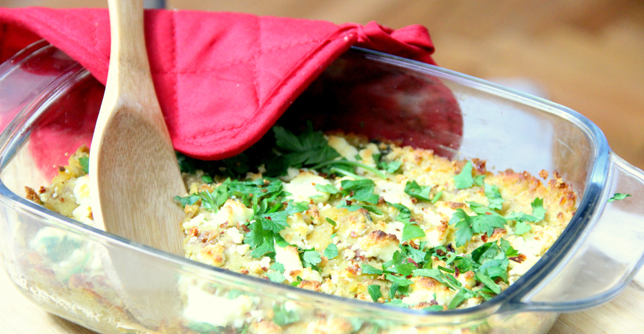 This casserole is perfect for those following a plant-based diet, as the lentils and goat cheese provide protein to keep your body strong.
INGREDIENTS
1 cup lentils
2 cups water
1/2 tablespoon olive oil
1/2 red onion, finely chopped
1 large carrot, grated
1 clove garlic, finely chopped
Handful fresh parsley, chopped, plus more for garnish
2 tablespoons chickpea flour
1 tablespoon soy sauce
Salt, Pepper
Cooking spray
1/4 cup crumbled goat cheese
PREPARATION
Preheat oven to 400 degrees.
In a pot over high heat, bring lentils and water to a boil. Reduce heat to a simmer and let cook until all the water is absorbed. Set aside in a large bowl.
Meanwhile, heat oil in a medium frying pan over medium-high heat. Add onion, carrot, and garlic, and sauté until onion is translucent and other vegetables are tender.
Add cooked vegetables to lentils with parsley, chickpea flour, soy sauce, and salt and pepper to taste. Stir until evenly combined.
Lightly grease a small casserole dish (8-by-8 inch should work) with cooking spray or olive oil, and spread mixture evenly in dish. Top with crumbled goat cheese. Bake casserole for about 10 minutes, or until cheese has softened and melted. Top with additional fresh parsley.