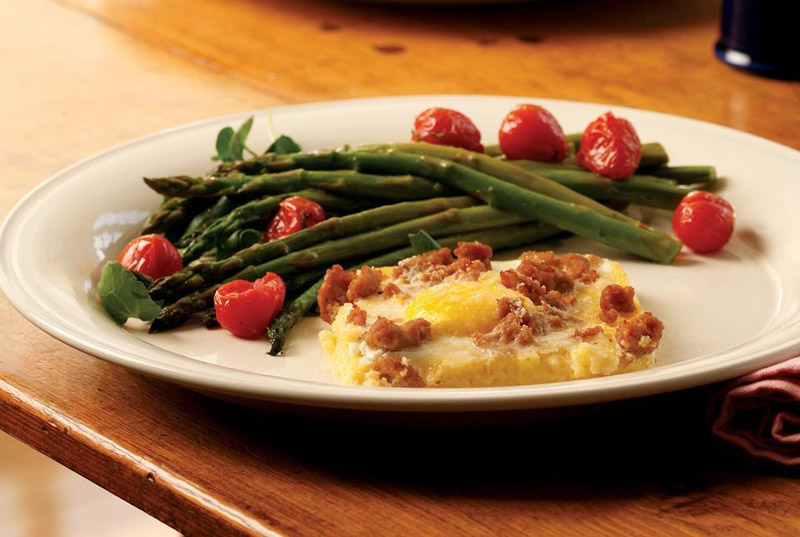 This delicious brunch option offers up a rich mix of cheesy polenta and Italian sausage that's guaranteed to please.
Ready in 1 hour 5 minutes
INGREDIENTS
1 tablespoon plus 2 teaspoons extra-virgin olive oil, divided
⅓ cup finely chopped onion
4 cups water, plus more as needed
1 cup yellow cornmeal
½ teaspoon salt
6 ounces Italian turkey sausage, casing removed
½ cup shredded fontina, or mozzarella
½ cup grated Parmigiano-Reggiano, divided
6 large eggs
PREPARATION
Heat 1 tablespoon oil in a large saucepan or Dutch oven over medium heat. Add onion and cook, stirring, until softened, but not browned, 2-3 minutes.
Add 4 cups water and bring to a boil. Gradually whisk cornmeal into the boiling water. Add salt and cook over medium heat, whisking constantly until the polenta bubbles, 1 to 2 minutes.
Reduce heat to low and cook, whisking frequently, until very thick, 10-15 minutes. (Alternatively, once the polenta comes to a boil, transfer it to the top of a double boiler, cover, and place over barely simmering water for 25 minutes. This is convenient, because you don't need to stir it as it cooks.)
Meanwhile, heat the remaining 2 teaspoons oil in a large skillet over medium heat and add sausage. Cook, stirring and breaking the sausage into small pieces with a spoon, until lightly browned and no longer pink, about 4 minutes. Drain if necessary and transfer to a cutting board; let cool. Finely chop when cool enough to handle.
Position rack in upper third of oven; preheat to 350°F. Coat a 9-by-13-inch baking pan with cooking spray.
When the polenta is done, stir in fontina (or mozzarella) and ¼ cup Parmigiano-Reggiano. If the polenta seems too stiff, add small amounts of water to thin it to a thick but not stiff consistency. Spread the polenta in the prepared pan. Make six 2-inch-wide indentations in the polenta with the back of a tablespoon.
Break eggs, one at a time, into a custard cup and slip one into each indentation. Scatter the sausage on the polenta and sprinkle the remaining ¼ cup Parmigiano-Reggiano evenly on top of the eggs. Bake the casserole for 15 minutes. Then broil until the egg whites are set, 2 to 4 minutes. Let stand for 5 minutes before serving.
Make ahead tip: Prepare through Step 4 up to 2 hours ahead; hold the polenta at room temperature and refrigerate the sausage until ready to bake.
NUTRITION FACTS PER SERVING
Per serving: 295 calories; 17 g fat(4 g sat); 2 g fiber; 17 g carbohydrates; 19 g protein; 31 mcg folate; 216 mg cholesterol; 1 g sugars; 0 g added sugars; 359 IU vitamin A; 1 mg vitamin C; 243 mg calcium; 2 mg iron; 684 mg sodium; 150 mg potassium