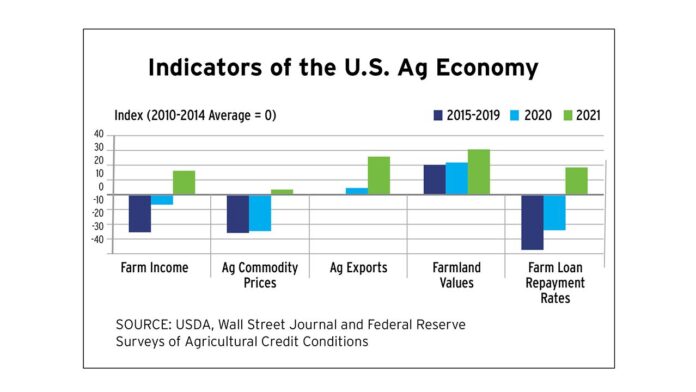 Iowa's economy is particularly tied to agriculture. The state is the No. 1 U.S. producer of hogs and corn, and a leader in soybeans and ethanol. I attended a presentation titled "A Reset in the U.S. Ag Economy" by Nate Kauffman, of the Federal Reserve Bank of Kansas City, at the annual meeting of the Iowa Chapter of the American Society of Farm Managers and Rural Appraisers. The following is a synopsis of his presentation on the status of the agricultural economy — an important state and regional driver.
Economic conditions in agriculture enter 2022 in a strong position alongside broad macroeconomic support.  Farm finances have strengthened remarkably.
Before the pandemic, the U.S. ag economy had been mired in a prolonged downturn. However, developments of the past two years have led to a reset in the U.S. ag economy, as shown by the major indicator swings below.
Following the early crisis of the pandemic, ag prices rebounded sharply and have remained elevated. 
Farm cash receipts are forecast to increase by 17.8% in 2021. Average prices for hogs, cattle, eggs and milk in September 2021 were up 38%, 21%, 24%, and 4%, respectively. U.S. agricultural exports are forecast to break records in 2022, led by record-setting exports to China, which is expected to remain the largest U.S. agricultural market.
Government payments have provided income support, but government payments have decreased as a percentage of farm income from 48% in 2020 to about 24% in 2021.
Farmland values have surged, following a period of decline or minimal change. Iowa land values increased 10% from July to October 2021 and 28% from October 2020 to October 2021, assisted by low interest rates, government support and higher than normal farm incomes. 
The financial position of farm borrowers has improved dramatically, however significant economic risks still loom:
Growth rates. The longest U.S. economic expansion on record was ended by COVID-19 in 2020 when the U.S. suffered a short, but deep, economic recession. Since then, the global economy has returned to very strong growth, which is forecast to continue in 2022.  However, last year's U.S. growth of 6.9% is not sustainable.
Labor shortages/inventory and supply chain. Disruptions have been ongoing challenges for businesses across the country. The margin of job openings to the available workforce is twice as high as it was pre-pandemic. Inventories have been building as companies move away from just-in-time strategies to carrying inventories to offset supply chain risks. It will take significant time to rebuild inventories to desired levels, adding to inflationary pressures. These issues tend to build momentum as one firm follows another in raising prices, building inventory, raising wage rates and so on.
Inflation. Inflation is at its highest rate in 40 years, with significant cost pressures in agriculture. Labor will continue to be in short supply. Seed cost is projected to increase 8-10%. Pesticides will continue to increase with commodity prices. Energy costs have pushed fertilizer prices up 2–2 ½ times over the fall of 2020, in addition to increasing operating costs. Equipment costs continue to rise.
Land values. Recent data suggest land values may increase even further, but valuations already appear stretched. Approximately 80% of bankers surveyed in the Kansas City Federal Reserve District expect land values to be unchanged or to increase by up to 10% in 2022. Net rent to landlords is forecast to increase by 5.1%.
Interest rates. Interest rates on farm loans have been at historic lows, but are likely to increase in the year ahead. Inflation pressures will push up long-term rates in the year to come regardless of what the Fed may or may not do with the Fed funds rate.
Conclusion
Agriculture appears likely to remain in a strong economic and financial position through 2022. Post-2022 is less clear and there are potential risks tied to macroeconomics:
Can we maintain global export growth? (China, Canada, Mexico)

Inflation and supply chain disruptions will create input cost pressures.

Labor costs and productivity increases remain unresolved.

Borrowing costs will impact operating costs and land values.  
Maurie Cashman is a member-owner of Agri-Management Farm Services LLC and manages its Aspen Grove Investments brand.