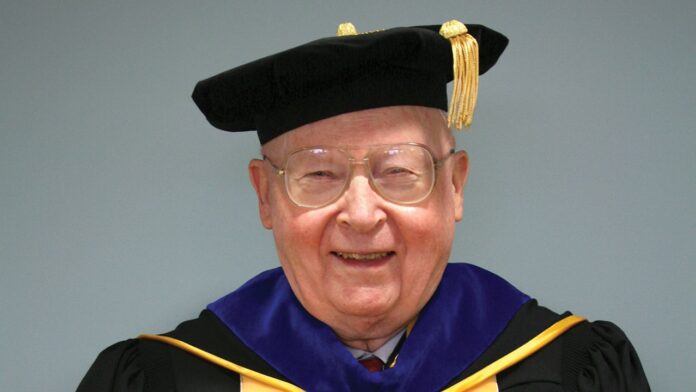 Corridor native Henry B. Tippie, an Iowa icon, passed away Sunday, Feb. 20, at the age of 95.
There are few business leaders from Iowa over the past 100 years who have gained the level of success and well-known as Mr. Tippie.
Of course, having the state's premier business college named after him doesn't hurt his name recognition or his lasting legacy.
What we have appreciated most about Mr. Tippie is his very Iowa-like personality: Hard worker, modest, family-oriented, and generous, while also never forgetting his Iowa roots. 
"Some people don't like to be connected with where they're from," he often said. "I'm very proud of the fact that I was born in Iowa, lived on a farm in a small town and went to a one-room school. Physically, I haven't (lived) in Iowa for many years, but spiritually I don't think I ever left."
He was a farmer and also one of the most accomplished businessmen of his generation.
"He was a plain man who achieved great things, thoroughly enjoyed his life, appreciated his friends, loved his wife, and made the world a better place," said Gary Fethke, dean emeritus of the Henry B. Tippie College of Business.
After serving in World War II and graduating from the University of Iowa, Mr. Tippie joined John Rollins and Associates, then a small Delaware-based communications firm, as its controller in 1953, and it turned into a publicly traded Fortune 1000 firm with a portfolio of companies, five of which are listed on the New York Stock Exchange. His business acumen led to the acquisition of the pest-control company Orkin in 1964 using a leveraged buyout, a mechanism so rarely used then that it became a Harvard Business School case study.
There are few business accolades that Mr. Tippie didn't achieve over his distinguished career. Notably, he was a Junior Achievement Corridor Business Hall of Fame Laurette, Horatio Alger Award Recipient and a New York Stock Exchange Wall of Fame honoree, an honor only 15 other people had received at the time of his selection in 2018. They include Warren Buffett and Jamie Dimon.
His passion for his family, the military, the state of Iowa and numerous educational institutions that he contributed to will continue to be hallmarks of his legacy.
Most people will be mostly forgotten within a generation or two of their passing. Mr. Tippe's generosity and giving, especially to the University of Iowa, will preserve his legacy for generations to come. It's a legacy that needs and is worth preserving.