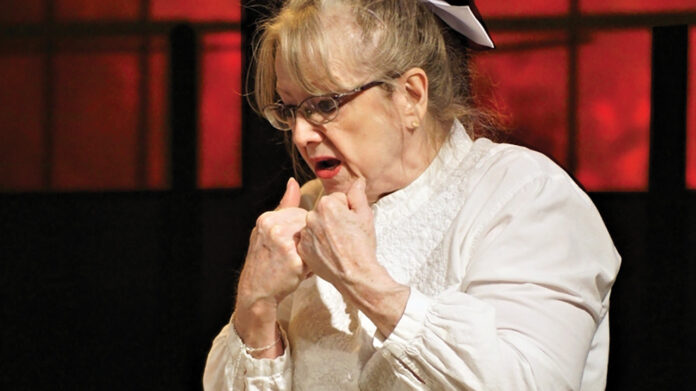 Part 2 of a two-part series focusing on arts and theater organizations' recovery from COVID-19, including profiles from Johnson County and surrounding areas. Part 1, featuring Linn County organizations, was published April 26.
Even in the darkest hours of the COVID-19 pandemic – when stages and screens literally went black for arts and theater organizations across the Corridor, as they did across the state and nation – creative and determined leaders found a variety of ways to make the best of their situations.
David Schmitz leads the Iowa Arts Council, the arts division of the Iowa Department of Cultural Affairs, and has been active in the Iowa arts community for more than a decade.
While acknowledging that many arts organizations are making progress toward normal operations, Mr. Schmitz said the challenges of the past two years have taken their toll in many aspects.
"We've come a long way since 2020, in terms of audiences' comfort and safety in returning to live performances, and following from that, in recovering lost artistic jobs and gigs," he said. "While audiences have returned for in-person performances, many organizations are still working to get back to full capacity and ticket sales at 2019 levels. Fortunately, some of this difference has been offset by increased government support that helped stabilize our industry and serve as a bridge to recovery. Charitable giving has held steady overall as well."
Many pipelines have come together to help arts organizations survive, Mr. Schmitz said.
"In Iowa, and nationally, we know that performing arts organizations – along with live music venues, performing artists and those who support live events – have been greatly impacted throughout the pandemic," he noted. "Income losses are just one measure of this impact, but they are certainly substantial. The Shuttered Venue Operators' Grant program, along with other state and federal relief funding, has been crucial in this respect."
While not ideal solutions, the alternative performance options employed by many arts groups were impressive, Mr. Schmitz noted.
"We've seen many organizations adopt new and creative approaches during the pandemic, from live-streaming concerts to hosting virtual programs and performing outdoor plays," he said. 
For many other organizations, the recovery continues. Following, in brief, are their stories.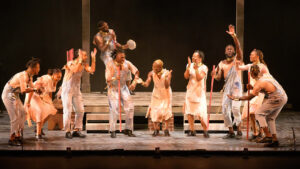 Hancher Auditorium
The pandemic wasn't the first significant crisis Hancher Auditorium has faced.
The iconic theater along the banks of the Iowa River on the University of Iowa campus was inundated in the 2008 flood, physically closing the chapter on Hancher's original home.
But the COVID-19 shutdown that transpired in March 2020 was a different beast altogether, said Hancher Marketing Director Rob Cline, who's worked for Hancher for the past 20 years.
"I worked for eight years in Hancher Classic, then I spent eight years on the road during the flood period," Mr. Cline said. "And then we opened this shiny new building, we went through our little honeymoon phase, and we were firing on all cylinders. Then, suddenly, we all got the news that we were going to go home. We started to learn how to put on live events in a virtual space. But our entire purpose is to bring people into a room together, and not being able to do that was challenging from not just a logistics standpoint, but also from an identity standpoint."
If there was a way to go into lockdown on a high note, Hancher certainly did that in March 2020, Mr. Cline said.
"The Alvin Ailey American Dance Theater was here," he noted. "We had a student matinee with Ailey, so there were a bunch of school kids in the room, and then they did their public performance."
Hancher's return to live performances was perhaps equally impactful, with a performance by the American Ballet Theatre on the Hancher lawn on July 4, 2021. That was followed by the first performance inside the theater's walls Sept. 11, 2021, courtesy of Step Afrika, which presents the African-American "step" dance style to international audiences.
"We had presented Step Afrika before the pandemic, during our inaugural season in this facility," Mr. Cline said. "But our relationship with them really deepened during the pandemic. We commissioned a short film dealing with social justice issues that they wanted to make, and we co-hosted the online premiere of that."
The 2023 season will be significant as Hancher celebrates its 50th anniversary under the leadership of its new director, Andre Perry, who's replacing longtime director Chuck Swanson.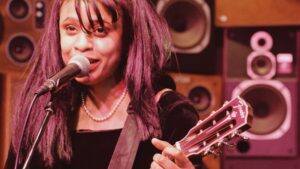 Englert Theatre
Much about the Englert Theatre's future is still to be determined as the organization awaits the appointment of a permanent executive director, but the theater's experience with the COVID-19 pandemic has opened a number of new artistic opportunities, according to John Schickedanz.
"We really strengthened a lot of our collaborations during the pandemic," said Mr Schickedanz, who began working as the Englert's marketing director in the summer of 2019 before being tasked as the interim executive director while former director Andre Perry transitions to his new role as the executive director at Hancher Auditorium. 
The Englert, at 221 E. Washington St. in the heart of downtown Iowa City, is a renovated vaudeville-era playhouse now serving as a community arts center and 725-seat performance venue. Since 2004, it's been owned and operated by the Englert Civic Theatre, a non-profit art organization, and also receives some operational funding from the city of Iowa City.
Functioning for years as a "ragtag" organization, in Mr. Schickedanz's words, the Englert forged a number of new partnerships under Mr. Perry's leadership, including a $6.5 million fundraising campaign in cooperation with Film Scene to fund both groups' future development, forging a programming partnership with the Paramount Theatre in Cedar Rapids, and serving as the primary programming director for The Mill in Iowa City prior to its closure.
"The pandemic was a huge blow to us, and we thought we had a huge opportunity with The Mill that was unfortunately ended with their closure," Mr. Schickedanz said. "So, we had to be really strategic, go back to the drawing board."
Fortunately, many artists are beginning to resume their touring schedules, and the return of large-scale events such as the Mission Creek Festival have brought an ever-increasing stream of patrons through the theater's doors.
Mr. Schickedanz feels the entertainment industry is primed for a significant comeback.
"I'm really optimistic about where we're headed," he said. "My sense is that audiences are ready to come back and celebrate the art and a sense of community in a way that we haven't had an opportunity for quite a while."  >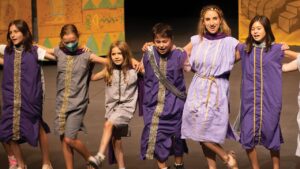 Coralville Center for the Performing Arts
Under the ownership of the city of Coralville, the Coralville Center for the Performing Arts, opened in August 2011, has brought a unique formula to the Corridor.
About half of the CCPA's operation is as a rental venue for Coralville area businesses, organizations, schools and individual groups to use as a performance and meeting space. The other half comprises in-house productions by the two theater groups that have called the CCPA home since 2015 – the City Circle Theatre Company, a traditional community theater group, and the Young Footliters youth theater.
The blended model was successful and profitable for several years, until COVID-19 brought a halt to the Young Footliters' presentation of "Treasure Island" in March 2020. And while that show was never able to present its second weekend of performances, CCPA Executive Director Evan Hilsabeck said he's been pleased with how the organization has been able to weather the pandemic's storm.
"Obviously, there are still challenges and things come and go, but we feel like we're back to serving our communities very much the way we want to be," he said. "We have a full slate of rental activity. We have a full summer of children's theater programs. It's a new normal, but it feels to us like we're back. And that's really exciting."
In-person activities at CCPA were halted for more than a year, but the theater was determined to present arts experiences to the community in any possible form.
"We committed to still telling stories on our stage and doing virtual programming," Mr. Hilsabeck said. "And so we created virtual performances through the next season, both for City Circle and Young Footliters, and also created a series of virtual children's theater education programs, workshops and classes so that kids could still participate in theater activities by Zoom."
Rentals and live performances returned to the CCPA in May 2021, with children's theater programming presented outdoors. And the Young Footliters have since developed a touring children's theater program, the Footliters Traveling Playhouse Program, as a reincarnation of the Old Creamery Theatre's former Camp Creamery touring program. The program was piloted last year, via grants and donations, but this summer, two traveling groups will each present eight weeks of programming in communities throughout Eastern Iowa. 
"It's been one of the silver linings of the pandemic, being able to expand our reach with kids in other communities," Mr. HIlsabeck said.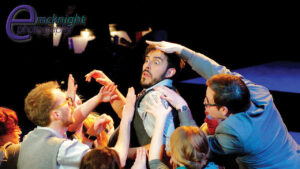 Iowa City Community Theatre
Leaders of the Iowa City Community Theatre had jokingly been referring to their 2020 season as their "retirement" season.
It wasn't that the group was planning to disband. To the contrary. ICCT, established in 1956, is the oldest continuously operating community theater organization in the Corridor, and organizers had laid out a full slate of shows in anticipation of a celebratory 65th campaign.
"It was a joke between a few of us," said Kristina Rutkowski, currently the secretary of the ICCT's board of directors, who was the board's vice president in 2020. "There were a lot of jokes about being eligible to retire."
When the COVID-19 shutdown came in March 2020, ICCT was in the midst of rehearsing "The Laramie Project," and ICCT board president Elinor Levin said the group still hopes to produce that show, perhaps even later this year.
But as it became clear that the anticipated weeks-long shutdown was going to stretch into months, ICCT organizers began developing plans for a season unlike any other.
"By May, we were talking about 'what does this look like for the next year?'" Ms. Levin said. "We still need to give people a theater outlet, but we have a high-risk population. Our audiences are older on average, and amongst our volunteers, we're aware of more invisible disability in our organization. We put out a call for directors who had ideas for virtual shows they wanted to produce through ICCT, that would be done entirely virtually, with rehearsals and performances online without getting people together."
That season was completed virtually, with shows such as "War of the Worlds" that lent themselves well to virtual production. 
And while plans are being finalized for a full slate of in-person productions starting this fall, ICCT will soon have another issue to face. The group has called the Johnson County Fairgrounds home since 1962, but the building that houses the theater will soon be replaced by a new events center as part of an extensive fairgrounds renovation project.
ICCT board members stressed the ongoing hospitality of the Johnson County Ag Association. 
"They've been great to work with the entire time that we've been working with them, not just during the pandemic," Ms. Levin said. "What a great partner."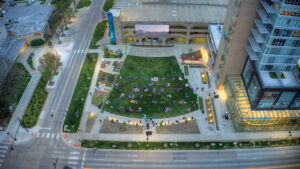 FilmScene
FilmScene had always taken pride in the fact that, since opening its doors in November 2013, the Iowa City movie house had been open every day, 365 days a year, screening movies from small and independent filmmakers in spite of the challenges presented by poor weather, holidays and other potential roadblocks.
It took a generational pandemic to bring that streak to a halt.
"2,000-plus days in a row without missing a day, and then suddenly being closed for many months – that was a big shock for us," FilmScene Co-Founder Adam Sherburne said. "It was difficult to come to terms with emotionally, and then, of course, figuring out how the business would continue without having people in our space every day."
The shutdown came at a particularly inopportune time for FilmScene, as the group had just opened their second location – FilmScene at the Chauncey – in September 2019, joining FilmScene's original facility on the Ped Mall.
"It was a big, big move for us, the culmination of many years of planning and fundraising and community building," Mr. Sherburne said. "We were only open for six months, with our two-location, five-screen setup, before the pandemic shut us down."
While FIlmScene's physical indoor spaces were fully closed for 14 months, reopening in phases with distanced seating and masking protocols beginning Memorial Day weekend in 2021, the group found new ways to bring cinematic experiences to the public.
To perpetuate the movie theater's flavor, FilmScene began offering popcorn pickups to the public on Friday nights.
"We would be here popping popcorn for hours and loading up people's cars, so they could go home and have a taste of FilmScene while watching movies," Mr. Sherburne said.
Another pandemic-spurred innovation came with virtual film screenings. 
But perhaps the most dramatic public effort came with the debut of FilmScene in the Park at Chauncey Swan Park, which launched in 2021 and shows free movies from April through October via a 48-foot screen and a 10,000-watt sound system.
"It was something that we had always intended to do," Mr. Sherburne said. "But we were able to work closely with the city to get it up and running last year, when we were all hungry for that kind of community connection and things felt nice and comfortable outside."
FilmScene has also been able to continue its partnership with the Bijou, the University of Iowa student group that presents independent, foreign and classic films on FilmScene's screens.
Some peripheral activities have been added as FilmScene has ramped back up to full screen schedules, Mr. Sherburne said – everything from costume contests to photo booths and custom cocktails to broaden the moviegoing experience.
A more steady stream of new movies are also now coming into the pipeline, Mr. Sherburne said, as the entire film production industry continues to bounce back and find new paths forward.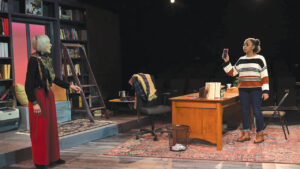 Riverside Theatre
The pandemic came at a time of historic transformation for Riverside Theatre.
Founded in 1981 by Ron Clark, Jody Hovland and Bruce Wheaton, Riverside is now in the midst of its 41st season, and the first in its new home at 119 E. College St., on the Iowa City Pedestrian Mall. The move to the new location, which came with a $1.8 million price tag, began in the summer of 2020 and culminated in January with "Eden Prairie, 1971," the first live show presented in Riverside's new space in the wake of a $900,000 capital campaign.
In between, Riverside presented a full season of virtual performances from September 2020 through August 2021, ending with two weekends of performances of "The Winter's Tale" as part of Shakespeare in the Park's annual Riverside Shakespeare Festival at Lower City Park.
Managing Director Irena Saric, who's served in her current role for the past four years, said the challenges of a transformational move and a virtual production season brought even more challenges than usual.
"The pandemic obviously prevented us from doing what we do, which is live performances, but we were very much staying busy," Ms. Saric said. "Honestly, I feel like it may have been even a little more difficult, because we had to learn how to basically make little films all of a sudden, and how to adapt our platforms to be able to offer that virtually."
Donations and government funding helped keep Riverside economically viable during the pandemic, and while the theater is continuing to offer shows with various masking and distancing restrictions, Ms. Saric said she's grateful that live theater is back on the company's stage for a full season.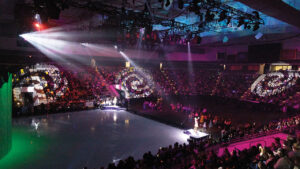 Xtream Arena
Xtream Arena in Coralville is one of the Corridor's newest entertainment venues, but between the Iowa Heartlanders' inaugural hockey season and a collection of live concerts and performances, there's been no shortage of events. 
Still, like any venue these days, filling the space is not something to be taken for granted.
"It's very tough to open a 5,000- seat arena in the middle of the pandemic," said Jason Anderson, general manager since December 2021.
And while the Heartlanders' attendance is second-lowest in the league at 1,961 per game, the team experienced an increase in its final two months. In May, they averaged 2,917 fans. On Fridays and Saturdays throughout the season, the team surpassed 2,300 fans on average, according to the Daily Iowan.
Since opening, the venue successfully hosted a wide range of events and teams, including the University of Iowa volleyball team, USA Wrestling, Harlem Globetrotters, Toby Keith, Disney on Ice and more.  More events — like Jurassic Quest, Paw Patrols and other musical artists — are expected to bring a different audience to the arena.
Iowa River Landing (IRL) businesses have noticed the effect Xtream Arena has on foot traffic.
"On most game nights we see a 5-10% increase in sales but sometimes up to 20%," said Levi Lappin, general manager for Cookies & Dreams. "It seemed like a lot more people were investigating or trying out the IRL. I remember when there wasn't too much down here. Now, it's just busier than ever."
Mr. Anderson says many events, like the Cody Johnson concert and Disney on Ice, will get visitors not just from the Corridor but as far away as Des Moines, Kansas City, St. Louis and Milwaukee, making the venue a draw for people living several states away.  >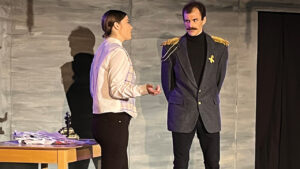 Willow Creek Theatre Company
As Willow Creek Theatre Company co-founder Luke Brooks sees it, he's attempting to fill a niche that other area theater groups have disregarded.
But the COVID-19 pandemic threw an extra wrench into the challenge of establishing a new theater operation with a different mission.
Willow Creek, at 327 S. Gilbert St., Iowa City, was officially founded in January 2020, just weeks before the pandemic closed the curtain on theater operations of all kinds that March.
"Considering the fact that we were just getting started when we were hit with the pandemic, that put us in a very specific situation that has had a whole host of challenges," Mr. Brooks said. "But our whole idea is that we're trying to raise the bar for ethical working conditions for artists in the area. There's this sense that artistic work in Eastern Iowa area, for the most part, isn't considered 'real work' by a lot of people. We're trying to change the dialogue and the expectations, especially for new and upcoming artists that often have difficulty finding platforms, and push the idea that their work is just as important as work from artists that are in larger cities like New York or Chicago."
Willow Creek closed its first-ever show, "Matt and Ben," just before the pandemic shutdown, and it would be more than a year before the next show, "Title of Show," took the Willow Creek stage. Since then, there have been a regular series of shows at Willow Creek, ranging from in-house plays and musicals to improv and sketch comedy shows.
The theater space is often in use as much as five days a week, Mr. Brooks said, and at one point Willow Creek was also the performance home of the Treehouse, a student-run organization that also hosted live musicians and bands, spoken word poets and comedians.
Willow Creek also strives to provide its artists some type of compensation for their work, Mr. Brooks noted. 
"We want to be getting to a place where artists can be really supporting themselves and making a life off the work that they do with us," he said. "We're not there yet, but we're trying to establish the basis that we have to make sure that we can afford to get artists something."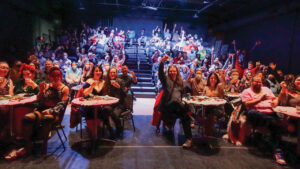 The James Theater
While The James Theater didn't yet exist when the COVID-19 pandemic struck in March 2020, the formational roots for the organization took hold in the past two years.
Artistic director Leslie Nolte, who has owned and operated the Nolte Academy in Coralville for the past 23 years, said a variety of factors spurred the development of The James as a new arts venue in the space formerly occupied by the Riverside Theatre at 213 N. Gilbert St.
"Pre-pandemic, we weren't actually looking too hard to open up a new venue," Ms. Nolte said. "Then upon the moving of Riverside and the closure of The Mill, and therefore this space coming available, it just made sense for us to acquire the space and start renovating, to reinvent this space and fill a little bit of the need for some of the music and events that would happen at The Mill."
Renovations of the former Riverside space have gone more slowly than expected, Ms. Nolte said, due to ongoing issues with supply chains and available contractors. But her vision for The James is now coming together, as an intimate performance space for up-and-coming artists to connect more directly with their audiences.
"Part of our mission here is to bring touring groups, smaller groups and those traveling between big cities to our community," she said. "We're a 200-seat house approximately, so the kind of acts that merit 200 or less is the void we'd love to fill, along with workshop plays and smaller dance concerts. We're bringing in three out-of-state dance companies in the spring of 2023."
The James had a "soft" opening with a Christmas cabaret in December, in the midst of renovations, and Bawdy Bawdy Ha Ha presented a slumber party-themed burlesque and variety show in late April. But the theater's full grand opening will be "June @ The James," with a trio of shows: An evening of jazz with The Curtis Taylor Quartet on June 11, a release party for Iowa City ensemble MEKDOUB's debut album June 16, and the Iowa premiere of Kahlil Ashanti's award-winning one-man show, "Basic Training," June 17 and 19.
Ms. Nolte said she's developing partnerships with local businesses for specific shows as well, such as the Goosetown Cafe preparing a special menu for the Curtis Taylor Quartet show. And while a full bar will be on site, Ms. Nolte said she's positioning the James primarily as a performance space.
"We are much more of a listening room than a restaurant or bar, where music might be a little bit in the background," she said. "With the proscenium seating, it very much lends itself to sit and listen or sit and watch."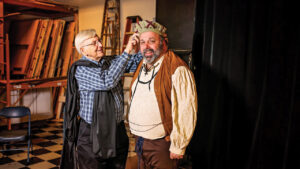 Starlighters II, Anamosa
As Jones County's only community theater organization, Starlighters II in Anamosa has developed a devoted following since staging its first production in 1974.
And while the COVID-19 pandemic was a bitter pill to swallow, Starlighters marketing committee co-chair Emily Burds said the theater has seen an unexpected benefit as pandemic restrictions have begun to ease.
"It's hard to say what we might have lost, but we are seeing a lot of new people who were cooped up during the pandemic, who are looking for new things to do and have never been here before," she said. "They're taking the opportunity to get out and about and find us, which has been really fantastic. When people can't do anything, they want to do things even more."  
As an all-volunteer organization, Starlighters II didn't have the burden of paying staff members and other expenses during the pandemic, but as Ms. Burds pointed out, the lack of expenses was coupled with a nearly complete lack of revenue.
"Obviously, we weren't getting sponsors and advertisers from the community," she said. "That has changed a lot with the ability of local businesses to be able to support what we do."
When the pandemic arrived, Starlighters II was nearing final rehearsals for the first show of their new season, "How to Succeed In Business Without Really Trying."
"We'd been working since January to bring that show to life, and then two weeks from opening we were called to the theater and told 'we're holding everything right now.' We were hoping that we'd be able to come back in June. Little did we know it'd be a year and a half before that production ended up opening on the stage."
After 15 months of virtual theater productions and meetups, the same show was staged in June 2021, with a few cast changes, as the first of three shows in an abbreviated season which included "Driving Miss Daisy" and "Moonlight and Magnolias."
The theater is planning a full year of performances for 2022. Plus, the Junior Starlighters will be presenting "The Lion King Jr." in August as part of a theater camp for actors age 7-16.
"It's great to see the resurgence of community theater here in Eastern Iowa, and we're just happy to be a part of it and having been around for so long," Ms. Burds added. "We always love seeing new faces and new energy for the arts locally." 
Noah Tong contributed to this story.