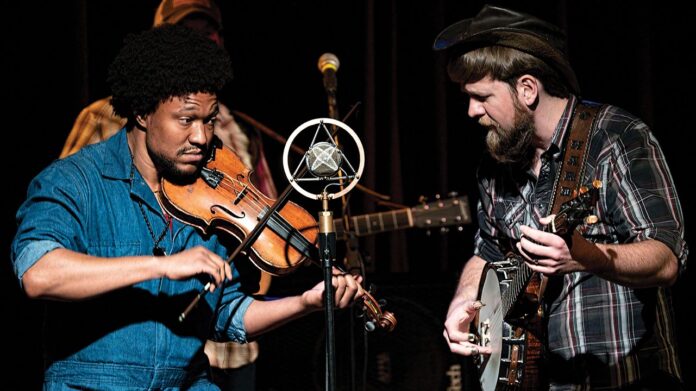 A two-part series focusing on arts and theater organizations' recovery from COVID-19. Part 1: Linn County organizations. Part 2: Organizations in Johnson County and surrounding areas.
The COVID-19 pandemic has undeniably impacted all aspects of modern life, and that impact will be felt for years to come.
Still, it's hard to imagine a segment more negatively – and suddenly – affected by pandemic restrictions than the performing arts community.
More than adjusting procedures to accommodate pandemic restrictions, nearly all music and theater groups were forced to halt operations altogether – some for a few months, others for more than a year.
At least two long-standing performing arts organizations have ceased operations since the pandemic began in March 2020.
The Cedar Rapids Follies officially ended its song-and-dance extravaganza in February after staging 38 shows at the Paramount Theatre from 1980-2019, citing the impact of COVID-19 and rising production costs.
The Old Creamery Theatre in Amana also permanently closed in February, just short of the troupe's 50th anniversary. In a website posting, the theater's board of directors said the challenges presented by the pandemic were too significant to overcome.
"Like many other organizations, the COVID-19 pandemic forced us to temporarily close our doors in March 2020," the notification read. "After an attempt at a partial re-opening this past fall/winter 2021 with roadshows, we had the hopes of putting on a regular-season of shows in 2022. While the roadshows were considered a success, it was just too little, too late. The financial pressures endured during this extended closure have proven to be a catastrophe from which we could not recover. Coupled with the existing non-profit budget and all the usual expenses which were still incurred while closed, there was simply no way to continue to stay open."
The Amana Performing Arts Society is now establishing operations in the former Old Creamery space and plans to open its first show in May (see associated story, page 10). And many arts organizations have received funds from federal programs such as the Paycheck Protection Program and Shuttered Venue Operators program, allowing them to remain in existence in the darkest times.
Yet, for many other organizations, the recovery continues, with some back to near-normal operations while others continue to adjust and address questions about their future.
Here, in brief, are their stories.
CSPS
As one of the Corridor's oldest and most eclectic venues for up-and-coming visual artists, musicians and theater presentations, CSPS has a storied history in the Corridor and has called the former CSPS Hall in Cedar Rapids' New Bohemia District its home since the early 1990s.
But more recently, the organization has dealt with a host of adversities.
The group's founding executive director, F. John Herbert, stepped down in the fall of 2019, and co-founder Mel Andringa retired that winter. Financial difficulties began to mount even before the pandemic forced the facility to shut down in March 2020.
Then in August 2021, it was revealed that CSPS (still legally known as Legion Arts but currently doing business as CSPS as of May 2020) had lost its 501(c)3 tax-exempt status after failing to file tax returns for the previous three years.
After reopening for live events in the fall of 2021, the company closed its doors in January 2022 as the omicron variant surged, finally reopening for live events Feb. 6, said interim executive director Jim Miller, who assumed his new role in January. Productions have been staged since then.
"We absolutely are still rebuilding," Mr. Miller said. "Honestly, I think this will be an entire year of rebuilding and transition, to get people feeling safe, wanting to go to events and feel comfortable. For two years, we've all gone through this, and for some, the challenge will be to get out of their house. Some people are going stir crazy, while others are very content to stay at home."
As of mid-April, CSPS was enforcing mask mandates for all of its performances due to the artists' contract stipulations.
"I have great respect for them," Mr. Miller said of the artists who visit CSPS. "They are performers; they make their living performing and traveling. And obviously, if they have COVID or are sick, they can't perform. I absolutely understand why they're that specific about it."
The main performance venue at CSPS has a capacity of about 240, Mr. Miller said
"We haven't had full houses yet," he noted. "People are still feeling out their comfort level of being shoulder to shoulder with other people at a public event. We are limiting capacity. Some are very happy we're masking. Others are not so happy. But we're like everyone else, going through it week by week, month by month."
Currently, CSPS' request to reinstate its nonprofit status is pending with the IRS, but in the meantime, the venue is moving ahead with a full slate of events in both its gallery and performance spaces.
Now, Mr. Miller said, it's time to see what the future holds.
"It's a heavy lift," he admitted. "Certainly, at one point, staff was greatly reduced, and we have a small staff to begin with. Now for us, like any performance venue, we simply need people at events. That's the only way we make income."
Giving Tree Theater
Giving Tree Theater in Marion had just completed the first weekend of performances of a show titled "26 Pebbles" when the pandemic shutdown arrived.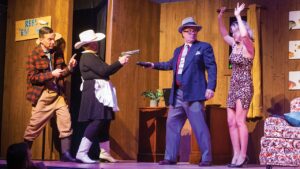 "We had made the decision on Sunday night (in March 2020) that we were going to close down," said Giving Tree co-owner Jamie Henley, who with his wife, Andrea, had purchased the operation from founders Richie and Heather Akers in June 2019. "We met with the production that was on stage that afternoon and then met with another show that was in rehearsals. I said, 'We're gonna take a couple of weeks off, see how things shake out, and then we'll think we'll be able to get right back at it.'"
They did get back at it – just not right away. With a couple of casting changes and substantial flexibility, "26 Pebbles" ended up completing its Giving Tree run in the fall of 2021.
"A year and a half later," Mr. Henley said. "I joked with them that it was the longest production we've ever had."
Giving Tree reopened for productions in June 2020, just three months after shutting down for the pandemic. The theater seats about 100 patrons in a unique setting using couches and other home-style furniture, but the first mid-pandemic productions were limited to 20 to 25 audience members.
"We did a couple of virtual shows in the first few months, but we just didn't have the infrastructure for that," Mr. Henley said. "But we had some people who just wanted to get out of the house, so we decided, even at 20% capacity, we were going to provide live theater again.. We're different than other theaters in the Corridor in that we are a for-profit theater, so we're not asking for donations from the community to keep the doors open."
Giving Tree is now staging new productions regularly, as well as implementing a new model to become a full-range entertainment venue, with magicians, storytellers, musicians, murder mysteries and game nights being added to the slate alongside theatrical performances. And even during the pandemic shutdown, it continued its model of donating proceeds to various non-profit organizations.
"We continued to give back, maybe not at the level we were doing before, but we decided every couple of months we were going to put some money aside to give to a nonprofit," Mr. Henley said. 
VenuWorks
The company contracted by the city of Cedar Rapids to book and produce events at the Alliant Energy PowerHouse, Paramount Theatre, McGrath Amphitheatre and ImOn Ice Arena in Cedar Rapids is fielding a markedly more significant number of inquiries this year than for the past two years, as more national-level groups and artists resume touring as COVID-19 restrictions and infections wane.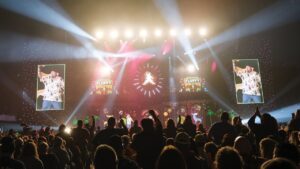 But in the meantime, the venues are also working to re-slate several events postponed during the pandemic, marketing director Diane Smith said.
"We had some shows come back, then we'd have a resurgence, and some shows had to be canceled again," she said. "We've probably had three events this year that had to be rescheduled from last year."
Primus, the season's first concert at the McGrath Amphitheatre on April 22, was initially slated for last fall, Ms. Smith said, as was the Cinch World's Toughest Rodeo held March 4-5 at the Alliant Energy PowerHouse.
The city's venues have already seen a solid start to 2022, Ms. Smith said, led by a sold-out show at the PowerHouse featuring comedian Gabriel "Fluffy" Iglesias and a pair of sold-out events at the Paramount, including comedian Charlie Berens on March 5 and Canadian lecturer Dr. Jordan Peterson March 23. 
The total number of events produced by VenuWorks at the Paramount and PowerHouse has already increased dramatically in 2022, Ms. Smith said, from just 10 events from January to March 2021 to 33 events for the first three months this year.
And attendance has rebounded accordingly. A total of 106,899 patrons attended events at the Paramount, Alliant EnergyPowerHouse and ImOn Ice in the first three months of 2022, up nearly 10 times from the 10,904 who attended events in the same period a year ago.
"My team has been extremely busy with show announcements and concert announcements," Ms. Smith said. "We've been working hard to create a really good lineup for summer events at the McGrath Amphitheatre, and I think I have six or seven upcoming concert announcements on my board right now."
It's a much different scenario than the past two years when touring acts were virtually nonexistent, Ms. Smith said.
"Our executive director had to make tough calls about laying off events staff (in 2020) because we just didn't have the events," she said. "Now, another sign that we're getting busier is that in the last three months, including me, we've hired five new full-time positions, and we're looking to hire another three (people) full-time. Plus, we have a huge hiring campaign for our part-time event staff."
The summer concert season already looks strong in Cedar Rapids, Ms. Smith said, with top shows including Lyle Lovett on July 9, Bonnie Raitt on Aug. 3, the Goo Goo Dolls on Sept. 13, and Tenacious D on Sept. 20, all set to perform at the McGrath Amphitheatre.
Rich Heritage of Cedar Rapids Theatre Company
As one of the Corridor's newest performing arts companies, Rich Heritage of Cedar Rapids has experienced many challenges, but RHCR president Matt Ford says he's determined to keep pressing his theatrical vision forward.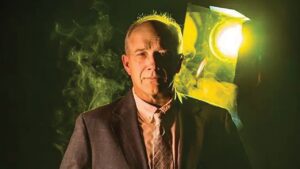 The theater presented its first show, "The Rocky Horror Picture Show," in 2013 and expanded to two shows yearly in 2015 with the addition of "Cinderella," its first youth production.
But since the February 2020 production of "Five Women Wearing the Same Dress," RHCR hasn't staged a full, rehearsed show. Its last production was an in-person holiday cabaret at the Cedar Rapids Public Library in December.
Still, there's a surprising light at the end of the tunnel for what promises to be one of the most prominent shows in RHCR history.
RHCR had reached an agreement with Ed Asner, renowned for his roles in "The Mary Tyler Moore Show," "Lou Grant" and "Elf," to visit Cedar Rapids for the theater's production of "God Help Us!," a political comedy, in September 2021 at the Scottish Rite Temple.
However, Mr. Asner died in late July 2021, forcing the show's cancellation at the time.
But now it's back. Mr. Ford said. "God Help Us" is set for production June 3-5 at Kennedy High School, featuring Gregory Harrison, most famous for portraying the surgeon Gonzo on "Trapper John, M.D.," in the title role of God previously being played by Mr. Asner.
Mr. Ford said Mr. Harrison has also agreed to conduct a series of acting classes with Kennedy students during the production.
"By switching the venue to Kennedy (from Kirkwood's Ballantyne Auditorium), not only are we able to save a little bit of money, we try to involve youth (behind the scenes) when we do a youth show," Mr. Ford said. 
RHCR has performed in several Cedar Rapids venues and has had its own spaces over the years, including a former church building on Second Avenue SE and the former Artisan's Sanctuary location in Czech Village. Today, the theater is still searching for a permanent home. Still, Mr. Ford says he plans to forge ahead with RHCR's mission to continue the city's cultural tradition and make the arts accessible to wider audiences.
That quest will begin at the end of this month with RHCR's 24-Hour Play Festival and silent auction fundraiser, set for April 30 at St. Andrew Lutheran Church.
Orchestra Iowa
Live performances are the lifeblood of a large-scale musical organization like Orchestra Iowa. However, virtual performances are challenging and nearly impossible when up to 100 musicians are playing a symphonic piece simultaneously.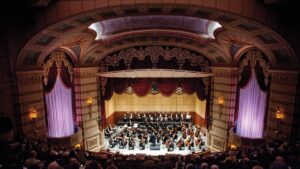 So, when the pandemic arrived in March 2020, Orchestra Iowa was forced to end all operations and furlough nearly all of its full-time staff. And for a group that generates almost half its annual budget from live performances, the group's shutdown meant a revenue loss of about 40%, CEO Jeffrey Collier said.
"The arts exist to bring people together and engage the community," he said. "And with the orchestra, the musicians on stage have to come together as well. It was remarkably challenging to know what the future would look like."
And while high winds from the August 2020 derecho didn't cause direct damage to the orchestra's Paramount Theatre facilities, a burst water pipe led to the loss of about 40% of the orchestra's music library.
"It seemed every day brought something new," Mr. Collier said.
A series of grants helped the organization survive the pandemic's shutdown, and Orchestra Iowa returned to live performances in September 2021 with "Brucemorechestra," an outdoor concert on the Brucemore lawn in collaboration with the Revival Theatre Company.
Interestingly, Mr. Collier said, the "Brucemorechestra" series began due to another natural disaster – the catastrophic 2008 flood.
Orchestra Iowa has returned to a regular performance schedule, with performances being presented consistently since September.
"For the most part, we've been able to proceed with the season we planned a year ago," Mr. Collier said.
And while there are no capacity or masking restrictions for Orchestra Iowa performances, Mr. Collier noted audiences haven't fully returned to pre-pandemic levels.
"We set expectations early on that this year would be a slower return," Mr. Collier said. "(Audiences) have come back faster than expected, but some are still a bit reticent. I think we're getting closer to more normal audiences."
Revival Theatre Company
While the shutdown of Revival's operations in March 2020 was devastating in many significant ways, co-founder and artistic director Brian Glick said he still found a reason for optimism amidst the chaos.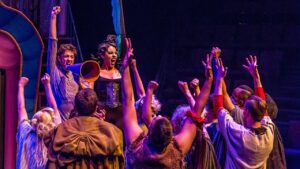 "A saving grace for us, and I know for many arts organizations across the country, was the generosity of the public donating their tickets back to the theater instead of asking for refunds," Mr. Glick said. "That was huge because it allowed us as an organization to just sit on that money. I think we had like 98 or 99% of people donating their tickets back."
Like many other theater groups, Revival was rehearsing a show when COVID-19 took hold. In their case, that show was "End of the Rainbow," a four-actor drama about the final years of the legendary Judy Garland. 
"Two of our actors were from New York, and I had to get them back to New York," he said. "They were starting to shut down flights, and I had to get them back – to the (COVID-19) epicenter, really."
Revival was able to stage "End of the Rainbow" in the fall of 2021, after a delay of nearly two years.
"It was strange," Mr. Glick said. "We had everybody come back, except one cast member who couldn't return. We were rehearsing at Theatre Cedar Rapids for that show, and when we returned, our props were all still in the same place we had left them two years prior. It was like a time capsule."
Since Revival, unlike other area theaters, uses performers who are members of the Actors Equity labor union, Revival was required to test its "End of the Rainbow" actors every three days for COVID-19.
"Talk about nerve-racking," Mr. Glick said. "We could do a test today, and we might not have a show tomorrow. We even had to test the day before we opened. We didn't know we would have a show until the curtain went up."
Revival earned the rights to re-air recorded versions of some of its most popular shows, including "Ragtime" and "Evita," during the pandemic. It also presented a fundraiser called "When The Curtain Rises Again," featuring the most memorable moments from the theater's eight-year history.
"We tried to use the resources we already had in our library," Mr. Glick said, "just to remind people that we're still here, just waiting as patiently as we can."
The fact that Revival doesn't have a permanent physical home, choosing instead to perform at various community venues was also helpful in reducing overhead during the shutdown, Mr. Glick said.
Revival experienced another delay this season when the omicron variant emerged, forcing the postponement of the theater's production of the musical version of "Titanic." Initially scheduled in February at the Paramount, that show will now be presented in four performances at Theatre Cedar Rapids from Sept. 23-25.
Revival also plans to present "The Color Purple" on June 10-12 and 17-19 at the CSPS Hall, the first two-weekend show in the theater's history. However, the theatre's board did have to make the difficult decision to remove one show, "Passion," from this year's season, primarily for financial reasons.
It's all part of the road to recovery, Mr. Glick said.
"We'll see," he said. "Nonprofits are ebb and flow, so we'll see how that impacts us the next few years because audiences are still funky. Before the pandemic, you might have known what your audiences were going to be for a show. I don't know if that's the case yet. We're playing games, trying to figure out the best way forward. But so far, so good. We're still here."
Theatre Cedar Rapids
As Iowa's largest nonprofit producing theater not affiliated with a university, Theatre Cedar Rapids has more full-time staff members than most area arts organizations.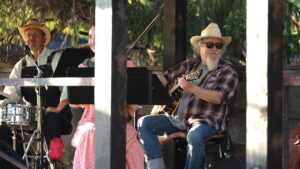 So when the realities of the COVID-19 pandemic became apparent, the decisions facing TCR were accordingly more impactful than those faced by groups with smaller payrolls.
"Since we are the largest, the human responsibility there is tremendous," said TCR Executive Director Katie Hallman. "It's such a gift and such a privilege to employ as many people as we do, but my first concern was the well-being of the staff. It was really hard and painful, and that became the puzzle piece of the next 18 months, figuring out what the government support was going to be, what unemployment and PPP looked like, so we could keep our people going and they could come back. Luckily, the wide majority did. We had one restructure, but almost everyone came back."
When TCR suspended production in March 2020, the theater had just wrapped up production of "The Gentleman's Guide to Love and Murder" and was about to open its production of "The Humans." More than a dozen shows were presented in the next year and a half, almost all virtually. The only exception was "St. Nicholas," produced with Brucemore at the mansion's outdoor amphitheater.
The partnership with Brucemore became one of the few silver linings of the challenges brought about by the pandemic and derecho, Ms. Hallman said.
"The Classics at Brucemore series was coming to a natural punctuation, and they were considering the future of producing theater," Ms. Hallman said. "So we were able to accelerate our move into that space and launched our Theater Out of Doors series at Brucemore in 2021."
TCR will now present three outdoor shows annually at Brucemore during the spring and summer months, Ms. Hallman said.
TCR launched other new endeavors during the pandemic as well, including "Conversations with Katie," a virtual series featuring discussions with well-known national creators such as Rachel Chavkin, who won a Tony award in 2019 for directing "Hadestown," and former "Mad Men" cast member Bryan Batt.
The theater has also entered into a partnership with TheatreWorks USA, a New York-based touring company. The partnership's first production, "Rosie Revere, Engineer & Friends," was staged at TCR in March, and "one or two" productions will be produced each year specifically for children's audiences.
TCR has returned to regular productions on its main stage and Grandon Studio venues, with "The Sound of Music" opening on April 29. 
"I think of TCR's place in the community as a blessing 100% of the time," Ms. Hallman said. "We are fortunate we don't have a mortgage. Our trustees own the building. So we really are caretakers of this historic base."