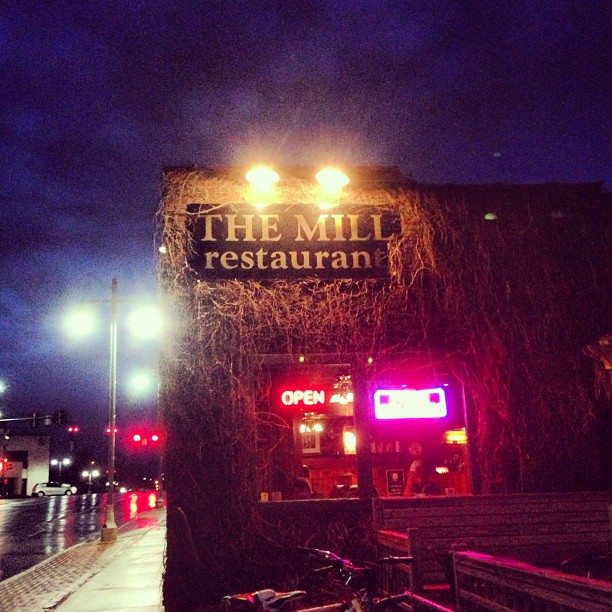 The Mill at 120 E. Burlington St. is a cultural institution in Iowa City.
By CBJ News Staff
newsroom@corridorbusiness.com
Iowa City Downtown District (ICDD) officials say they are feeling confident that an Iowa City musical, cultural and political institution will remain open and in local hands.
Owners of The Mill, 120 E. Burlington St., announced earlier this month plans to close the venue after operating it for 17 years. The Mill has been in business under various owners for nearly 60 years.
ICDD Executive Director Nancy Bird said there has been significant local interest in the two weeks since the announcement, giving hope to the venue's many fans and supporters.
"We recognize that the community is very nervous about losing The Mill as it stands today," said Ms. Bird during a Q&A session following the ICDD's annual State of Downtown event held Tuesday afternoon in a virtual format. "There's a lot of interest in The Mill and really good community interest, so I have high hopes that we will have a local owner of this establishment that understands how important it is."
Ms. Bird said offers have been "rolling in," and while there is no guarantee it will remain locally owned, she said ICDD planned to invest, to the extent it is able, in making the business as attractive as possible to a new local owner. That could include giving it more of a "sense of place," she said.
"We've got a lot of new residential projects and hotels across the street, and we have some dollars set aside in this year's funds to support investment in a mural that may be coming to the side of the building," she said. "We know it sits adjacent to a city parking lot, which is a great opportunity … I know people get nervous about these things, but I think there's going to be good things coming."
In addition to giving a platform to a number of local music legends, including Greg Brown and Dave Zollo, The Mill has been a performance site for the Mission Creek Festival and the Floodwater Comedy Festival, and provides the stage for the Run of the Mill theater company. It has also hosted political events and served as a venue for presidential candidates to introduce themselves to Iowans.
The Mill, founded by Keith Dempster as a coffee shop branded as the Coffee Mill, has been at its current location for 48 years. It was taken over by Marty Christensen, a former bassist for Mr. Zollo, in 2003. It has been closed since May 2 due to the COVID-19 pandemic.
"When we do find that new person can take over that lease, when we're having those conversations with them, we are saying, 'do you understand the significance of this place?'" said ICDD Nighttime Mayor Joe Reilly. "I'm sure it's pretty obvious anyone who's coming in to take over that lease what The Mill means to this community, but that's just one of the ways that we work with these business owners or new renters … and give them context to what it means to be downtown." CBJ