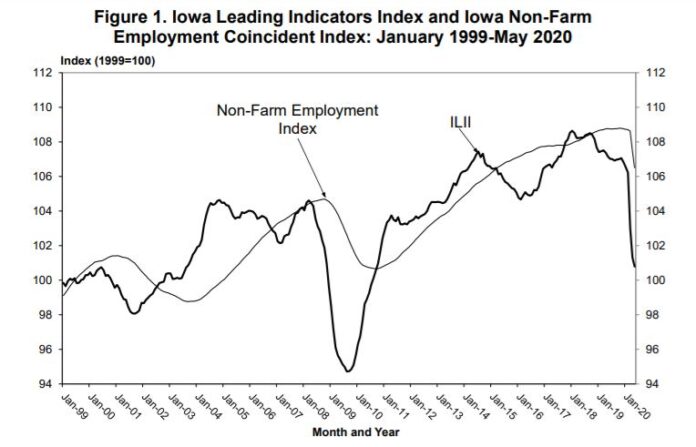 The Iowa Leading Indicators Index (ILII), used by state officials to forecast tax revenues, decreased 0.5 percent to 100.8 in May from 101.3 in April. This is the sixth month in a row of decreases. However, this impact is considerably less than that experienced in March and April as businesses began to reopen to the public.
With only two of the eight components contributing positively, the monthly diffusion index remained unchanged at 18.8 in May from April. COVID-19 has swiftly and sharply affected the Iowa economy along with the United States as a whole.
The Iowa non-farm employment coincident index recorded a 0.94 percent decline in May, the sixth month in a row of decline and the second largest one month decline in the 20-year history behind only April 2020. The six-month diffusion index remaining unchanged at 37.5, the annualized six-month ILII change value of -11.7 percent and the decline in the Iowa non-farm employment coincident index strongly suggest the Iowa economy will continue to weaken through the rest of the fourth quarter FY 2020 and first quarter FY 2021. This report suggests that employment growth will weaken over the next three to six months.
Only two of the eight components added to the ILII in May, the agricultural futures profits index and the national yield spread. The agricultural futures profits index showed expected profit gains in livestock commodities and losses in crop commodities. The May crush margin for hogs increased 19.6 percent from April while the crush margin for cattle increased 27.6 percent. Compared to last year, new crop corn prices were 16.7 percent lower and soybean prices were 1.3 percent lower.
Average weekly unemployment claims (inverted), the new orders index, average manufacturing hours, the Iowa stock market index, residential building permits, and diesel fuel consumption dragged down the index. The 12-month moving average of weekly unemployment insurance claims increased to 8,537 in May from 7,815 in April. Average monthly claims were up 442 percent from last May, and 392 percent above the monthly historical average (1988-2019). The 11,507 average weekly unemployment claims for the month of May was 71.8 percent lower than that of April's 40,835 average weekly unemployment claims.
The monthly Iowa Leading Indicators Index report is available on the department's website. CBJ