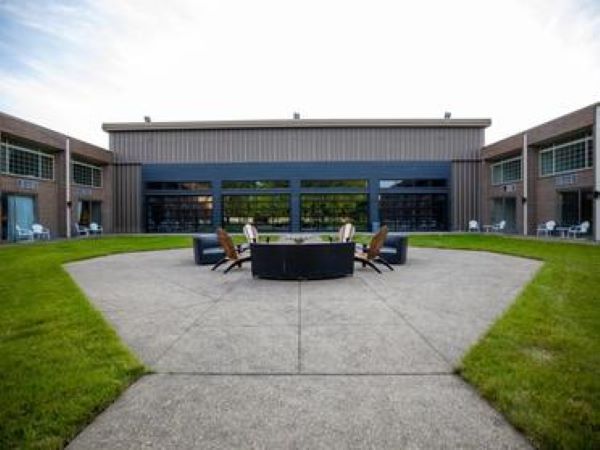 A view of The Bohemian Hotel's new courtyard. The hotel is set to open on Friday. CREDIT THE BOHEMIAN
By CBJ News Staff
newsroom@corridorbusiness.com
The Bohemian Hotel in Iowa City, once known as the Highlander Hotel, will officially open its doors this Friday.
The 97-guest room hotel has undergone a complete transformation, which pays homage to the original 1967 Highlander Hotel and Supper Club with its 60s and 70s retro theme.
"This is the first time the hotel hasn't been affiliated with a chain since the first owners opened the hotel in 1973," said owner and operator Angela Harrington, in a release. "We are so excited to bring it back as an independent one-of-a-kind hotel; one that celebrates its history and where it is in the world. Iowa City is free spirited and fun and so is The Bohemian."
The 65,000-square-foot property features a fresh air gym with wall-to-wall glass sliding doors that open onto a new south-side patio. Giant garage doors adorn the pool's east façade, connecting it to the courtyard, with a variety of loungers and games.
Included in restoration efforts was the return of the pool bar, the preservation of the wall adorned with signatures of the hotel's many famous hotel guests including Micky Mantle and Joan Baez, and a new lobby bar, which aims to capture the vibe of the famous supper club.
Ms. Harrington says she doesn't anticipate any large events until 2021, but that "the resort has lots of space to enjoy a family vacation close to home this summer and a fun place for parents of college students and sports fans to stay this fall."
The Bohemian Hotel is located at 2525 Highlander Place. Visit thebohemianhotel.com for more details. CBJ