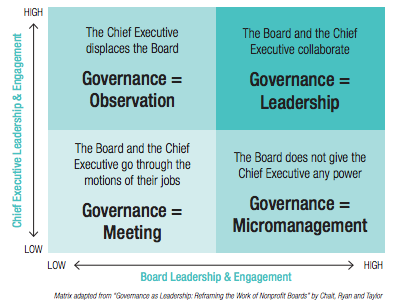 By Regenia Bailey / Guest Column
Nonprofit leadership requires a healthy partnership between the board and its chief executive. Organizations benefit from active, engaged board leadership coupled with a chief executive with strong leadership skills. Too often, however, the leadership in nonprofit organizations is unbalanced.
On one end of the spectrum, a board may limit the power of its chief executive by creating policies and procedures that treat the role more like the board's administrative support staff. On the other end of the spectrum, a board may abdicate its authority to its chief executive, becoming more like a group of spectators watching a star performer. When leadership between the board and its chief executive is out of balance, organizational performance suffers.
Governance as micromanagement
In my years working with nonprofit organizations, I frequently hear concerns from nonprofit staff about micromanaging boards or board members.
Micromanagement is characterized by the board or a board member focusing on how things get done, rather than the overarching purpose or goal of an activity. While it can be helpful for a chief executive to seek tactical advice from the board or individual board members, this is not the board's primary purview.
Governance as observation
On the other end of the leadership balancing scale, some boards are completely disengaged, abdicating their leadership responsibilities to the chief executive. Board disengagement results in an organization that is guided solely by the chief executive, with little input from the board beyond rubber-stamp approval for staff decisions. Board meetings may focus on topics determined by the staff and include few strategic or board decision items.
Stepping toward balance
To bring more leadership balance into your organization, first make sure that the board and chief executive understand their respective responsibilities, as well as the job responsibilities of each other. This may involve a review and revision of the current job descriptions to ensure that everything is accurate and up-to-date.
Then, work to ensure that both the board and staff follow through on their responsibilities and take action when this doesn't happen. Regular performance assessments – for the chief executive as well as the board – can help with this.
High-performing organizations involve leadership and engagement from their boards, as well as from their chief executives. Finding ways to strengthen the leadership on your board as well as in your staff can strengthen this important leadership partnership and help your organization do a better job as it serves the community.
Regenia Bailey is the founder and owner of Bailey Leadership Initiative. Contact her through her website at www.baileyleadershipinitiative.com.