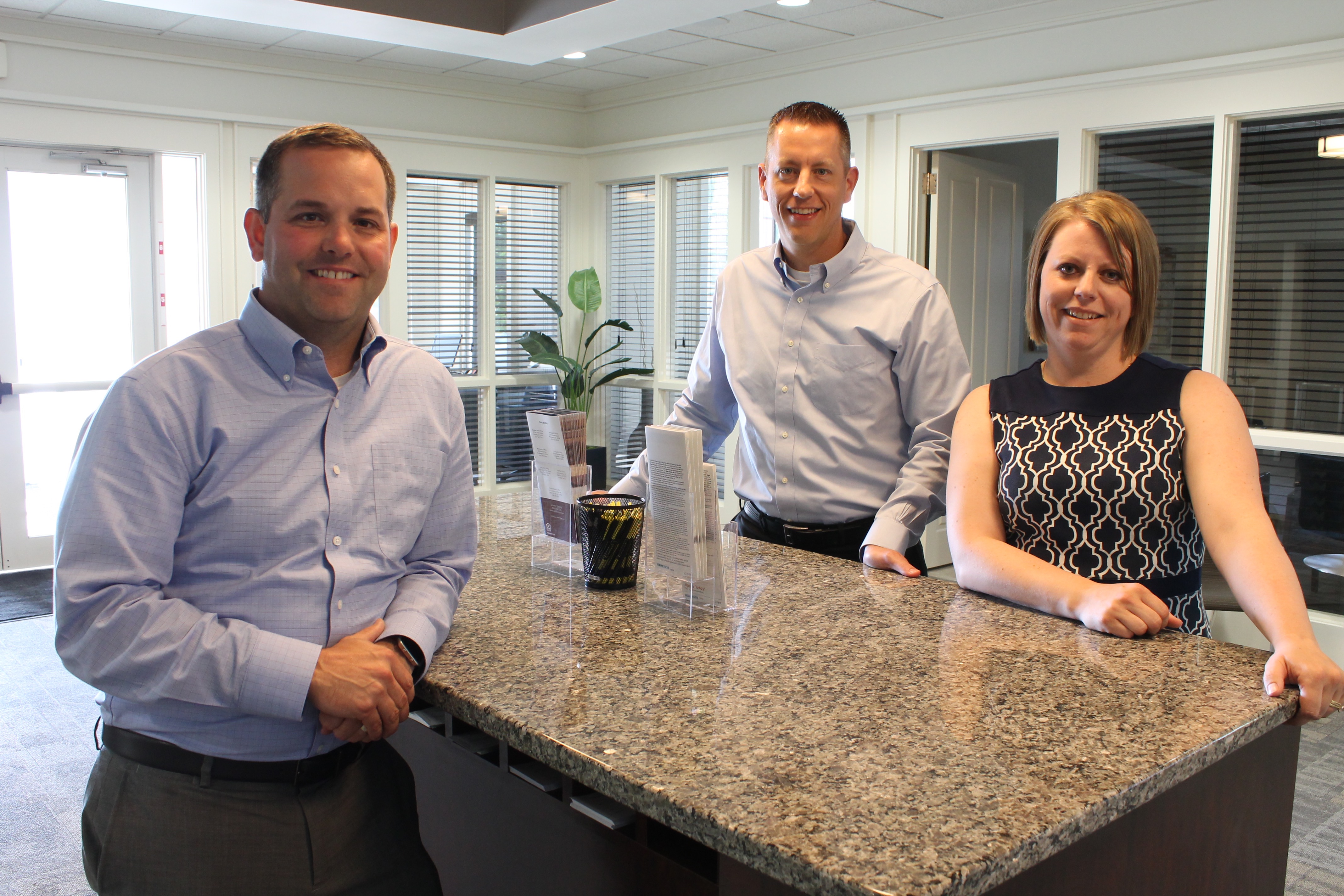 Central State Bank's Neil Havlik, Greg Johnson and Abbe Stensland pose inside the new Council Street branch lobby. PHOTO ADAM MOORE
By Emery Styron
news@corridorbusiness.com
A former corporate lawyer, a CPA with consulting and megabank experience and a third-generation member of a small-town banking family are helping to bring a fresh and entrepreneurial approach to the Corridor's banking scene.
Central State Bank CEO Greg Johnson, Executive Vice President Neil Havlik and Chief Risk Officer Abbe Stensland steer far from the stereotype of the numbers-focused, aloof banker. All three find satisfaction working directly with clients, who, in turn, appreciate the personal touch of the bank's top management.
"You don't get that kind of access with other organizations," said Mr. Johnson, speaking from his experience as an intern at Aegon's Cedar Rapids office while majoring in business and finance at the University of Iowa, and later work for U.S. Bank and Wells Fargo. He went on to lead the launch of Corridor State Bank for his family's holding company, AJJ Bancorp, in 2006.
Mr. Johnson crossed paths early with Mr. Havlik and Ms. Stensland. Mr. Havlik, a University of Northern Iowa alum, also served a stint at U.S. Bank and spent 10 years as a manager and director for the international accounting and consulting firm RSM US LLP, where he worked with both AJJ Bancorp and Corridor State Bank.
Ms. Stensland, who earned a bachelor's degree in chemistry and biology at Central College in Pella before getting her law degree at the University of Iowa, provided legal services for both Corridor and Central State Bank (CSB) during her tenure with Simmons Perrine Moyer Bergman PLC in Cedar Rapids. She ultimately decided to leave her partnership at the 55-attorney firm, attracted by "the idea of working for one client and for the Johnson family in particular."
CSB, chartered in Elkader with eight locations in northeast Iowa and the Corridor, has $188.4 million in deposits, assets of $232.5 million, 42 employees and a market share of 0.23 percent, according to FDIC data.
Mr. Havlik noted, "it's not typical for a bank our size to have a CPA and legal counsel in house," but he believes having "a well-rounded group" positions the bank for growth.
Startups welcome
"The entrepreneurial aspect is one thing we bring to the table that's unique," Mr. Johnson said. "We have started a company from the ground up. The Corridor is full of that."
Many of the bank's clients tend to be smaller business owners. At CSB, they're not talking to lenders who have "never taken the leap themselves and don't understand what it takes," Mr. Johnson said, noting the bank's involvement with many startups, including some on the CBJ's annual Fastest Growing Companies list.
CSB's roots go back to 1931, when First National Bank and Elkader State Bank were merged into The Central State Bank & Trust Co., under the management of Mr. Johnson's grandfather. Central State acquired First State Bank with offices in McGregor and Marquette in 1990, and merged with Corridor State Bank in 2010, adding locations at 202 N. Linn St. in Iowa City and 2530 Corridor Way in Coralville.
Operations extended to Walford with purchase of Farmers Savings Bank in 2012, then to Cedar Rapids with the opening of a branch at 5210 Council St. NE in April.
While CSB has achieved its goal of expanding through the Corridor's metro markets, evolving technologies and the opportunity to help shape the community could lead to further changes in the bank's footprint. CSB has a tentative agreement to sell its Iowa City location to a group planning to redevelop the site with a five-story mixed-use building.
"It does more for that neighborhood than we can do for that neighborhood," Mr. Havlik said. "We weren't looking to sell. What they offered was probably a better fit than having a bank facility there."
Banks around the country are seeing less traffic at branches and fewer checks written, lowering the need for brick-and-mortar locations, he added. Still, CSB is open to "other opportunities in the downtown area" as well as acquisitions of other banks, "both in the Corridor and north."
Making an impact
Having worked in big companies with huge numbers of clients, the three leaders enjoy the opportunity, in Mr. Havlik's words, "to make an impact every day."
Ms. Stensland agrees. "The ability to make change, to help drive the direction of the organization, is something that was lacking for me in private practice. Part of the fun for me is learning new things and not just doing the same things I've done the last 11 years."
Mr. Johnson, too, enjoys the opportunity to keep things simple, crisp and fun.
"Too often, it's overcomplicated. Bankers overthink things," he said. "Here, you underwrite the loan, go through the process, make good, sound decisions and move on. We pride ourselves on quick turnaround."