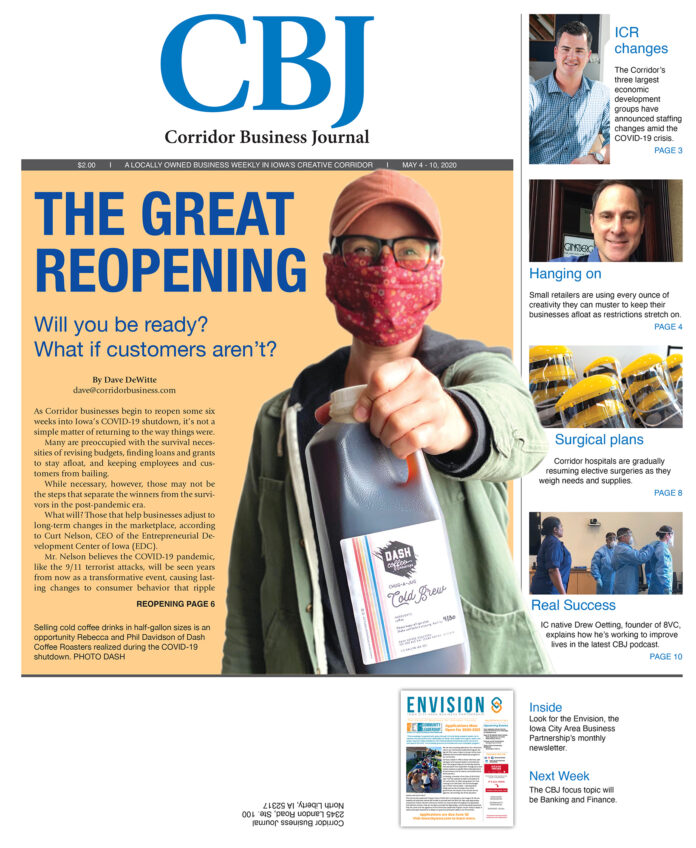 By Dave DeWitte
dave@corridorbusiness.com
As Corridor businesses begin to reopen some six weeks into Iowa's COVID-19 shutdown, it's not a simple matter of returning to the way things were.
Many are preoccupied with the survival necessities of revising budgets, finding loans and grants to stay afloat, and keeping employees and customers from bailing.
While necessary, however, those may not be the steps that separate the winners from the survivors in the post-pandemic era.
What will? Those that help businesses adjust to long-term changes in the marketplace, according to Curt Nelson, CEO of the Entrepreneurial Development Center of Iowa (EDC).
Mr. Nelson believes the COVID-19 pandemic, like the 9/11 terrorist attacks, will be seen years from now as a transformative event, causing lasting changes to consumer behavior that ripple through the marketplace.
"The question nobody can really answer is, all the things you're now doing digitally, from ordering groceries to socializing with your friends and relatives — how much of that is going to continue?" Mr. Nelson asked.
While some consumers have found their lives greatly disrupted by orders to close business premises and shelter at home, others "no doubt" have found new consumption patterns that make them more efficient, comfortable or safe, Mr. Nelson said.
Among the businesses that are adjusting is Dash Coffee Roasters, which operates coffee house-bakeries at 120 Third Ave. SW, Cedar Rapids, and 287 N. Linn St., Iowa City. Dash planned to reopen May 2 in Cedar Rapids for takeout only, with limited hours, staffing and menu.
"Before we even closed, we'd started offering online ordering," said Rebecca Davidson, who owns and operates the business with husband Phil Davidson. "That's something we think will continue, because it was working really great for the couple weeks we were open."
Since being forced to close inside service, Dash has begun offering free delivery on orders from its coffee roastery, and branched out to sell cold coffee drinks through Dan & Debbie's Creamery, a business partner in Ely that has been able to remain open.
Dash also began providing delivery of some of its most-popular baked goods. While that may not last, distribution of cold coffee beverages in half-gallon containers is expected to continue on a larger scale.
"It's really cool to see these new developments, and have time to step back from the day-to-day and look at new products or different ways of distributing," Ms. Davidson said.
A process for adjusting
Many businesses are still trying to figure out how to adjust their products, services and customer service to the "new normal" of the pandemic era, says Julie Zielinski, vice president of marketing strategy at the EDC. She offered a five-step process that can help, as part of an Iowa City Area Business Partnership webcast on April 24.
"We know there are going to be changes, but which are going to be temporary and which are going to stick permanently?" she asked.
The approach begins with the business analyzing trends in changing customer needs. The next step is to put those on a whiteboard, and try to match those needs with possible solutions the business could offer.
In the third and fourth steps, prioritize the opportunities by those that are the strongest long-term fit for the business, and uncover which ones are on track with the needs of the businesses. In the final step, move forward with the ideas that pose the best logical fit.
There's even a process for scoring the ideas. Ms. Zielinski recommends asking questions like: "How big is the market opportunity for this idea?" How expensive will it be to launch this?" and "How well does it fit with my capabilities?" and scoring the answers on a numerical scale to eliminate weaker options.
In some cases, Ms. Zielinski said the best opportunities may involve partnering with another company that has complementary capabilities. She suggests searching for inspiration on websites that track microtrends, and studying macro business trends such as the virtual experience economy, in which digital experiences merge with real-life experience to create richer consumer experiences.
Budgeting realistically
Mr. Nelson has had his share of experience with lean financial times, guiding a tech company through the post-9/11 downturn that saw its $40 million-plus revenue base drop by 60% from 2000 to 2001. He tells businesses preparing to reopen that they should make up two sets of financial projections for the remainder of the year – one for the market and business conditions they expect, and another for the worst-case scenario.
The more optimistic budget should "adjust your revenue starting immediately by a realistic amount and plan for that level of impact through the end of the year," he said. The second should factor in a "much more severe impact."
The next step is to forecast the accounts receivable (AR) for the remainder of the year, and how much will actually be collected, with an emphasis on being realistic. Combining revenue and AR outlooks will provide a baseline look at cash flow with no adjustments to expenses.
After those steps, Mr. Nelson recommends taking a hard look at other sources of funding that could be used to supplement cash flow such as cash reserves, lines of credit, government support programs or outside investments.
The final steps are the most difficult: Analyzing projected expenses and determining how they will need to be adjusted to maximize the ability to sustain business performance without burning up cash.
The two projected budgets will provide a clear understanding of the revenue points that will trigger expense adjustments. It's vital to monitor revenue weekly, Mr. Nelson said, and to take quick action when it falls below those trigger points.
"If there's another important element to navigating lean times, it's probably communication," Mr. Nelson added, noting that maintaining good relationships with lenders, vendors, customers and employees requires it.
"Nobody likes negative surprises," Mr. Nelson says – particularly in times when it's difficult to rebound.
The new safety expectation
In the new reality, businesses must be able to not only provide a safe consumer experience, but convince them that it will be safe.
"We will evaluate the places we go very differently with heightened safety on the radar," Ms. Zielinski said.
Iowans got a taste of what that will look like on April 27, as closing restrictions were lifted on restaurants, retail stores and fitness centers in 77 counties – largely excluding the Corridor.
A list of five mandatory precautions restaurants must follow to reopen on May 1 was issued by the Iowa Department of Inspections and Appeals, including operating at no more than 50% of seating capacity, limiting seating to parties of no more than six, separating tables by at least six feet, closing self-service options such as salad bars and buffets, and enacting "reasonable measures" to limit transmission of COVID-19, such as good hygiene and safe social distancing between employees and customers.
In addition to those requirements, the state issued some 23 recommended precautions, some of which the Iowa Restaurant Association said its members will adopt through a new Iowa Hospitality Promise campaign to convince diners that it's safe to dine out again.
They include sanitizing all tables and chairs after every use, ensuring all table settings, menus and utensils are disposable or sanitized after every use, and posting signs at entrances telling those with COVID-19 symptoms not to enter.
For a more comprehensive view of what a COVID-19 workplace safety program would look like, reopening guides have been published by some of the biggest players in retail and real estate. Cushman & Wakefield, Kroger Co. and the National Retail Federation have all shared guides to help businesses reopen safely and successfully.
Kroger's Blueprint for Business report has a decidedly retail focus, covering operational and safety actions, from educating employees and customers, to cleansing stores, monitoring employee health, adjusting store hours and embracing distancing options.
Cushman & Wakefield's how-to guide for reopening workplaces offers recommendations for operating in a variety of property types, from industrial to office. It includes specifics on sanitizing different public areas from elevators to loading docks, limiting the number of building entrances for COVID-19 control, and providing for safe disposal of personal protective equipment.
Playing the long game
Keeping businesses and institutions closed for social distancing is simply not sustainable long-term, Gov. Kim Reynolds argued in an April 27 press conference. COVID-19 will remain a threat to communities in Iowa until a vaccine is found, she said, and it will be up to the state and its citizens to manage that threat.
There was no change to the May 15 closure expiration date for the 22 excluded counties, which include Benton, Iowa, Johnson, Linn and Washington counties in the Corridor.
Ms. Zielinski advises businesses to base their reopening plans on multiple possible scenarios.
"I recommend you look at a summer or fall reopening, then kind of look at a worst-case — that it may open up and close back down, and may not open again until next year," she said.
The latter possibility was reinforced by Ms. Reynolds, who cautioned that the restrictions lifted on April 27 could be re-imposed in specific counties if the local incidence of COVID-19 accelerates.
Joining the local movement
Of all the things Dash Coffee Roasters is doing to prepare for reopening, one that's dear to the hearts of the Davidsons is rarely mentioned by political or business leaders. It's maintaining a strong network of customers, employees and business partners.
"Our people are what's most important to us," Rebecca Davidson said.
Staying connected is not only vital to the business, she noted, but helps the couple stay sane and positive.
"We've always utilized social media very heavily for our market," she said. "We're still posting everyday or every other day. We're just trying to stay relevant with people as well as keeping in contact, maybe just asking them what they're brewing at home for coffee that day."
When the business shutdown ends for Dash, the Davidsons are counting on those community ties with customers and other local businesses to make a big difference.
"People are supporting 'local' like never before," she said. "Businesses are supporting each other like never before. There have been great things to come out of this, and there is a hope and a gratitude for our community that has increased during this time, too."   CBJ