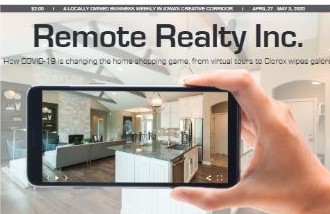 Corridor realty groups are making increased use of virtual touring technology to keep the spring market humming. PHOTO WATTS GROUP
By Dave DeWitte
dave@corridorbusiness.com

The coronavirus-disrupted spring home selling season has seen an explosion in virtual tours and video chats that let buyers scout properties remotely, with some already predicting that they'll become a standard part of the buying experience for decades to come.
Realtors have long had many tools available to show off homes, from smartphone video to live chats and aerial photography. As with many professions, however, Realtors tend to invest the time only when there's a need.
Now, with tighter gathering restrictions in place for the northern half of the Corridor, the need is serious.
Cedar Rapids-based Skogman Realty has been promoting its adoption of virtual selling tools this month, and President Chris Skogman described the company as "ultra-sensitive" to the COVID-19-related concerns of buyers, sellers and agents.
Clients interested in seeing a house without a physical showing can request a virtual tour via the Skogman website. The firm has also expanded its use of both live video, through Facebook Live, and prerecorded video, through Facebook Premiere.
To give its Thursday afternoon video launch events a more social feel, it has even re-badged them as Skogman Happy Hour in Houses.
"I'm excited how many agents embraced the new way we're doing business by utilizing more virtual tours and virtual experiences," said Samantha Ostert, the Skogman marketing manager who's been helping agents become more virtual- and social media-savvy. "It definitely pushed some people who weren't quite ready to get started."
At Keller Williams Legacy Group, virtual selling "has become a huge part of our business," explained Cory Rath, general manager and broker.
Mr. Rath said he's long used tools like Microsoft's Skype and Apple's FaceTime to provide virtual tours, mostly when corporate relocation clients from outside the area need to narrow their selection before a visit. Now, he and other Keller Williams Realtors are using Facebook Live, or simply posting a virtual tour video to YouTube and sending the client a link.
Coldwell Banker Hedges Realty began a push for its Realtors to post video tours last month. It was probably long overdue, according to Sales Manager Gary Doerrfeld. In larger metro markets, virtual tours had already replaced open houses to a much greater extent than in the Corridor, he said.
"Ninety-nine percent of people shop online and the virtual tours are a must," Mr. Doerrfeld said. "It's helped a lot of my agents get off their duff and utilize what we've been preaching to them."
The primary reason for agents' resistance was simply the time required and the price of photography or videography, Mr. Doerrfeld said. However, the incentive to invest in video tours, whether a true video tour or a slide show of quality photos, has now gone up.
Keys to a great digital tour
Real-time and recorded video have long been tools of the trade for Realtor Jill Hartke, who with daughter, Halea, makes up Skogman Realty's Hartke Group.
"I do a lot of relocation work, and so I'd done a lot of virtual walk-throughs with clients who couldn't come to town," Ms. Hartke said.
This year, with Skogman's push to be more virtual, Ms. Hartke has been recording videos of listings routinely. Halea handles the recording work, while Ms. Hartke provides the tour and the narrative.
Short and sweet was the norm for most home video tours posted before the coronavirus hit, Ms. Hartke said. Now, instead of highlights of a home's best features, she said it's more common to produce lengthier videos of a complete walk-through.
Halea records the videos on Jill's iPhone with FaceTime, and Jill gives them a quick edit before emailing them to Skogman's marketing department to be posted on Facebook and potentially the Skogman website.
"I can piece things together and it's really easy to edit," Ms. Hartke said. "This video I recently did, a seven or eight minute video, took five minutes to piece together and send to the marketing department."
Ms. Hartke doesn't mind if her presentation isn't highly polished, because she wants it to be about the listing, not about her.
"I try to be who I am," she said. "You kind of get what you get."
She offered the following tips for newcomers.
Let the camera dwell on key spaces and don't rush it. "Halea's good with the camera – she pans really slowly," Ms. Hartke said. "You want people to be able to get a good look and visualize how their furniture will look in that space."
Speak slowly and keep the key facts handy. "People might notice me reading from my notes, and that's fine."
Be interactive. When using Facebook Live or other live apps, "They can have you open the drawer to see how deep it is, or ask you to open that cupboard in the corner to see if there's a lazy Susan."
Respect privacy. Ms. Hartke hasn't encountered any homeowners who object to a video tour being made of their home, but she's protective of spaces like children's bedrooms and doesn't show them.
Invite interested house hunters on a subsequent live video tour using FaceTime or Google Hangout. With the additional interaction, they can ask their Realtor to show parts of the house or explain features of interest without an audience.
Whether house hunters will buy based solely on a virtual tour depends a lot on the person and their circumstances, Realtors say, but it does happen.
"We've probably sold about six houses to people who didn't see them in person since I've been here," said Mr. Doerrfeld, of Coldwell Banker Hedges. Most of those sales were corporate relocations or very long-distance moves in which the buyer couldn't fit in a visit or had to make a decision quickly. In his own experience handling such sales, Mr. Doerrfeld said the buyer typically has a relative or a co-worker living in the area check out the property in person.
In-person precautions
Although most open houses are on pause, in-person showings are continuing with a host of new precautions that have become industry best practices.
They include not just wearing masks and using hand sanitizer, but sticking a small poster with COVID-19 precautions on the door of the home, having the Realtor clean all the doorknobs with a disinfectant wipe, and even asking the homeowner to leave lights on and cabinets open so as to minimize the touching of surfaces in the house.
With the risk of social media "shaming" for those not taking the appropriate virus precautions, Mr. Rath said Keller Williams even instructs its Realtors to wear masks when they appear in home tour videos.
"Have a mask and gloves, and Clorox wipes," he said. "Show people you're looking out for them and taking every precaution."
Open houses are notoriously unpredictable in terms of how many house hunters they attract, Ms. Ostert observed, but shooting and posting video from the open house can change that.
"How good would it be if you could get a few people at your open house, and then show it off to hundreds of people through your video?" she said.
Mr. Doerrfeld sees the virtual tour replacing the first showing of a house, which is often conducted mainly to screen out properties and narrow the focus to no more than a few prime candidates.
With virtual tours available, "the first showing becomes the second showing," he said, and many house hunters will be able to narrow their list of candidates more quickly.
Although showing homes has grown more difficult, the 2020 spring season isn't off to a bad start. Home sales for March were up 6.6%, according to the Iowa Association of Realtors, and pending sales were up more than 9%.
"March was phenomenal," said Mr. Doerrfeld. While April has been slower, he said it's still been a good month for Coldwell Banker Hedges as of April 21, with about 120 sales.
Skogman and Keller Williams are seeing similar resilience in the market, even with job losses due to temporary business shutdowns. Banks are sometimes recommending later closing dates if the client has lost employment due to COVID-19.
Some buyers who have lost their job have had to get additional equity or a co-signer for the loan, Mr. Rath said, but interest rates are low and banks are still lending.
"For the most part, we've been able to hold the deals together," he said.  CBJ