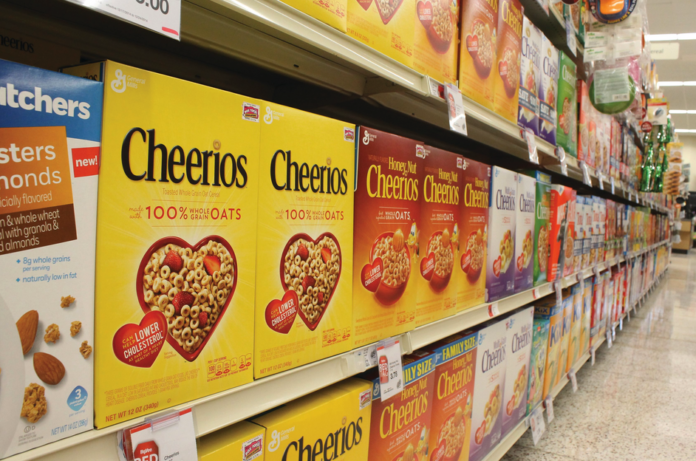 Cheerios line the shelves in a file photo. CREDIT CBJ

By CBJ News Staff
news@corridorbusiness.com
General Mills his week raised its outlook for its fiscal year ending May 31 following months of elevated demand as consumers stocked their pantries to shelter in place.
The Minneapolis-based food giant said that it expects its fourth-quarter organic net sales to increase by double digits over the prior year, led by strong growth in its North America Retail and Pet segments. The company now expects to exceed each of its previous full-year fiscal guidance ranges of 1-2% organic net sales growth, 4-6% in adjusted operating profit, and 6-8% in adjusted diluted earnings per share.
While the sharp increase in demand for "at-home food" moderated in April, it remained "significantly elevated compared to pre-COVID-19 levels," the company said in a release. General Mills' Nielsen-measured U.S. retail sales increased 45% and 32% in March and April, respectively, versus the prior year.
The company has also seen a substantial decline in away-from-home food demand, and the company said it expects that to be a "significant headwind" in its Convenience Stores & Foodservice segment. The away-from-home foods business represents only 15% of the company's global net sales, however, with 85% coming from at-home products.
"During this difficult and unprecedented situation, I am incredibly proud of the way General Mills has stepped up to ensure a reliable food supply for our consumers and our communities," said General Mills Chairman and CEO Jeff Harmening in a release. "Our company's purpose is to make food the world loves, and in the current circumstances it is even more fundamental: we are making food the world needs. I am confident that our trusted, leading brands, our dedicated people, our differential capabilities, and our best-in-class execution will allow General Mills to emerge from this pandemic a stronger company."
The company said that it has implemented rigorous employee safety measures across all its facilities, and noted that its manufacturing and distribution facilities have continued to operate without significant disruption related to COVID-19. In Cedar Rapids, one employee at the company's cereal and snack plant was self-isolated after likely contracting the illness, but the facility was not shut down, KCRG-TV9 reported.
General Mills stock has risen nearly 7% this week, and is up more than 28% since March 12. CBJ